Social Justice Month offers events, activities
October 29, 2013
Students at Skidmore College have deemed November "Social Justice Month" and have organized a series of events to increase awareness among their peers and the public regarding challenges to fairness and justice worldwide. Many of the activities are open to the public free of charge.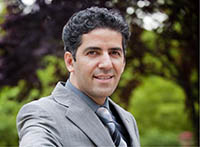 Dr. Kamiar Alaei will discuss HIV/AIDS in
Iran as a human rights issue.
"Our vision is to bring the campus together to engage students in social justice issues, and to give a voice to voiceless groups. We want to educate students and provide them with ways to fight against injustice," said Skidmore junior Timothy Kim, one of the Social Justice Month organizers. The planned activities will address such issues as human trafficking, homelessness, hunger, the labor movement, education, health, and human rights in North Korea.
In addition to events such as film screenings, speakers, exhibitions, and discussions, the activities will include hands-on service projects by the students, such as volunteering at Shelters of Saratoga.
The program is widely supported on the Skidmore campus, with more than 50 academic departments and student organizations signing on as sponsors.
For more information contact skidmoresjm@gmail.com.
The following Social Justice Month events are open to the public free of charge:
Monday, Nov. 4
Human Trafficking: Film Screening of Dreams Die Hard
This documentary film by Free the Slaves, an organization fighting to end human trafficking, examines human trafficking in the U.S. as a hidden form of slavery. A dialogue will follow the screening.
7:30 p.m., Emerson Auditorium, Palamountain Hall
Tuesday, Nov. 5
Labor Movement Talk: "Why Unions? Reflections on the Purpose and State of Organized Labor"
Erin Johansson, director of research at American Rights at Work, will discuss the state of the labor movement and her work within it.
7 p.m. Emerson Auditorium, Palamountain Hall
Wednesday, Nov. 6
Education: Film Screening of Race to Nowhere
Race to Nowhere is a documentary on concerns with standardized testing and its effects students in elementary school. A dialogue will follow the screening
8 p.m., Davis Auditorium, Palamountain Hall
Monday, Nov. 11
Health and Human Rights: "High Cost for Service: A Case Study of HIV/AIDS in Iran"
A discussion with Kamiar Alaei, M.D., director of the Global Institute for Health and Human Rights and an expert on HIV/AIDS. Alaei co-founded the first "triangular clinic" in Iran for three target groups—drug users, HIV patients, and STD cases—to deal with both the biological and social manifestations of disease.
7 p.m. Gannett Auditorium, Palamountain Hall
Nov. 11-17
North Korean Political Prison Camp: Where Love Does Not Exist, an exhibition of drawings
The North Korean political prison camps are places of exile housing approximately 150,000 political prisoners considered a threat to the regime. This exhibition documents the extreme violations of human rights within this system, through drawings by former prisoners.
Dining Hall Atrium and Intercultural Center
Thursday, Nov. 14
North Korean Human Rights: "Escape From Camp 14: The Story of Shin Donghyuk, a North Korean Defector"
Shin Donghyuk, a human rights activist, is the only known North Korean defector who was born in a political prison camp. He will describe his life in the prison camp and his escape from North Korea. He will also discuss overall human rights violations in North Korea.
7 p.m. Gannett Auditorium, Palamountain Hall
Tuesday, Nov. 19
Homelessness: Film Screening of Homelessness in Paradise
The movie focuses on a small group of people living on the streets of Santa Monica, Cal. The documentary explains how the homeless got there and the issues faced by a city that both cares for them and wishes they would go away. A discussion will follow the screening.
8 p.m. Davis Auditorium
Wednesday, Nov. 20
Hunger: Flags for Hunger
FeelGood, a national youth movement committed to ending world hunger, will sell grilled cheese sandwiches along with dispensing information about world hunger and ways to combat it.
11 a.m.-5 p.m. Case Green
Wednesday, Nov. 20
Education: "Resisting the Ambush of Public Education"
Nancy Schniedewind, co-editor of Educational Courage: Resisting the Ambush of Public Education, will give her views on current educational policies. She will be joined by Felipa Gaudet, a public school teacher in Kingston, N.Y., and Nancy, professor in the masters program in Humanitic/Multicultural Education at SUNY New Paltz, who will lead an interactive workshop.
7 p.m. Dining Hall, second floor
Thursday, Nov. 21
Hunger: Oxfam Hunger Banquet
Oxfam Hunger Banquet is an interactive event designed to help participants understand the current global hunger problem and experience how our decisions affect others in the world. Attendees will an opportunity to view the Classless Society exhibition in the Tang Museum. Limited seating is available. For reservations email skidmoresjm@gmail.com.
7 p.m. Tang Museum