Community partners for global awareness
November 27, 2013
Israel and Burke: Friends, teachers,
collaborators
An informal cultural exchange involving Skidmore students and Saratoga Springs elementary schools got off to a rousing start in early November, when seven of Skidmore's international students visited the first-grade classroom of Division Street teacher Ronne Israel.
The college students spent more than an hour engaging with the elementary school pupils in a series of hands-on projects that promoted cultural awareness. Before leaving, the Skidmore students took a brief tour of the school, stopping at the library, cafeteria, and a lively physical education class in the gym – all enlightening experiences for the visitors.
The program developed following a conversation between long-term neighbors and friends Colleen Burke, an executive-in-residence in Skidmore's Department of Management and Business, and Israel. Burke's dog, Doodles, is a certified therapy dog who often accompanied her on visits to Israel's class, where the pupils practiced reading to him. Last year Israel had several pupils for whom English is a second language, and they read to Doodles in Chinese and Vietnamese. It was a light bulb moment.
Said Burke, "I offered to bring some of my students with me so they could read with the Division Street English Language Learners (ELL) and share information about their countries with the rest of the classroom. I am a host family for a Skidmore Chinese student and I asked her to gather a few of her friends and off we went to Division Street. It was a big success!"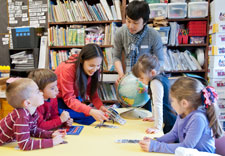 Sovannarath In '16 and John Dang '16 teachglobal geography.
Since then, the program has expanded and become more formal, explained Darren Drabek, a Skidmore academic counselor who advises the college's international students. He challenged them to come up with a plan that broadened the College's connection with the Saratoga Springs City School District. Ana Lordkipanidze, a junior from the country of Georgia, and Yinglu (Lulu) Li, a sophomore from China, accepted the challenge and are organizing school visits. They welcome as participants international students, American students who have studied outside of the U.S., and American students who wish to share their heritage.
They reached out to Division Street because of its growing reputation for cultural immersion and appreciation, along with Israel's practice of welcoming visitors to her classroom. Division Street is a hub for ELL students in the Saratoga Springs City School District, with 21 pupils currently enrolled from such countries as Israel, Puerto Rico, Japan, Sri Lanka, Mexico, Italy, Vietnam, and China.
For the early November visit, Israel had the classroom set up with a series of stations offering a specific activity to be led by the college students. The first graders were encouraged to visit each station, making Chinese hats at one, learning math with Chinese characters at another, coloring Zimbabwe maps and flags at a third, learning geography at another. Israel was a presence at all of the stations, admiring and encouraging the both sets of students. She said, "We live in a global community and opportunities like this are great. It gives my students a chance to go outside of their traditional environment to learn new things, and they are so eager to learn more."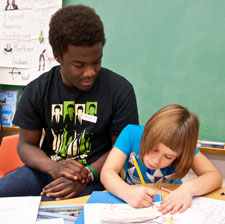 Romeo Makore '15 shares knowledge
of Zimbabwe.
Drop-in visitors from Division Street that day included Karen Canjura, ELL teacher, and Greer Miller, Division Street principal, both of whom praised the college students' initiative and generosity. Canjura said these kinds of experiences "help all the students by promoting awareness and acceptance of different cultures. With acceptance comes understanding. My students light up when the Skidmore students arrive."
Miller called the exchange "a wonderful educational opportunity" for both older and younger students. Such a program not only "provides support to our ELL students" but also "provides the college students with a unique opportunity to assist students from their home country and all of our students with greater global awareness."
"The hands-on learning experience the Skidmore students are providing for our students will reinforce academic skills and social experiences for years to come," Miller said. "We thank Skidmore for being so open to this partnership and for providing our students with such a wonderful and unique learning experience."
Benefits from the exchange flow both ways, according to the Skidmore students. Lulu thought the pupils were smart and noted how "they really took to the Chinese math." Sophomore John Dang was impressed by their openness. "I really like that the school wanted us to come," he said. "These are building blocks for the children – we are opening the world to them. I feel proud to be contributing to this and glad that the students are open to these experiences.
Principal Greer Miller laughs as first graders joke with Anh Vu Nguyen '17.
Before the Skidmore students left the school that day, there were several conversations about follow-up visits. Just last week, Israel again helped arrange a visit, this time by Ana Lordkipanidze. She spoke to a first and second grade class, sharing her alphabet and language, video clips, and traditional dance steps. Said Israel, "Her program was well thought out and excellently presented! What an outstanding job she did and what an outstanding young lady she is!"
The success of this project has led Miller to look at additional collaborations, including those related to a new science lab at Division Street. "We welcome this type of partnership as it is wonderful to have community support and different areas of expertise coming together to benefit both the elementary student and the college student," she said.

[Cover photo: Ahn Nguyen '16 (Vietnam, left), Sovannarath In '16 (Cambodia), Yinglu Li '16 (China), Romeo Makore '15 (Zimbabwe), Minh Uong '14 (Vietnam), John Dang '16 (US), Anh Vu Nguyen '17 (Vietnam) in the lobby of Division Street Elementary School. All photos by Eric Jenks.]