Skidmore prof to lead film discussion in town-gown series
February 3, 2015
A town-gown film series offered through a partnership of the Saratoga Film Forum and Skidmore College will present the movie Smoke Signals on Wednesday, Feb.11, at 7:30 p.m. in the Dee Sarno Theater at the Saratoga Arts Center, 320 Broadway, in Saratoga Springs. Eric Morser, assistant professor of history at Skidmore, will lead a discussion following the film.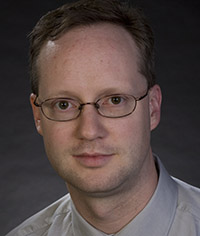 Eric Morser
Smoke Signals, 1998 independent film, tells the story of the complex relationship between two teenage Native Americans, Victor and Thomas, who reside on the Coeur D'Alene Indian Reservation in Idaho. Following the death of Victor's father, who had abandoned his family, the young men leave on a coming-of-age bus trip to Phoenix, Ariz., to the retrieve the father's ashes. The screenplay, written by Sherman Alexie, an award-winning Native American novelist and poet, is based on Alexie's short story collection The Lone Ranger and Tonto Fistfight in Heaven.
Morser teaches courses on early America, the American West, American Indians, environmental history, and radicalism in American life. He is the author of Hinterland Dreams: The Political Economy of a Midwestern City, as well as articles in the Wisconsin Magazine of History, the Journal of Urban History, and Enterprise & Society.
The film is being shown in conjunction with Saratoga Reads, a Skidmore-community partnership. The Saratoga Reads book of choice for this year is The Round House by Louise Erdrich, a novel that takes place on the North Dakota Ojibwe reservation.
Admission is $7 ($5 for Film Forum members and students). For more information visit saratogafilmforum.org.