Inspiring hope in Hong Kong
July 27, 2015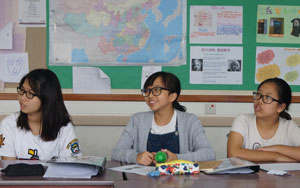 Attentive Hong Kong students listen to Wang. (Photo courtesy
of
Summerbridge Hong Kong program)
In Kevin Wang's successful application for funding help to teach English this summer to low-income middle-schoolers in Hong Kong, he wrote that he wanted his students to "realize how exciting school can really be and to challenge themselves in ways they never have. I want them to speak up again, to be curious, and to learn for themselves."
Wang, who moved from China to the US with his family at age 9, had gained acceptance to teach in the Summerbridge Hong Kong program but needed to cover his travel and living expenses to make it feasible. Skidmore's SEE-Beyond (Summer Educational Experiences—Learning Beyond Campus) awards $4,000 grants to the strongest applicants from a wide variety of academic areas to support summer experiences that apply their classroom learning to the real world and clarify their postcollege plans. Wang is one of 20 SEE-Beyond students this year.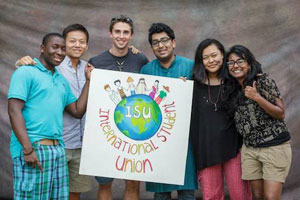 Wang (second from left) and the 2014-15 ISU Club.
The English major and president of Skidmore's International Student Union says he was wowed as soon as he arrived in Hong Kong, "As I walked through the airport after touching down, a dizzying mix of languages reached me left and right—British English, Cantonese, Mandarin, Turkish, and Russian. The city was beautiful, with giant skyscrapers tucked into blue-grey mountains. On top of that, my teaching peers are a diverse group representing many nationalities—American, Canadian, British, Swiss, Korean, Chinese, and more."
But he says, "The real magic of the program began when the students arrived. They were shy at first and spoke little, but their personalities quickly emerged—happy, mischievous, goofy, motivated, kind."
Wang, who teaches a public speaking course (and a Frisbee elective on the side), says, "I love how much liberty I have to create my lesson plans. I am free to engage and inspire the students in any way. We have played Taboo and Two Truths and a Lie, drawn and spoken about home, delivered motivational speeches pretending to be a football coach, turned Martin Luther King's 'I Have a Dream' speech into a song, and held a tongue-twister contest."
For him, "the best part is hearing the daily improvement in the students' English, supporting them as they lead cheers or give kudos during all-school meeting, and seeing their faces light up each morning as they step off the bus."
Wang's future plans: Return to China and keep teaching English and empowering students.

Please click here for information on this year's SEE-Beyond awardees.~ By Peter MacDonald