On air with WSPN
August 18, 2016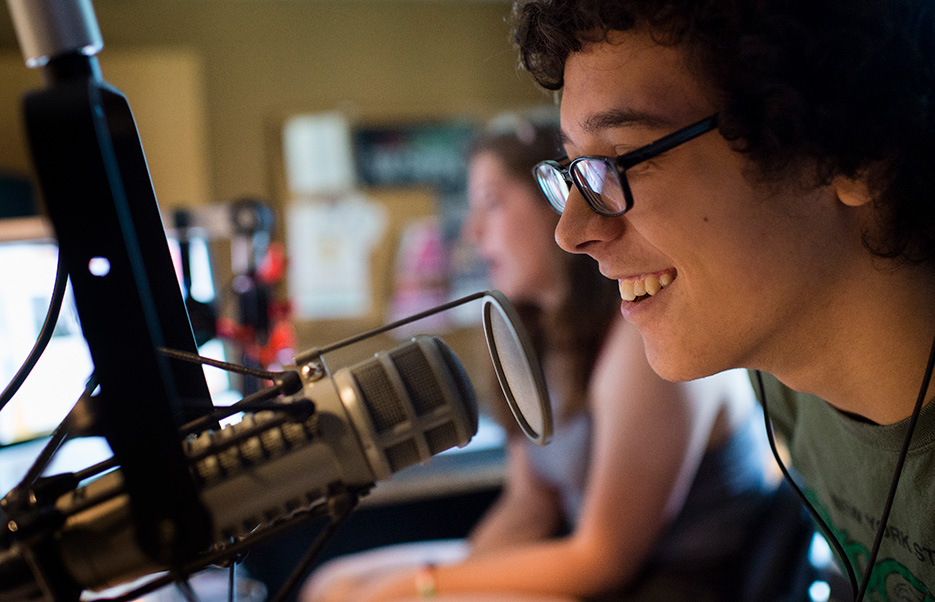 Some college radio stations broadcast commercial playlists and major record labels, others are known for obscure artists and basement jam sessions, and some air an eclectic mix. Whatever their vibe, college radio stations have become newly popular with music junkies and music makers alike.
Skidmore's WSPN-FM, might look like any other college radio station on the surface -- but when you dig deeper, you find the creative undercurrent that sets it apart.
The history
WSPN originated as a carrier station of Union College's WRUC and then became its own operation in 1972. When the station was WRUC-Skidmore prior to 1972, its studio was on the top floor of the Little Theater. "Entering and exiting, and going to the record library, meant going through a classroom space, which annoyed some of the professors. We sometimes used the fire escape instead," recalls Fred Goldstein '75, chief engineer of WSPN during his time on campus and the person resposbile for installing the oringal FM station and new campus studio.
The transmitter has always been located in Jonsson Tower, but the studio was once in Case Center. In 1978, the studio moved to the Jonsson basement, and over the years DJs and music fans have decorated the door with stickers of thousands of musical groups.
WSPN is a 24-hour, 365-day, full-service, noncommercial station. Using a freeform radio format -- where the DJ is given complete control over what music to play regardless of genres or commercial interests -- it's one of the few college radio stations run entirely by a student board. The station hit its stride under the leadership of Steven Rosenbaum '83, who enlisted local community members as well as students as program hosts -- a tradition that continues today.
The people
"WSPN just exuded this vibe of independence and creativity, a space for students to express their passions and feel free to experiment with sound." - Ariel Plotnick '15
WSPN reflects the personalities and tastes of its DJs. For Skidmore students, this ranges from music to audio documentaries to live jam sessions.
"When I was new at Skidmore I remember turning on WSPN and being blown away at the variety," says current general manager Logan Sweezy '17. "You could hear everything from a DJ obsessed with the '90s Memphis underground tape scene to Appalachian bluegrass to Tame Impala. WSPN was different, and I wanted to be a part of that."
Zac Transport '17, majoring in the physics of acoustics, plays the blues -- everything from the 1920s to now. "I love the blues because I was raised on CDs my father played for me, such as Robert Johnson, Muddy Waters, Blind Lemon Johnson, John Lee Hooker, and so on," he says. "I DJ because I love opening up people in my generation to old music they've probably never heard before. Playing music that I love makes me happy, and I hope to make others happy with me."
Behind the DJs, the student board, composed of about 15 members, manages everything from programming to publicity to audio engineering.