Green and getting greener
November 21, 2016
Princeton Review for 2016 gives Skidmore a 94 (on a scale of 100) in its green rating and includes it in its Guide to Green Schools. Along with the Green Guide's other selections—from American University, to Pomona and Pitzer, to the University of British Columbia—Skidmore scored well on factors ranging from its bike-share program to its official Campus Sustainability Plan to its commitment to local foods.
Thanks in part to its innovations in renewable energy, Skidmore is also serving as a guide and resource for others. Named this year as a leader—the highest membership level—in New York State's REV Campus Challenge program, the college is formally recognized on the NYS Energy Research and Development website.
What are all these honors based on? Here are just a few highlights:
Geothermal systems provide all cooling
and most heating for many buildings.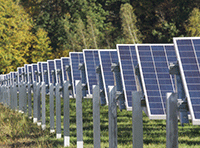 A few of the thousands of photovoltaic
panels in the 2.1-megawatt array just off
campus.
Energy
When the planned new science building opens, the campus square footage being heated and cooled geothermally will rise again, to well over 50%. Skidmore's sixth solar thermal project, on Murray-Aikins Dining Hall, is heating more than 1,000 gallons of water each day. Skidmore's large photovoltaic solar field near campus generates 2.1 megawatts or approximately 12% of the college's total electricity use, while the small hydroelectric dam south of Saratoga is working its way up to supplying some 18% of campus electricity needs.
Working a compost pile
Sorting res-hall leftovers for donation
Waste
Skidmore's student-managed composting program, which began in 2011 with food scraps from all on-campus student apartments, has turned more than 40,000 pounds of waste into compost for the campus Community Garden. Now expanded at an off-campus site, it takes manure from the college stables, groundskeeping debris, and dining services' coffee grounds to supply compost for campus grounds crews.


Youngsters work in the campus garden.
A Harvest Dinner donation
Food
Skidmore's student-run Community Garden has now produced more than 5,000 pounds of food for the dining hall. The garden's annual Harvest Dinner—prepared by volunteers,using food donated by area farms—helps build relationships between Skidmore Dining Services and local growers; ditto for an academic internship that helps the d-hall purchase more locally, sustainably grown foods.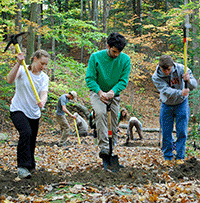 A North Woods trail maintenance party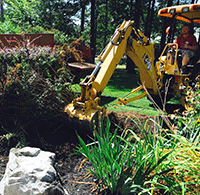 Invasive-species removal efforts
Grounds
Skidmore has earned membership in the Arbor Day Foundation's Tree Campus USA initiative. The recognition was based on Skidmore's fostering of healthy forests by managing its campus trees effectively and engaging in outreach with the Saratoga community (an emeritus music professor is among the Skidmore people working on the city's tree inventory and planning).
Students conduct a waste audit.
Skidmore Unplugged information table
Engagement
Some 30 students each year work with the Sustainability Office, guiding projects related to waste and energy. Students organized Skidmore's second annual Sustainable Service Day on behalf of campus programs as well as community groups including the Regional Food Bank Farm and Orra Phelps Nature Preserve. The annual Skidmore Unplugged energy-reduction contest among the residence halls also includes campuswide events—for example, this year's Energy Resiliency Dinner and Dialogue that got students, faculty, and staff talking about energy use.
Working in the Geographic Information
Systems lab to layer and compare
research data visually.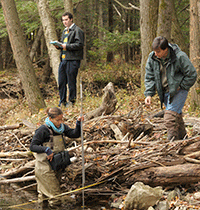 Water-quality sampling near campus
Curriculum
Skidmore keeps expanding its 70-plus sustainability-related course offerings, taught by faculty in 20-plus academic departments. Many courses use sustainability projects on campus as teaching tools, and research in the courses often gives rise to new sustainability initiatives both on campus and in surrounding communities.
Please stay tuned: more advances will be covered soon in the Sustainability Office's 2015–16 update to Skidmore's overall Campus Sustainability Plan.