A five-minute story, told live, with no notes
October 3, 2018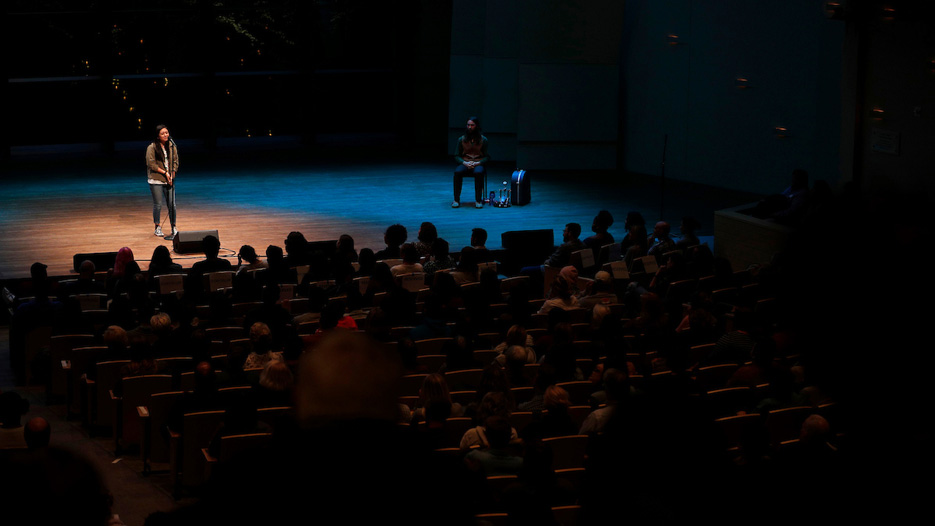 There are three parts to a Moth-style story.
First, they are on time. Often five minutes exactly. Anyone can tell a rambling story, but it takes discipline and skill to tell an unforgettable short story.
Second, it's a story. It's not a rant or a monologue. It's something that really happened and matters to the speaker.
Third, it follows a theme.
On Sunday, Sept. 30, 10 Skidmore College students told stories of personal metamorphosis onstage in a sold-out Arthur Zankel Music Center.
Poignant and sentimental. Thoughtful and inspiring. Downright hilarious. The message of the evening: while transformation — the theme of the stories — is an individual journey, the experience is universal. The student stories resonated with many of the nearly 800 audience members of all ages and backgrounds.
Jonah Brenner '20 opened the evening with a light-hearted question: "Is the tooth fairy real?"
Bradley Sachs '19 shared what happens when you don't trust your gut. Destiny Donelson '21 recounted her saga of a bad date with a Motown-listening, off-beat-snapping nerd. Nina Slowinski '19 spoke about the simple joys of car rides to nowhere with her dad.
Shana Kleiner '20 explored the humor of a mistaken tragedy, in which she didn't lose her slice of pizza. Fabian Rodriguez '22 showed how vulnerability can become a major character in a theater performance. And Marley Amico '19 revealed the pain of feeling like an outcast and the love of being supported by a community.
"I loved hearing such unique stories and voices," said Juni Ahari '19, a storytelling fan in the crowd. "It made me appreciate the daily occurrences we hear that can become great stories."
These snippets are just a few of the humbling and humanizing experiences shared on stage this night. Yet, they are only a sample of the 60 total student stories honed and practiced through immersive weekend workshops.
Part of a 1-credit course in live storytelling organized by the John B. Moore Documentary Studies Collaborative (MDOCS), the workshops were led by The Moth's education team and made possible thanks to a generous gift by Eric and Lisa Green P '20.
Sarah Maacha '20, a workshop participant, said of the experience, "It felt like a safe space where we could be heard and truly seen. It allowed us to be vulnerable, on our own terms."
Fellow storyteller, Alexandra Marello '19, shared, "The event was special. I met so many people and got to know them on a deep level by learning from their stories in a supportive environment."
The Moth is renowned for coaching storytellers from all walks of life. Through live events and storytelling competitions, it has given more than 30,000 stories a platform to be told and shared. Many are aired on episodes of The Moth Radio Hour, a public radio show, and The Moth Podcast. The stories told by Skidmore students were recorded for possible inclusion in future Moth program broadcasts.
In addition to their weekend with Skidmore students, Moth instructors hosted a half-day workshop for faculty and staff, where they offered methods to shape their stories and incorporate storytelling practices into their careers and curricula.
"The Moth's visit has been a huge deal, and it's just the start," said Adam Tinkle, director of MDOCS. "We will spend the rest of the semester celebrating and inviting our entire community to voice their own stories in more live storytelling events."
Said Michaela Blei, director of education and community for The Moth: "We came together as a community to lift these stories to the stage … and thanks to these amazing students, we can go into the night and our lives 10 stories richer."
Future storytelling events and opportunities already on the calender at Skidmore include:
October 30 – artist Tim Davis will host "You are a Collector," an evening of storytelling about (and featuring) the objects precious to us

November 28 – Erica Wojick, professor of psychology, will emcee the launch of a new storytelling event series called "From the Horse's Mouth" featuring Skidmore community members

This spring – Dean Luis Inoa is planning to inaugurate a new course for students titled, "A Measured Level of Intimacy: Spoken Word and Storytelling."
---
Jenny Lupoff '19 and Lisa Haney contributed to this story.