Will you apply Early Decision?
November 1, 2018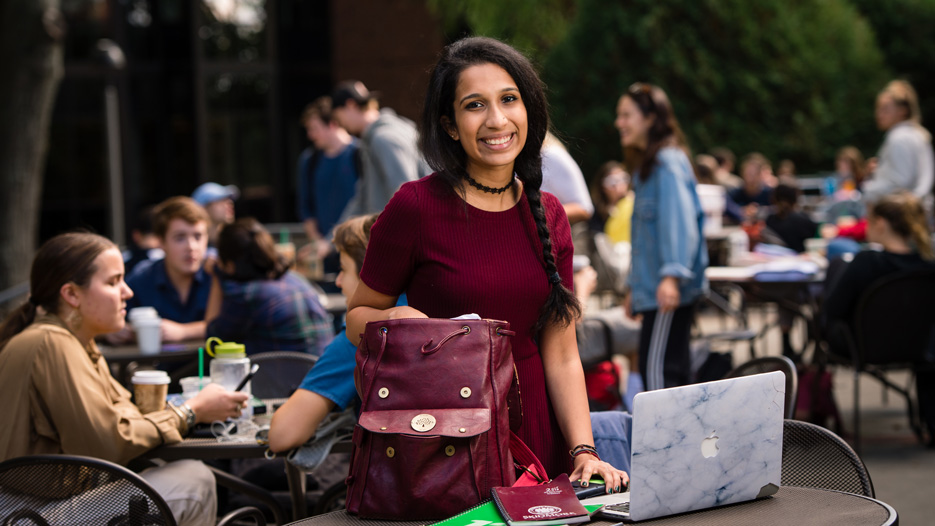 In recent years, about half of Skidmore's incoming classes enrolled though the Early Decision application process. It's a trend that is on the rise at Skidmore and across the United States. Skidmore's Early Decision applications have increased 80 percent since 2012.
Skidmore's Early Decision program is designed for students who have examined their college choices carefully and have decided that Skidmore is their first-choice college.
There are two separate deadlines when students can apply during their senior year: Nov. 15 and Jan. 15.
After visiting campus and weighing his options, Dante Haughton '19 knew that applying Early Decision to study at Skidmore College was the right choice for him.
"Although I did not believe that a dream school for me could exist, my visit to campus proved me wrong," explained Haughton of New Haven, Connecticut. "I am extremely happy that I applied Early Decision."
"Visit campus if you have the opportunity," the English major with minors in business and media and film studies said. "Take time to research every aspect of the school that you find even mildly important and ask questions. Ask friends and family for advice. Ask yourself what you desire."
Sustainability advocate Zoe Pagliaro '20 of South Kingstown, Rhode Island, said she was struck by the energy of Skidmore students: "When I met and talked with current students it was clear that they loved being here and are excited about learning. They seemed to be pursuing so many different interests. Their involvement in cocurriculars, particularly ones making the campus a better place, was incredible."
Devika Nambiar '20, who grew up in India but went to high school in China, said her decision to apply Early Decision relieved stress during her senior year of high school.
"Coming from an international school background, the atmosphere was exactly what I was looking for. I toured 10 colleges and universities that summer, but none had the vibe that Skidmore did," she said. "I'm so glad I did Early Decision because it allowed me to complete my last semester of senior year comfortably knowing I'd found a place that would continue to allow me to explore my interests and passions."
Health and Human Physiology major Ben Canter '21 of Larchmont, New York, said access to professors and the sense of community at Skidmore were factors why he applied Early Decision to Skidmore. He advised prospective students that "you are not only looking for your future school, but also for your future home.
"That's a big reason I chose Skidmore; it was the little things like the food being tasty and how when it was cold and snowy everyone still seemed to be smiling," he said.
This fall is a great time to come see if Skidmore might be right for you, starting with Admissions' fall open house programs. If those dates don't fit your calendar, there are plenty of other times to schedule a visit, including most Saturdays.
For full profiles of Dante, Devika, Ben, Zoe and other Skidmore Early Decision enrollees, visit our Early Decision site.