Adult learner completes 50th course
May 9, 2019
A continuing-ed student at Skidmore College has celebrated the completion of his 50th elective college course, Theater and Culture I.
So, what's unique about this student? Lewis Taub is a 93-year-old retired optometrist, who began auditing Skidmore courses in 1994 when he was 68 years old.
After taking two courses a year for 25 years — the equivalent of 150 credits — the lifelong learner says he's received a full liberal arts education at the leading institution. And although he earned formal degrees from Brooklyn College and Columbia University years ago, he jokes that he's now "working on his master's at Skidmore."
What have the students learned from him over the years?
"You're not too old to learn something … and maybe they appreciate their parents more," Taub said.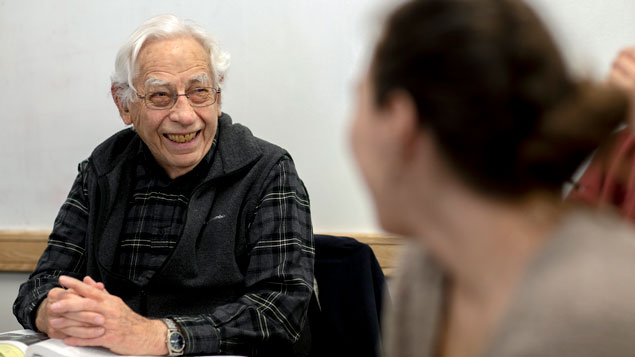 "Lewis has enriched the class with his presence, personality and enthusiasm," said Eunice Ferreira, assistant professor of theater and the instructor of Theater and Culture I. "He has also modeled for students that learning is a lifelong process." His classmates say they value having Taub's intergenerational perspective — and his passion — in the classroom.
"We usually think about race, gender or ability when it comes to diversity, but age is just as important," said Kate Greenberg '19.
"His presence added a dimension we never would have had with only people our own age. His life experience enhanced our learning."
Nick Leonard '20 said, "He has more experience but he's also brought so much joy. It's really nice to realize that you're never done learning."
President Philip A. Glotzbach stopped by the classroom to celebrate the last day of Taub's 50th course. "Lewis has taken such good advantage of the resources we offer to the Saratoga Springs community," Glotzbach said. "We're thrilled that he has been with us for so many courses and he has no doubt contributed to each of those in which he has participated."
Taub recalls the first course he took at Skidmore 25 years ago: Religion of Tibet and India. He's taken many courses in history, art history and religion.
The Skidmore registrar presented Lewis and his wife Marion with honorary Skidmore diplomas prior to Marion's passing in 2016. Marion had taken 40 courses at Skidmore.
Taking college courses inspired the couple to travel to India, China and Japan. Taub finished up his latest course a little early to go on a two-week transatlantic cruise from Florida to the Azures, Spain, Portugal, Belgium and England.
"I tell people, two things they should do in their life: One is drive across the country and see how big this country is and take a ship across the Atlantic Ocean," Taub said.
Taub is back from his cruise and ready to keep studying at Skidmore in the fall. He already has his 51st class picked out: a religion course.