Everything we love about summer in Saratoga Springs
July 24, 2019
Picture green trees, leisurely bike rides and days spent lounging on campus catching up with friends, reading a book and enjoying the sunny weather. Each year after Commencement, Skidmore transforms into a premier summer destination for students and visitors alike.
From a short hike in our own North Woods to internationally acclaimed performers at Saratoga Performing Arts Center, there's no shortage of things to do, see, taste and experience.
Here are some of our favorite things about spending summer at Skidmore and in Saratoga Springs:
Harry Mooney '21
History and Philosophy MAJOR
From Maine
Showing off Skidmore and taking a friend to the must-see Saratoga spots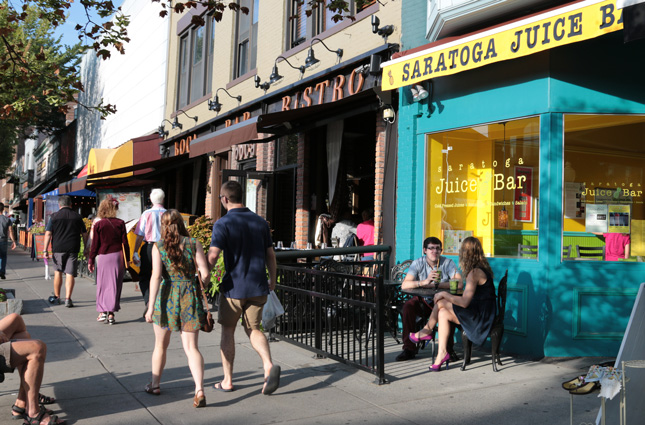 Summer is also a great season to host a friend. I proudly hosted my visitors by taking them on a grand tour of Skidmore students' favorite spots, including Saratoga Juice Bar, Uncommon Grounds, Compton's Diner and Saratoga Coffee Traders. But the real crème-de-la-crème is Triangle Diner.
Fill up on french toast and potatoes, then trek back to campus for a tour. Walk the winding paths, point out your favorite spots — including Zankel Music Center for a quick drum session — and you've immediately cemented a perfect memory.
Seeing a show at
Saratoga Performing Arts Center (SPAC)
SPAC is nearly synonymous with Skidmore. We graduate there, our students collaborate on research projects and have internships there and in the summer, going to concerts there is one of our all-time favorite experiences.
SPAC is the summer home to both the New York City Ballet in July and the Philadelphia Orchestra in August. For me, it's a place to experience both Jazz Fest and a Phish concert with a friend.
Sitting out on the lawn, watching the sunset and then listening to music under the stars — it's absolute perfection.
Getting out and enjoying the natural beauty of upstate New York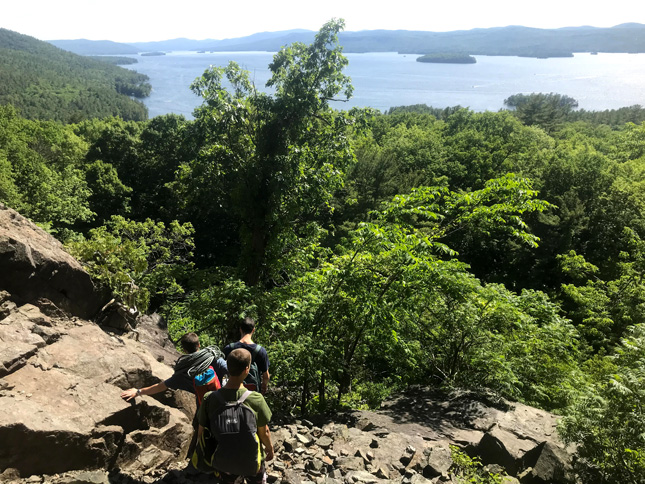 There are more than 25 public parks and trails in and around Skidmore and downtown Saratoga. Expand your radius a few miles and that number grows into the hundreds as you include our surrounding mountains and waterways.
There are infinite ways to experience our natural playground, but one of my favorites is rock climbing. We're lucky to have so many places to choose from, but I always find myself heading to Lake George.
Take a half-hour car ride, walk five minutes into the woods, do a little climbing and you'll be dangling 80 feet above the ground, looking out at one of the most beautiful lakes in the country.
Hadia Bakkar '20
Political Science MAJOR
From Syria
Attending one of the many free (or low-cost) events on campus
There are many free (and low-cost) events on campus during the summer, courtesy of the several programs and institutes that are in residence here for the season.
A couple of highlights for me include Skidmore's Jazz Institute, which brought a variety of jazz concerts to Zankel Music Center, and Upbeat on the Roof, which transforms the roof of the Tang Teaching Museum into an open-air music venue offering free public concerts.
But that's not all. There's plenty to listen to and experience with the Mostly Modern Festival, the Summer Writers Institute, MDOCS' Storytellers' Institute, the annual Stewart's Signature Series and more.
Sampling Saratoga's small-city charms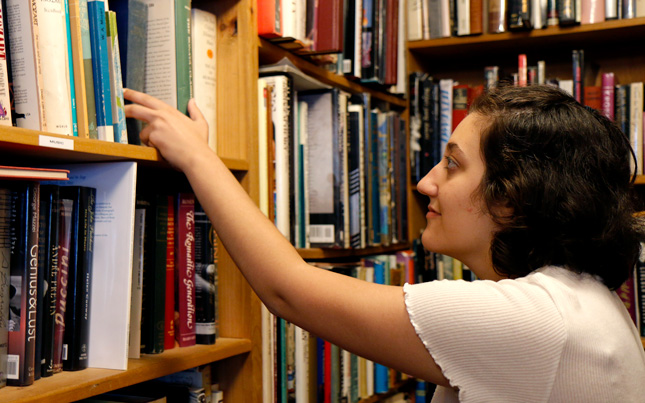 There's something about summer in Saratoga that inspires you to go beyond your usual path. For me, that means taking a few slower walks and following more curious avenues.
An absolute favorite is wandering (and trying not to get lost) in the weaving, winding aisles of Lyrical Ballad, a local bookstore that's a hidden Saratoga gem.
Then, I like to stroll off Broadway, our main street, to Spot Coffee, the ideal quiet reading spot on a hot summer day.
Saratoga also features plenty of festivals and special events throughout the summer, like the Fourth of July celebration, Shakespeare in the Park, the Beekman Street Arts Fair and more.
Taking scenic Bikemore rides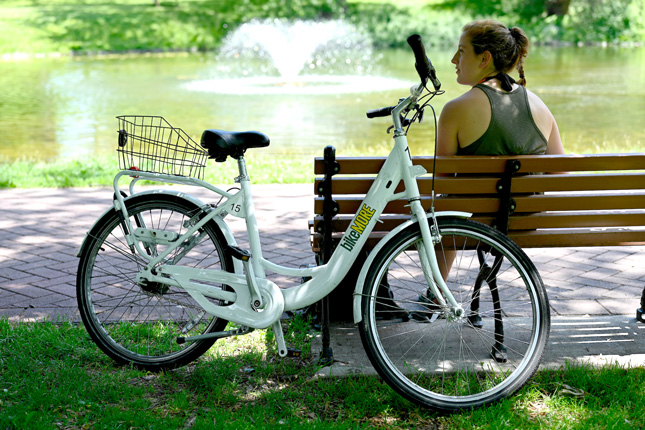 Skidmore's Bikemore program is a great, accessible and free way for students to explore the area. During the year, it seems so many of our rides are mission-oriented — go to the post office, go to work, go to the store, etc.
But the summer is the perfect time to use our bikes for the pure enjoyment of feeling the summer breeze and seeing the summer scenes.
This year, friends and I ventured out to Yaddo, a beautiful residence for artists and writers with historic gardens open to the public. We also enjoyed exploring the many bike trails available in Saratoga Spa State Park.
With so many destinations only a mile or two from campus, it's a tradition to zip around by bike.
Novilhelha Moleni '22
Management and business major
From Malawi
Soaking up the sun on our perfect campus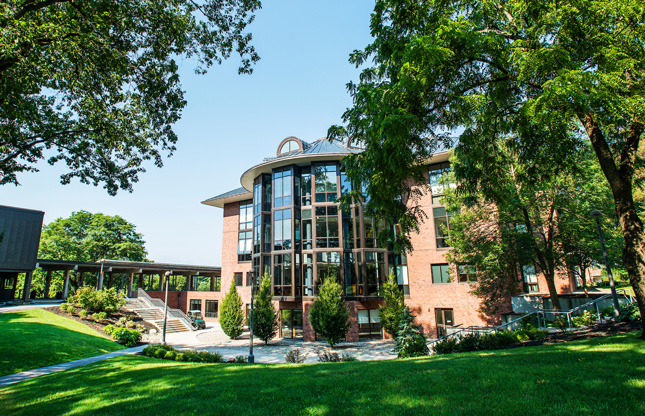 Skidmore's campus is beautiful all year round, but summer gives it a special glow. The campus is a little quieter (not much, though) than it is during the academic year, which means it's easier to catch some rays from your favorite spot.
This summer, I tried to visit a new bench (we have many) every day. From my seats, I gazed out at our beautiful landscape and enjoyed photographing the trees and flowers that flourish all around.
As someone who enjoys quiet and secluded spaces, my favorite bench is by Haupt Pond. I love sitting in the natural silence, enjoying the fresh Saratoga breeze and meditating or reading a book.
Gaining career experience
Skidmore students spend their summers interning all over the world. And, thanks to many on-campus professional opportunities and a close relationship with the city of Saratoga Springs, there are also dozens of opportunities to boost your resume close to our college home.
This summer, I'm working with Skidmore's Office of Communications and Marketing. As a management and business major, I have gained an understanding of several areas of strategic communications by working in the office.
I also had the opportunity to work in the Skidmore Shop, where I learned about different activities that are happening on campus and experienced firsthand how branding and retail connect in business.
Taking advantage of helpful Skidmore resources
Summer at Skidmore is like an oasis. Everything is open, but you have the freedom and flexibility to enjoy what makes this place so great.
For example, I love being in the Scribner Library just to enjoy the library. Believe it or not, the library has a huge selection of casual reading, not just research books.
I just finished reading "We Should All Be Feminists" by Chimamanda Adichie, which I borrowed from the library, and am currently reading "End this Depression Now" by Paul Krugman.
Apart from the library, summer is also a great time to visit the Career Development Center. This summer, the counselors helped me network with alumni and set up a few lunch dates in Saratoga. It's a great way to learn from other people's career experiences.
Making memories we'll never forget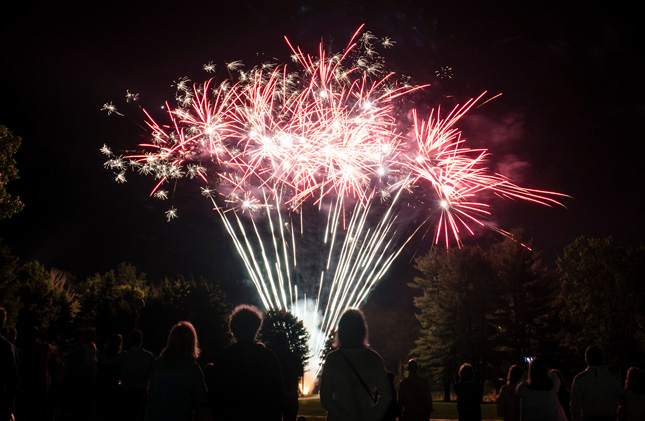 Skidmore and Saratoga Springs truly bloom in the summer. While our list barely scratches the surface, it shows that there's definitely no shortage of new people to meet, new experiences to have and new ways to explore this place we call home.
Want to learn more? We regularly cover daily happenings and offer behind-the-scenes looks at what it's like to be a Skidmore student in Life at Skidmore student stories.