What is there to do at Skidmore in the winter?
January 27, 2020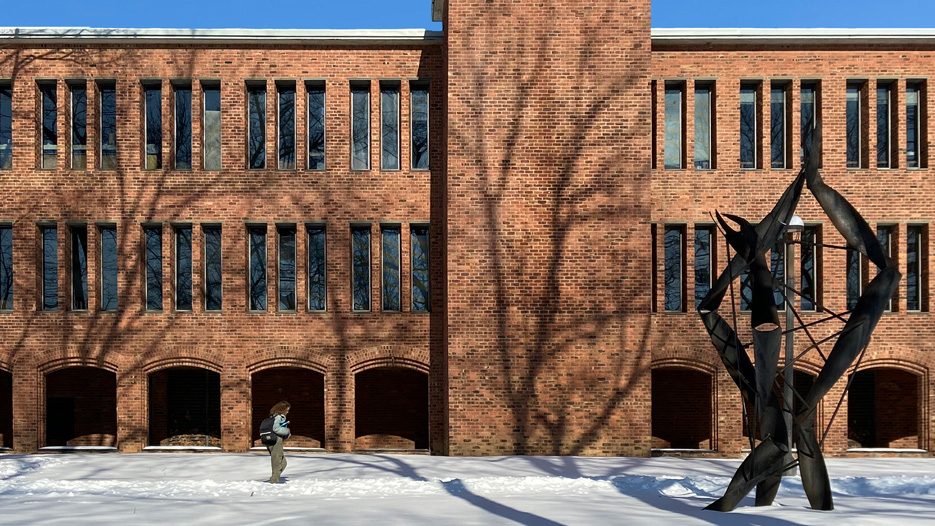 As the last of the leaves fall off the branches and the trees go into dormancy, you know winter is here to stay … at least for a few months. While some rejoice, others immediately begin counting down the days until they can be back outside in shorts and sandals.
Despite the split in opinions, winter at Skidmore is one of a kind. The season is highlighted by traditions and events that are exclusive to this particularly brisk time of year and distinct to Skidmore's student experience.
Whether you're into comedy, cheering on the home team or just having fun in the snow, there is something for everyone.
Here are five creative things to do at Skidmore this winter:
1. National College Comedy Festival
If you're looking to warm up with some side-stitching laughs, look no further than the National College Comedy Festival. Known as ComFest for short, the student-produced annual comedy festival features a variety of popular professional comedians and premier improv and sketch groups from colleges around the country.
Founded at Skidmore by David Miner '91 (a producer on "Parks and Recreation" and "Unbreakable Kimmy Schmidt"), the festival has proven to be an accurate predictor of who might be a rising talent in comedy or show business.
Miner himself is an example. And if you've been binge-watching Amazon's "The Marvelous Mrs. Maisel," you can thank Skidmore for giving Michael Zegen '01 (Joel Maisel) the platform for co-founding The Sketchies, a sketch comedy group that still participates in ComFest.
2. Big Green Scream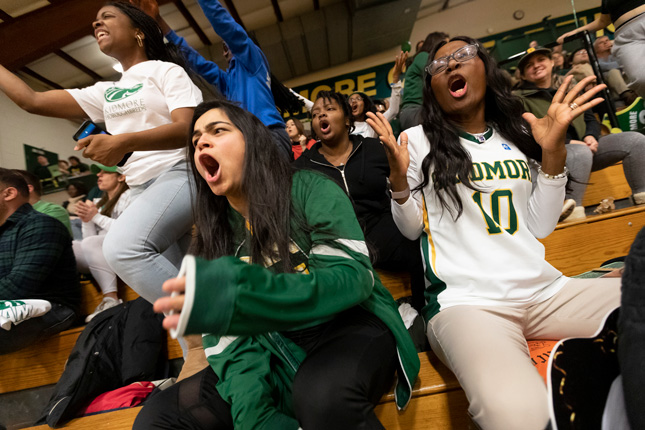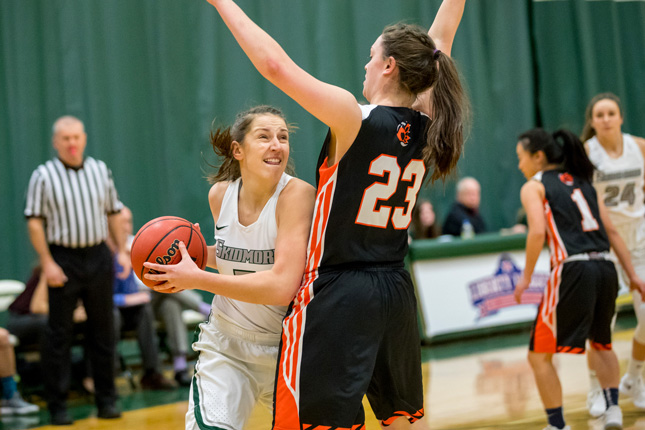 One of the most anticipated events of the year, the Big Green Scream is a pep rally of sorts for Skidmore's men's and women's basketball teams. Featuring back-to-back games, often against a Liberty League rival, it's an all-day event celebrating T-bred spirit. Come early, as seats do fill up fast!
Accompanied by music (including by yours truly, DJ Spades), performances and raffle prizes, Big Green Scream has something for everyone.
And thanks to our friends over at Stewart's Shops, this year is sure to be even more exciting! Stewart's Shops and Skidmore are teaming up to introduce a Skidmore-inspired ice cream flavor in spring 2020.
Our community members have already voted mint chocolate chip as the flavor, but we need help picking a name. The winning name will be selected during a scream-off during the game, so come on out and scream for ice cream!
3. First round of the Freirich Business Plan Competition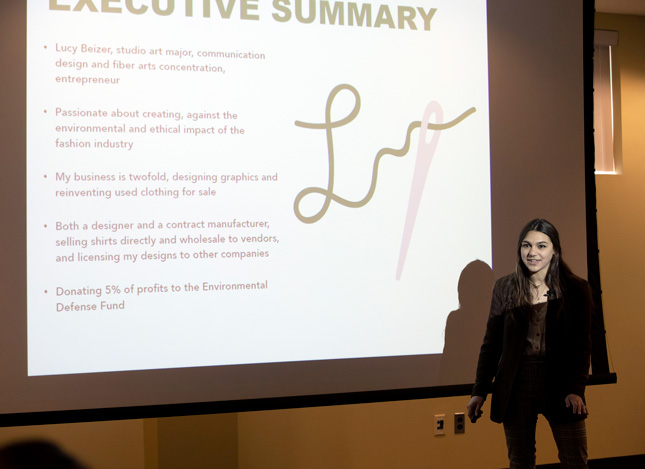 If you're a fan of "Shark Tank," you can't miss the early rounds of the Kenneth A. Freirich Business Plan Competition. This contest provides students with the opportunity to get a head start as entrepreneurs.
Now in its 10th year, the competition was created to foster entrepreneurship and creativity across all majors and disciplines at Skidmore. It has grown into one of the preeminent competitions among liberal arts colleges nationally. More than 400 students and 300 businesses have entered the contest to date.
Many of my friends have participated in the competition and seeing them work collaboratively with one another to bring their ideas to fruition — from clothing companies to subscription-based furniture rental businesses and nonprofit initiatives — is pretty amazing. I'm excited to see what's in store for this year and look forward to helping friends brainstorm ideas.
4. Saratoga Springs' Small-City charms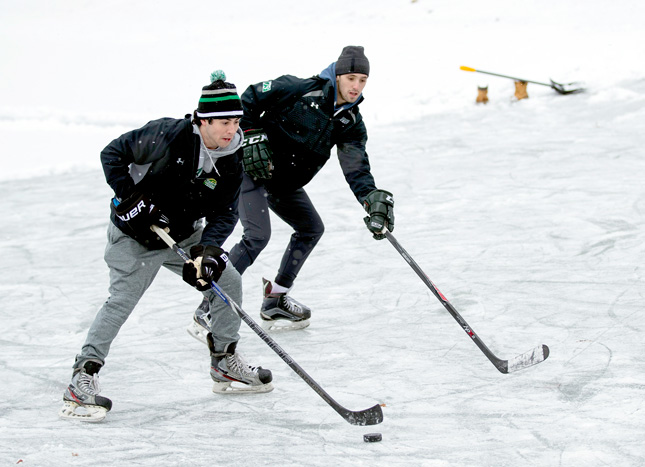 Warm up with a hot cup of coffee, tea or cocoa in a cozy café in downtown Saratoga Springs, just a short walk from Skidmore's campus.
Famous as a summer destination, Saratoga Springs is also bustling with wintertime activities, including festivals and outdoor excursions in beautiful local parks.
From venturing out on a candlelight ski and snowshoe to enjoying the many live music performances that happen every weekend, there are plenty of ways to keep busy on winter weekends and immerse yourself in the surrounding community.
5. Winter wonderland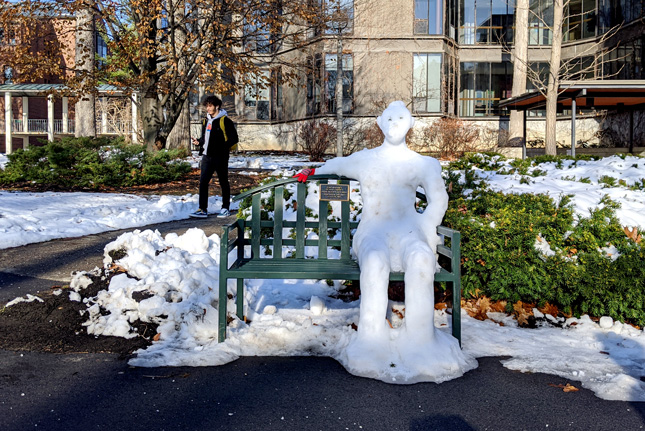 Winter doesn't truly arrive until the first blanket of snow covers the campus. This is a perfect time for all of Skidmore's architects-at-heart to shine and show off their impressive creations.
From castles to igloos, and of course snowmen, this is a prime time to display your creativity. Or, if you're interested in going the more traditional route, hit the slopes for some sledding or snowboarding.
If you prefer to participate without the risk of frostbite, grab a camera or your phone and capture the beautiful scenery through your own lens. Getting the perfect snowy photo is sure to bring you tons of Insta-likes and bragging rights.
Something for every season
One might think winter in upstate New York is all doom and gloom and snow and cold. And while this could be a divisive opinion, I think there's just as much beauty to behold and fun to be had in the winter as there is any other time of the year.