Skidmore graduate's virus-fighting tech named a "best invention" by Time
December 16, 2020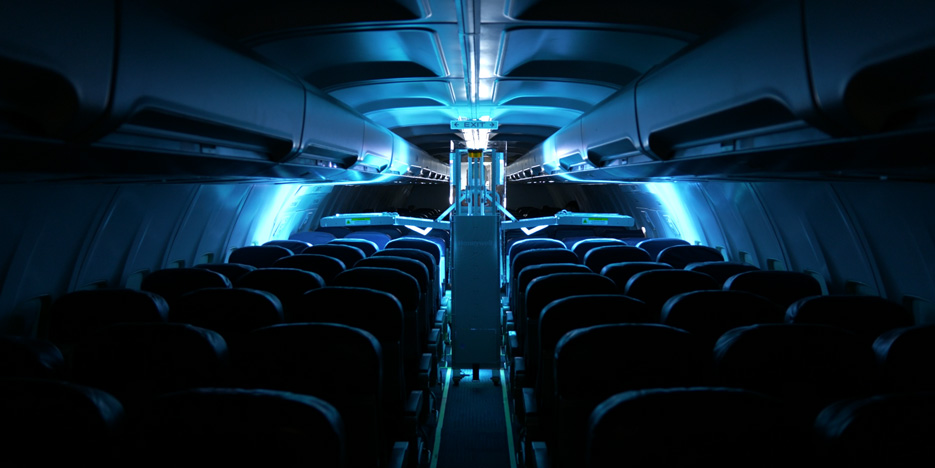 Time magazine has included the Dimer GermFalcon — a disinfection system from Dimer UVC Innovations, co-created by Skidmore alumnus Elliot "Mo" Kreitenberg '14 — on its list of "The Best Inventions of 2020."
"Even before the pandemic heightened the health risks of air travel, the GermFalcon was preparing to create a cleaner, safer experience for passengers," Time magazine wrote.
GermFalcon uses short wavelength ultraviolet light (UVC) to sanitize interior surfaces of an aircraft.
One of the GermFalcon's mechanical arms stretches out over a plane's seats to disinfect it using UVC light.
Proven effective against SARS and MERS, two members of the coronavirus family, and in a recent study, SARS-CoV-2 when it lands on surfaces, the groundbreaking invention resembles an airplane beverage cart and is seen as a potential contribution to efforts to reduce the risk of contracting COVID-19 during air travel.
"We're humbled by the recognition. It's been a wild ride to go from startup idea to production to launch in the middle of a pandemic, but that's our call to arms — pushing through so we can make a difference."

Elliot Kreitenberg '14

Cofounder and President, Dimer UVC Innovations
Another Skidmore alumnus is also part of the core project team: Kreitenberg's college roommate Leejay Pollacchi '13, a marketing and design professional, has been brought on as brand manager at Dimer. The two longtime friends both studied management and business at Skidmore and played for the men's baseball team.
One of the reasons Kreitenberg believes Dimer's technology is now receiving so much attention is that it uses the same UVC science hospitals have been using for years to sterilize operating rooms.
The idea behind Dimer began a decade earlier, when Kreitenberg's father, an orthopedic surgeon, began tinkering in his garage workshop with hospital-grade germicidal UVC lights.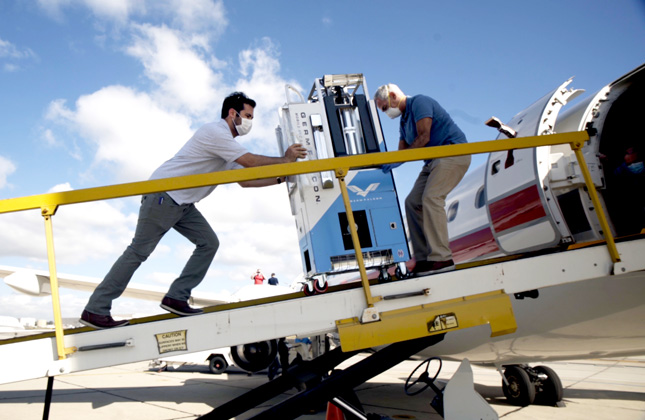 Elliot Kreitenberg '14 and Arthur Kreitenberg load the GermFalcon onto a plane.
Intrigued, the younger Kreitenberg joined him between semesters at Skidmore. Together, they built a prototype that quickly kills viruses and bacteria on airplanes with the goal of disrupting the flu season. They spent years unsuccessfully pitching their product to airline executives. Then the pandemic hit.
Demand for germicidal UV technology surged as every sector sought ways to make their places and spaces safer, and Kreitenberg reached out to Pollacchi as a trusted resource in brand expansion and development.
"We know this is critically important work and part of a larger puzzle to change the world, especially this year," Pollacchi said. "Mo did a lot of the work to get us here, but I'm excited to be on board to see where we go next."
Working together, the two alums are proudly celebrating one major milestone after another, including an exclusive strategic partnership with Honeywell International to bring their technology around the world to airplanes operated by JetBlue, Qatar and Azul Airways.
The pair are also leading the launch and promotion of Dimer's new mobile unit, the UVHammer, designed to kill 99.9% of germs on surfaces in schools, businesses, government facilities and elsewhere.
"Our dream," Kreitenberg said, "is that technology like ours becomes ubiquitous with everyday life, putting it in every major transportation intersection, classroom, public space and more, so we can prevent the catastrophic pain and suffering the COVID-19 pandemic wrought around the world."
---
Mary Monigan contributed to this story.