Skidmore Pre-College to be offered virtually this summer
March 8, 2021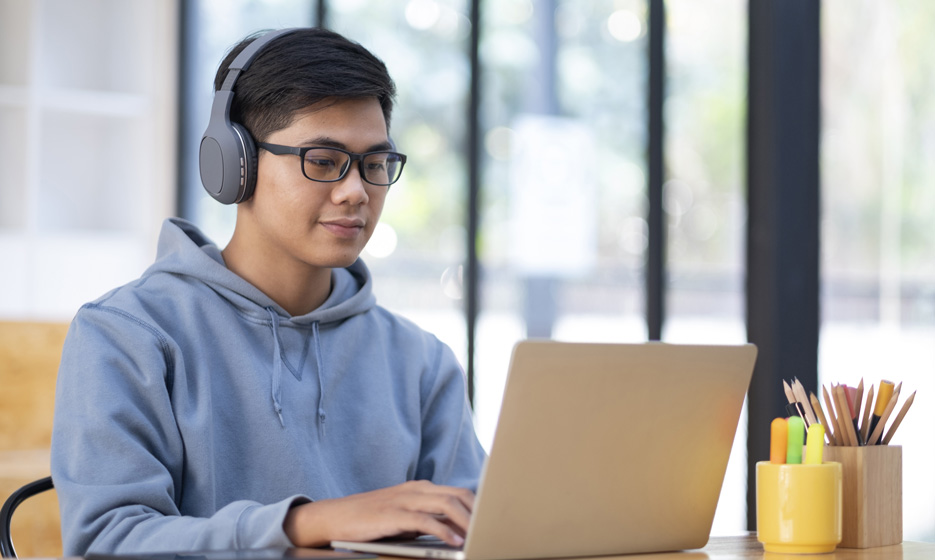 Skidmore's Pre-College program will be offered as a virtual experience this summer, allowing high school students and their families flexibility and ease of access as they get a head start on college.
Through the program, which runs July 5 through Aug. 6, students will immerse themselves in college-level academics, earn college credit and an official transcript, learn skills for navigating life as a future college student, and make connections with peers from around the world.
In addition to enrolling in one course for up to four credits, participants receive access to virtual Skidmore Admissions workshops on choosing a college, applying to college, writing an admissions essay and other tips and insights into college life. They can also attend virtual extracurricular events and campus tours and get full access to College resources such as academic advising and tutors in the Philip Boshoff Writing Center.
Skidmore Pre-College course offerings span the humanities, social and natural sciences, studio art and a diverse range of special topics that allow students to explore their interests or get ahead in a particular academic area.
The college-level curriculum can be challenging, but faculty mentorship and small class sizes provide additional opportunities for support and feedback that are unique to the Skidmore experience. Skidmore Pre-College students are one of 100 or fewer students, versus one of 1,000 or more at other institutions.
"There is nothing more delightful than to see how students form bonds by working together in these small and intensive summer courses, and to see these relationships continue to strengthen in college," said Associate Professor of History Jenny Day, who will teach History of Modern Japan during this year's five-week session.
Offering Pre-College virtually also presents an exciting new opportunity for students and faculty, says Director Michelle Paquette-Deuel. "I am eager for students this summer to learn from our outstanding faculty within the rigorous and collaborative online environment developed this past year," she said.
In teaching his Human Genetics and Lab course, Biology Professor Bernie Possidente will assign some independent work, use the Zoom platform for class discussions and one-on-one meetings, and assign virtual labs and simple home experiments that he has developed over the past three semesters since the COVID-19 pandemic began.
"I try to model equal parts of doing science and being inspired by it, and I like to give students as much flexibility and personal responsibility for their education as they can handle," Possidente said. "I think this is especially useful for high school students, so they learn that college is more of an opportunity to define and pursue the education they want than it is fulfilling requirements and following a prescribed path."
Senior Physics Instructor Jill Linz, who will be teaching Physics: Sound and Music with Lab this summer, says she finds it rewarding to see her students gain confidence and begin looking forward to their time as an undergraduate.
"For high school students, there is an air of mystery surrounding college," said Linz. "They leave the Skidmore Pre-College program with a sense of accomplishment and maturity surrounding the entire college experience."
Fiona Promisel '24, now a full-time undergraduate at Skidmore, agrees. She says the program greatly enhanced her preparedness and transition to college life.
"I found it to be an extremely valuable experience," she said. "I took classes with actual professors and Skidmore students, allowing me to get a true feel for how Skidmore operates."
Current high school sophomores, juniors and seniors can now apply to the Skidmore Pre-College program, and decisions will be made on a rolling basis. The scholarship application deadline is April 1, and all other applicants should apply by June 1.
Limited need-based scholarships are available for students who demonstrate academic excellence. To be considered, students must submit a completed program application and the scholarship application, available online.
Getting early access to college-level learning can be life-changing for so many students. It affirms they can do the work. And it cannot be understated how transformative this is — when you have a transcript in hand that you succeeded in a program like this, opportunities follow."

Michelle Paquette-Deuel

Director of the Skidmore Pre-College program
In the most recent rankings published by College Consensus, Skidmore's Pre-College program was listed No. 7 among the top 30 pre-college programs in the nation.
To learn more, apply or request additional information, visit the Skidmore Pre-College website.