Skidmore launches Food Systems Initiative
December 1, 2021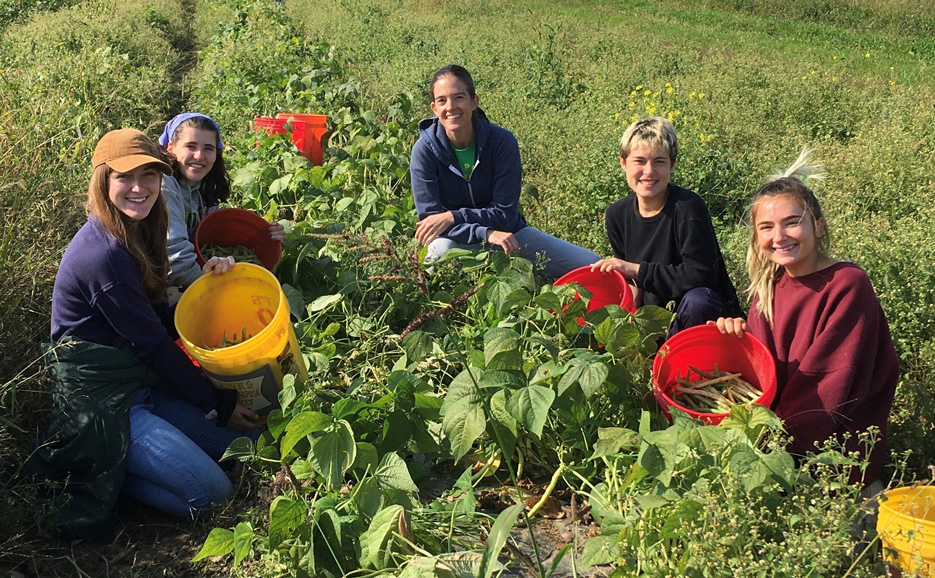 Skidmore College's Environmental Studies and Sciences (ESS) program has launched the Food Systems Initiative — an interdisciplinary, community-based research and teaching initiative — with the assistance of a first-time, year-long grant from the Henry David Thoreau Foundation.
The selective grant supports visionary programs at U.S. undergraduate institutions that foster innovative environmental leadership and engaged scholarship. At Skidmore, where more and more students are demonstrating an interest in sustainable and just food systems and in taking creative, tangible steps toward a better future, the grant is being used to enhance courses, create more opportunities, and build upon mutually beneficial relationships between the College and community organizations.
"The way we grow, distribute, and consume food is essential to support not only human well-being, but the well-being of our planet as well," said ESS Program Director and Associate Professor Nurcan Atalan-Helicke.
Through workshops, internships, year-long capstone projects, and meetings with community partners, the Food Systems Initiative is strengthening collaborations among students, faculty, and staff and increasing students' ability to create environmental solutions to pressing contemporary problems."

Nurcan Atalan-Helicke

Environmental Studies and Sciences Program Director and Associate Professor
Through their capstone projects — a signature element of the ESS program — students are exploring many different dimensions of food systems, from food sovereignty with indigenous groups to renewable energy on farms.
"Asking how and why we eat what we eat illuminates the histories that got us here and the possibilities of transformation moving forward," said Lowery Parker, visiting assistant professor of environmental studies and sciences, who teaches courses in Environmental Justice and The Politics of Food, Agriculture, and Social Justice and co-teaches the Research Capstone courses alongside Assistant Professor Kris Covey. "Teaching through a food systems lens allows Skidmore students to contemplate where and how they might fit in the struggle for food justice, a struggle that animates much larger discussions about what we want our world to look like."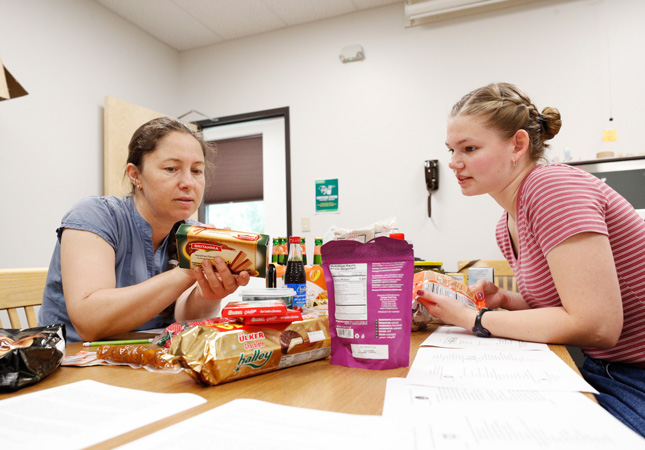 Environmental Studies and Sciences Program Director and Associate Professor Nurcan Atalan-Helicke and Brook Heston '22 look at Halal labels on food products as part of their summer faculty-student research in June.
Brook Heston '22 is currently working with two other seniors, Justine Bolling '22 and Grace Howard '22, to create a feasibility plan for a small-scale maple sugaring operation at Skidmore.
"The feasibility plan we will produce at the end of the school year will include an analysis of the financial, technical, and administrative requirements of building a sugaring program as well as the educational and environmental benefits of doing so," said Heston. "Our goal right now is to also highlight the importance of environmental education and place-based learning. We want to provide Skidmore College and the Saratoga Springs community with an interdisciplinary space that can be a resource for all ages."
The sugaring operation they are designing would provide a way for people to connect to the history of the land and gain a deeper appreciation for the work that goes into food production, she said.
Skidmore students come from all over the world and many of them have not necessarily been exposed to maple syrup or the sugaring process. Without the opportunity and resources to learn, people remain disconnected from their environment. I believe that knowing where food comes from and how it is produced is central to understanding the complexities of food systems."

Brook Heston '22
Workshops made possible through the initiative and grant are encouraging students to develop their skills in public storytelling and to think about diversity and equity issues as they relate to food systems.
Soul Fire Farm, an Afro-Indigenous-centered community farm in nearby Rensselaer County, will present a workshop on food justice, uprooting racism, and how we think about power dynamics in food systems at large.
To drive home the importance of storytelling, one workshop will invite an interdisciplinary historian and artist to discuss how to translate the voices of the community with care and respect, while another will teach students how to present scientific data back to the community in an engaging and passionate way. A partnership between the ESS program and Skidmore's John B. Moore Documentary Studies Collaborative (MDOCS) is supporting the initiative's storytelling emphasis.
After collecting and analyzing the data they've gathered throughout the academic year, students will use these storytelling skills, and other creative approaches developed through campus collaborations, to present their capstone findings to community stakeholders.
Seniors working on a Skidmore Community Garden hoop house plan to put together a media project, and others are collecting visual data so they can create story maps with the help of Skidmore's GIS Center, said Atalan-Helicke.
Roger Mercado '22 gets food during Skidmore's Harvest Dinner at Murray-Aikins Dining Hall in late October. Since 2008, the Harvest Dinner has been a student-led event that celebrates healthy, local, sustainable food and the Skidmore Community Garden, with support from Dining Services and the Sustainability Office. It is one of many curricular and co-curricular endeavors at Skidmore that focus on the importance of sustainable food systems.
The grant will also provide faculty-student collaborative research experiences for two environmental science and two environmental studies students in summer 2022 to prepare publications from the year-long capstone projects, and a student will receive a summer internship award to work on food justice issues with a local community organization.
These grant-funded opportunities are building on efforts that had already been underway at Skidmore, from the classroom to the College Sustainability Office's innovative work with student leaders in community gardening, compost management, and beyond.
In the long term, focusing on food systems and investing in multi-year efforts will help faculty expand their research, enhance the curriculum of the program, and provide more concrete data to community partners, said Atalan-Helicke. "Our goal is to work with organizations and create these opportunities. When they see the quality of our students' work, they will be even more eager to work with us."