Skidmore continues to give back to community agencies in need
December 15, 2021
The Skidmore College community rallied together to assist local residents and families for the 16th consecutive year through the Skidmore Cares community service program.
Through this year's effort, Skidmore faculty, staff, and students donated more than 4,000 food items and more than 1,400 school supplies and personal care items for Saratoga County community organizations. Monetary donations to Skidmore Cares and community agencies totaled roughly $2,000.
As protective COVID-19 health and safety measures remain in place at Skidmore, participants were invited to walk over or drive up to the Williamson Sports Center parking lot during the week of Dec. 6-10 to drop off donations at the Skidmore Cares tables set up outside.
In addition, "virtual can drives" held daily on the second floor of Case Center allowed students to swipe $1 from their Skidmore ID or bring canned goods to donate.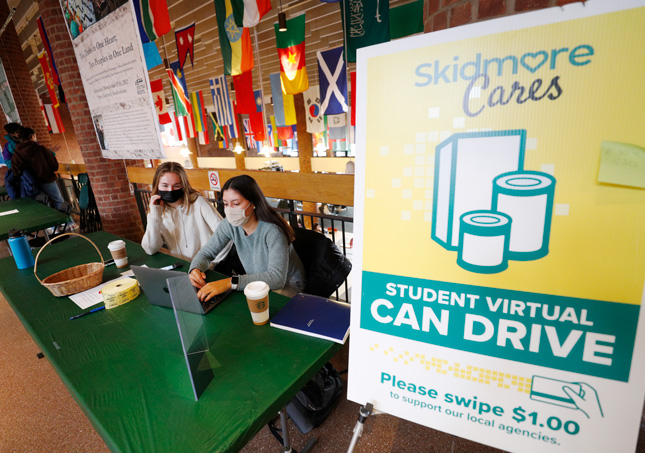 Ellie Owen '24, left, and Kyra Russman-Araya '24 volunteer during the Skidmore Cares virtual can drive Dec. 8 in Case Center.
In all, more than 60 faculty and staff volunteers and 18 student volunteers helped to collect, organize, and deliver contributions to 10 local community service organizations: Shelters of Saratoga, Franklin Community Center, Mary's Haven, LifeWorks Community Action (formerly Saratoga Economic Opportunity Council), Wellspring, Saratoga Springs City School District PATHS, the Latino Advocacy Program, Salvation Army, Habitat for Humanity of Northern Saratoga, Warren, and Washington Counties, and Saratoga Center for the Family.
The donations continue to meet a critical need in the local community. Angelo Calbone, director of community services for LifeWorks Community Action, shared this fall that their organization saw a 30% increase in need, which they anticipated would remain high or grow throughout the holiday season.
Jack Doherty '25 helps load Skidmore Cares donations into a delivery truck on Dec. 13.
Founded in 2006, Skidmore Cares has now raised more than $125,000 for community causes and distributed approximately 65,000 food, personal care, and school supplies items.
"As the COVID-19 pandemic continues, giving back to our neighbors and local agencies is so very important," said President Marc Conner. "The Skidmore community continues to show its generosity and goodwill through this incredible, collaborative tradition that makes a meaningful impact on so many lives."