First-year seminar inspires book that re-imagines U.S. Constitution
January 6, 2022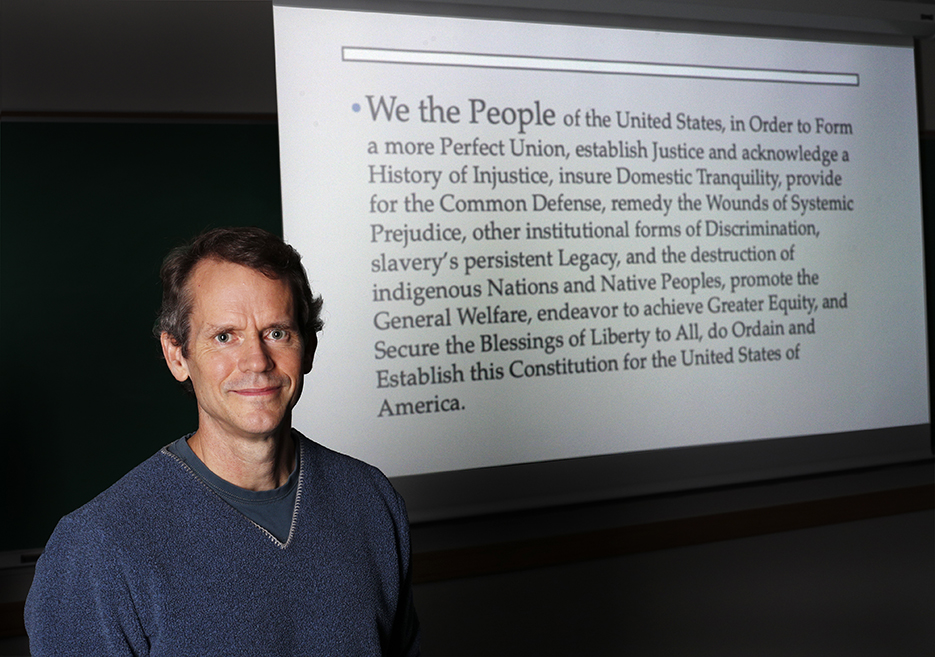 Scribner Seminars encourage Skidmore first-year students to engage in critical thinking by exploring engaging and sometimes quirky topics that professors are passionate about.
Collaborative research opportunities with faculty, likewise, give students the opportunity to participate directly in the research agenda of faculty.
All of that is true, says Joseph C. Palamountain Jr. Chair in Government Beau Breslin, but it's only part of the story.
"The experience of a Scribner Seminar also challenges us — Skidmore faculty — to think outside the box," said Breslin, who served as director of Skidmore's First-Year Experience Program before becoming Skidmore's dean of the faculty from 2011 to 2018. "What I love about the Scribner Seminar is the experimentation, breaking down disciplinary boundaries creatively, and crafting new ways of thinking about topics."
Breslin says his most recent book, "A Constitution for the Living: Imagining How Five Generations of Americans Would Rewrite the Nation's Fundamental Law" (Stanford University Press, 2021), was profoundly shaped by his own experiences with students in his seminar American Liberty: Our Enduring Struggle With Constitutional Rights in 2011, as well as a summer collaborative research project with students.
Like a Scribner Seminar, the book takes an imaginative approach to an important issue. Rather than offering a traditional academic monograph, Breslin presents a work of counterfactual historical fiction that reconsiders a famous debate between Founding Fathers James Madison and Thomas Jefferson about the merits of enduring constitutions.
"Madison thought constitutions should last for centuries in order to build up the necessary reverence for them to be authoritative in a country like the U.S. Jefferson disagreed — strongly!" Breslin explains. "Jefferson thought each generation ought to meet in convention and write its own constitution. In fact, he thought it was just another form of tyranny when a people was governed by a constitution written by a group of politicians long dead."
Of course, Madison won the debate, and the U.S. Constitution is now well over two centuries old. Breslin's book imagines a different history, "a Jeffersonian world," where constitutional conventions took place in 1825, 1863, 1903, 1863, and 2022. Though fictional, the conventions are based on actual events — from questions about slavery to debates surrounding women's suffrage — shaping the public agenda at those times.
This fall at Skidmore, Breslin discussed his book with two leading constitutional scholars — Henry L. Chambers Jr. of University of Richmond School of Law and Keith E. Whittington of Princeton University — who offered their own perspectives on the book in a dialogue moderated by Flagg Taylor, associate professor of political science and director of the Periclean Honors Forum. Both offered their own perspectives but also offered praise for Breslin's unique approach. Whittington, for instance, called it both "deeply learned" and "extremely imaginative."
"There really is no model for doing a book like this in much of the academic literature," said Whittington, a member of President Biden's Presidential Commission on the Supreme Court.
Breslin sees that creative scholarship as an outgrowth of his experience in the classroom.
The idea for this book came from a Scribner Seminar."

Beau Breslin

Joseph C. Palamountain Jr. Chair in Government
Breslin gives special credit to two students involved in his 2011 seminar: Kate Cavanaugh '14, who had taken the seminar the year before and was serving as peer mentor for the incoming class, and Ben Polsky '15, then a first-year student.
Polsky, a government and history double major, went on to work for the Atlantic Council and CBS News before earning a master's degree in international public policy from Stanford University. He now works as a program manager for Facebook.
Polsky recalls "an extraordinarily rigorous and challenging" seminar that "struck a tenuous balance between safety net and freedom." The first assignment, for instance, asked first-year students to consider whether the Constitution was a living or dead document.
"We were thinking about an issue that the Supreme Court itself is divided on and people go to law schools and get Ph.D.s and J.D.s to think about, and they still haven't figured out the right answer to," Polsky recalled. "I think the fact that Beau was willing to engage with me as a peer as an 18-year-old — as someone who was insecure about his own intellectual prowess at the time — gave me the confidence to take myself seriously and wrestle with larger, thorny intellectual questions."
Cavanaugh, an English major, said when she took the seminar as a first-year student, she soon discovered "that Beau's seminar had a reputation as the hardest." Breslin is known for setting high standards — calling on students without notice and waiting out even the longest of awkward silences.
"There was no hiding in Beau's class," said Cavanaugh.
But Cavanaugh said that intense environment also helped her develop confidence. Now a copywriter with the tech company Square, she credits Breslin with instilling in her a "love of breaking down complex materials and being able to explain them."
"Beau knows what you're capable of and will push you to achieve it. That helped build my confidence in writing and in articulating a point of view."
Breslin gives Cavanaugh credit for helping him to improve his writing and offering creative approaches to explain the tough subject matter in a way that is also accessible to the educated layperson, not just the academic specialist. She and Polsky went on to participate in a summer collaborative research project with Breslin in 2014. Both Cavanaugh and Polsky described it as an egalitarian atmosphere rooted in trust, where ideas flowed freely and they were encouraged to explore new approaches — provided they could defend them.
"I felt like I could bring anything to the table," Cavanaugh said.
Over the summer, Cavanaugh and Polsky helped Breslin to organize the entire book project and developed the first draft for the chapter on the 1825 constitution.
Breslin describes the two as among those students "who have fundamentally changed the way that I see the world." In the acknowledgments of his book, he even goes a step further, describing them as "exceptional students who have taught me more than I them."
---
This article first appeared in the fall 2021 issue of Skidmore College's Scope magazine.