Alumnae apply creative thought to inspire a love of nature and climate action
April 25, 2022
In co-founding The Wild Center, Skidmore alumna Betsy Lowe '76 helped to create a celebrated showcase of the Adirondacks — the largest natural park in the lower 48 states, just a short drive from Skidmore College — and a globally recognized resource for examining humankind's relationship with the natural world.
Now, also through their creative leadership in the sciences and their support of the museum's mission, the paths of three other Skidmore alumnae have converged around The Wild Center to educate and encourage the next generation of environmental leaders.
The Wild Center's Wild Walk allows visitors to walk among the treetops.
Through the classes, extracurricular pursuits, and mentorships they experienced at Skidmore, Elodie Linck '21, Virginia "Ginny" (Hutchins) Valkenburgh '72, and Hillarie Logan-Dechene, MALS '12, found inspiration and laid the foundation for careers in science, nonprofit administration, and marketing management.
Linck, who grew up in Saranac Lake, became actively involved in The Wild Center's award-winning Youth Climate Program as a teenager and has served as chair of its Youth Advisory Board since 2017.
"The Youth Climate Program is an avenue through which we empower and inspire young people to take action on climate. It was really impactful for me as a high school student, and that trajectory continued for me at Skidmore," said Linck, who double majored in political science and dance at the College.
Linck was recently tapped for a key leadership role in the program as the Jeanne Hutchins Youth Climate Coordinator, The Wild Center's first ever named position. The position, funded by Skidmore alumna and Wild Center trustee Virginia Valkenburgh and family and friends, was created to honor Valkenburgh's mother, Jeanne Hutchins, an RIT Fellow who researched and wrote papers about the Adirondacks into her 90s.
"My Mom loved the Adirondacks, but also she just loved learning," said Valkenburgh. "We wanted to honor her with some kind of program or position that had to do with science, the environment, the Adirondacks, and learning."
The Youth Climate Program is such an amazing program, and it's just so important these days to educate the youth about the environment and encourage them to love nature and want to protect it."

Virginia "Ginny" (Hutchins) Valkenburgh '72

Wild Center trustee
In her new role, Linck will lead the organization of the annual Adirondack Youth Climate Summit, a core component of the Youth Climate Program.
"I'm really honored. It's so special that it happened to work out this way," said Linck. "I'm really excited to be able to do such important work, working with youth in our region to take action on such an important issue, and I'm just really grateful for the generosity of the Hutchins family."
Last fall, The Wild Center and the Youth Climate Program sent a delegation of staff and youth climate leaders to observe and participate in TEDx Countdown in Edinburgh, Scotland, and the United Nations Climate Change Conference (COP26) in Glasgow, Scotland. The Wild Center was one of only two museums to receive badges for the Blue Zone, the area at COP26 where the formal negotiations take place.
Elodie Linck '21, right, attends the "Climate and Racial Justice: Learning from U.S. Social Movements" session during the TEDx Countdown in Edinburgh, Scotland in October 2021. (Photo courtesy of The Wild Center)
"It was really inspiring," said Linck. "It was super energizing, especially to see all the young people acting on climate — artists, Indigenous leaders, people in the business world, people in education and in science."
Hillarie Logan-Dechene, deputy director of The Wild Center and a lecturer of arts administration at Skidmore, has been a mentor to Linck since she joined the museum as climate communications fellow in 2021, and they collaborated closely on the communications strategy for COP26.
"I've really enjoyed working with Hillarie. She is wonderful at leading our museum forward and she's been such a role model and strong presence," Linck said. "She cared what I had to say, listened to my ideas, and pulled me right into everything with gusto, which just felt really empowering as a new graduate in my first job."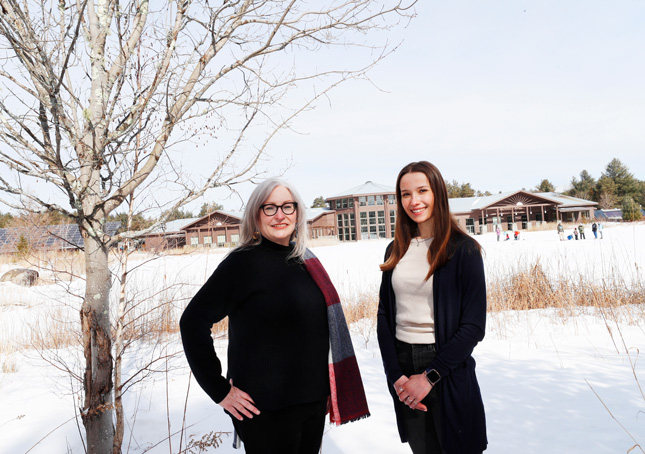 Hillarie Logan-Dechene, MALS '12, and Elodie Linck '21 stand outside The Wild Center in Tupper Lake, New York, in the center of the Adirondacks.
Of Linck's work on COP26, Logan-Dechene observed, "Elodie did a phenomenal job. It was really incredible to have somebody with her skills there to help the rest of the delegation report back."
Logan-Dechene, who earned her Master of Arts in Non-Profit Leadership and Community Sustainability from Skidmore in 2012, teaches two courses in Skidmore's Arts Administration Program: Philanthropy in the Arts and Museums Mean Business.
It's been really an honor to be able to share my experience in working in the arts with the students at Skidmore and to see how engaged these students are."

Hillarie Logan-Dechene, MALS '12

Deputy director of The Wild Center and lecturer of arts administration at Skidmore College
"The students come from all majors at Skidmore — so we have dancers, we have business students, and they're from everywhere around the country and from all backgrounds," she said. "And I know some of them have gone out and gotten jobs in these fields, and that's really gratifying."
Logan-Dechene has worked closely with Lowe '76, The Wild Center's co-founder and now one of its trustees, for the past 11 years, and with Valkenburgh '72 since she joined the board in 2019.
"We owe the entire Wild Center to Betsy. She single-handedly came up with the idea for this place and she is both a delightful person and a bulldog when it comes to an idea," Logan-Dechene said of Lowe. "And Ginny has just been tremendous. She has an incredible background in marketing and she's been indispensable to our team in terms of helping us think about what our needs are at this time and moving forward."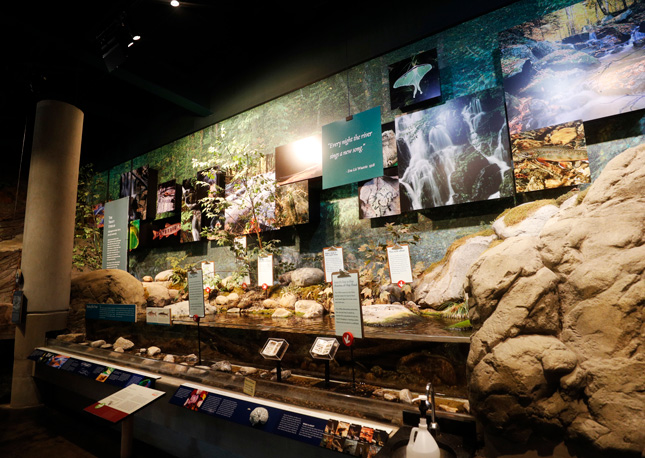 The Wild Center's exhibits explore the beauty, history, and biodiversity of the Adirondack Park. An exhibit devoted to the work of the Youth Climate Program is currently in development and slated to open soon.
Valkenburgh, whose impressive marketing career has included work for a wide range of Fortune 500 consumer goods clients across industries, majored in chemistry and biology at Skidmore before going on to earn master's degrees in business administration and health services administration. She fondly remembers being inspired by Skidmore faculty members such as Charlotte Fahey, then-chair of the Chemistry and Biology departments. "She was just fabulous. She would write all these formulas across the 20-foot blackboard. She was just so committed, and she was a very big influence in my education."
Linck, who simultaneously pursued her interests in political science and dance as a double major at Skidmore, also found inspiration in her courses — particularly those focused on race, gender, and climate change — and in the power of movement as a means of connecting and communicating. Beyond academics, she enjoyed working with Skidmore's Office of Sustainability to create education tools and conduct outreach.
Skidmore was a place where I could do dance and environmental work and my political science major, and all those things could fit together even though they were maybe not traditionally seen together."

Elodie Linck '21

The Wild Center's Jeanne Hutchins Youth Climate Coordinator
"I think that's one of the best things about Skidmore — that I was doing all kinds of different things," Linck said. "To me, it was perfect. It prepared me with all of these skills that have served me so well and just make me so happy."