Vermont's green team: A soccer club that's 'not about soccer'
July 19, 2023
Three Skidmore alumni and former Thoroughbred men's soccer players created the Vermont Green Football Club because of their lifelong love for the game, but they say it's only a small part of what their new United Soccer League (USL) team is all about.
Their passion is the Green's green goal of achieving zero greenhouse gas emissions and other ambitious environmental targets.
"Vermont Green is a soccer club that's not about soccer," said Keil Corey '09, who founded the team along with Thoroughbred teammates Matthew Wolff '12 and Sam Glickman '12. "We're here to address environmental justice."
The three, who forged an enduring friendship on and off the Liberty League soccer pitch, credit Skidmore's liberal arts experience with providing them with important lessons about determination and grit, creative approaches to problem-solving, and a willingness to embrace new pursuits that have prepared them for distinct career paths.
And, at the height of the COVID-19 pandemic, the three grads showed the Burlington, Vermont, community and the soccer world that Creative Thought Matters when they launched a professional soccer team as a platform for environmental justice.
What if …
Flash back to 2020 and a few rounds of "what if" creative conversations among friends.
Like many others, the three Skidmore grads were texting and making Zoom calls just as the COVID-19 pandemic started sweeping the globe. The state of the world was bleak. Yet the three saw reason for hope.
At the time, Corey was a Vermont-based consultant with expertise in environmentally sustainable business strategy. Wolff was a New York-based graphic designer and art director who had done sports jersey, logo, and brand design work with Nike, including a FIFA World Cup uniform that went viral. Glickman was overseeing global sales strategy and operations for San Francisco-based Stripe.
Their bond is rooted in their time together on the Skidmore men's soccer teams in 2008 and 2009: Corey was a defensive midfielder from Bristol, Vermont; Wolff, a speedy winger from Minneapolis, Minnesota; and Glickman, an outside back from Port Washington, New York. They remained passionate about their time with the Thoroughbreds and devoted to "the beautiful game," (a term of endearment for soccer popularized by Brazilian footballer Pelé).
One evening, Wolff texted Corey with a link to an article on the England-based Forest Green Rovers Football Club, known for pushing the boundaries of environmental consciousness.
"Check these guys out," Wolff wrote. "I'm going to call you in the morning."
It was a transformational conversation.
"The question Matt was posing was how to embed social justice and environmental stewardship in the DNA of the club. There are a lot of issues — extreme inequality, environmental degradation, and climate change to name a few," said Corey, a Skidmore political science major and environmental studies minor, who provides technical support and training in greenhouse gas protocols for the World Resources Institute. "And where do these roads cross? The movement for environmental and climate justice."
From left to right, Sam Glickman '12; Andrew Blake '14, a former player on the Skidmore men's soccer team; Ron McEachen, Skidmore's former Skidmore men's soccer coach; Keil Corey '09, and Matthew Wolff '12.
"It was pie-in-the-sky thinking," acknowledged Glickman, an environmental studies major and geosciences minor. "But we sketched out the vision. Detail by detail. Zoom call by Zoom call. And we thought, why can't we do this?"
"The other critical piece was location. Could Vermont support a club? Keil connected strongly with this idea based on his deep knowledge of the Burlington community and its commitment to the environment," Glickman continued. "We submitted a successful league application and hired a head coach with local roots and USL playing experience. After that, it was all hands on deck."
Seven months after the club was officially born, more than 1,000 fans showed up at the Green's first home game at the University of Vermont's Virtue Field on May 16, 2022.
In its regular-season finale, a raucous capacity crowd of 2,500 cheered on their hometown team as it clinched a playoff spot with a nervy 1-0 win over the Western Mass Pioneers. The Green would end up No. 6 in attendance out of 113 USL clubs nationally, averaging more than 1,400 fans.
Their dream inaugural season came to a close in the round of 16 versus the No. 5-ranked Long Island Rough Riders, but the club had achieved much more than success on the field.
'Something bigger than ourselves'
"In its purest form, soccer reminds us we are part of something bigger than ourselves," reads the Green's partnership literature. "Clubs have a unique opportunity to cut through polarization, provide common ground, and shape culture."
The club is prioritizing five goals in pursuit of its mission: achieving operational net zero greenhouse gas emissions, fighting systemic racism, producing purpose-driven merchandise, contributing 1% to the planet, and educating and advocating.
In terms of the team's environmental justice ethos, Burlington was an ideal location: In 2014, it became the first city in the U.S. to draw 100% of its energy from renewable sources. The city plans to get to net zero energy by 2030.
But how did the club do in its first year — beyond the pitch?
SunCommon, a Vermont-based residential solar company, and one of Vermont Green's partners, recently released a short documentary film highlighting the team's success toward its environmental justice mission.
The team has also been in the spotlight with coverage by numerous media outlets, including the BBC and Guardian.
Earlier this season, Roger Bennett, co-host of the popular "Men in Blazers" podcast and TV show on NBC Sports Network and a prominent U.S. soccer media personality, came to Burlington's Higher Ground to record a sold-out, live podcast on the Vermont Green FC story.
Bennett described the club's founders as "football lovers who dreamed of a brand that can be a true reflection and the essence of the values of their city. And with real thought and creativity they willed it — and it is no dream."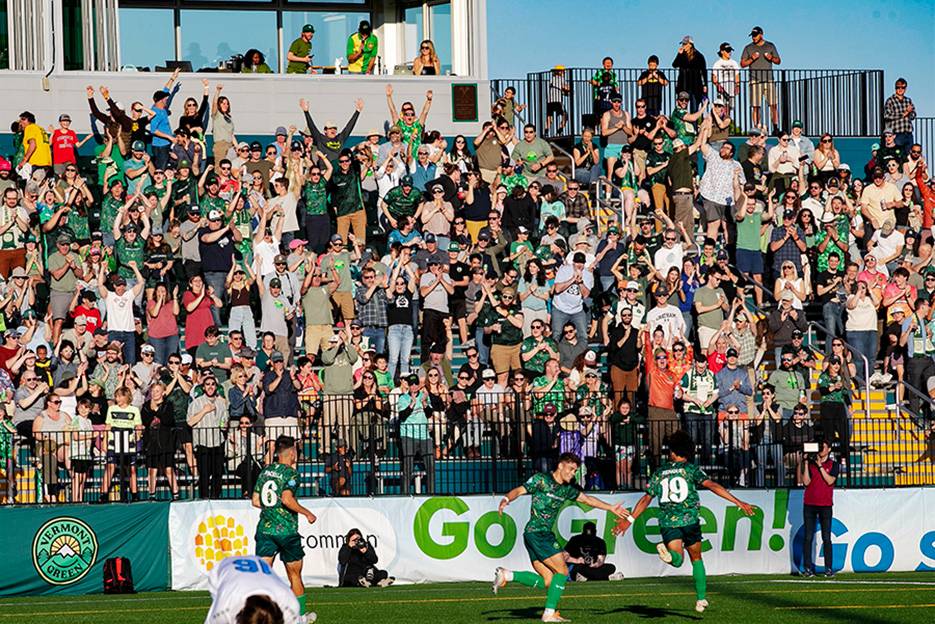 As Zach Zengue scores the first goal of the home opener, he and his teammates sprint toward the stands in celebration and appreciation of the Virtue Field faithful.
Game time
It was the first home game of Vermont Green's second season on Friday, May 26, versus Albany Rush. 
Three hours before the 7 p.m. kickoff and wearing staff T-shirts, Wolff and Glickman were setting up the merchandise area with several young workers.
Wolff's eco-friendly designs are on full display and generate long lines. Vermont Green's uniforms are made from approximately 23 recycled plastic water bottles and are Global Recycling Standard certified.
It's land conservation night, and Corey visits the Vermont Natural Resources Council and Vermont Trust booths, among others.
Along the way, thanks to a partnership with Recover Brands, he passes a donation box for old cotton and polyester tees that promises "we'll recycle them into new gear!" The portable restrooms, created by Burlington-based Wasted, make another promise: "We turn your waste into fertilizer." There's also a sign for "free secure bicycle parking," part of a Bike-to-the-Match collaboration with Local Motion, Vermont's statewide advocate for active transportation. In the parking lot, the Green Mountain Bhoys, a self-initiated eclectic fan group, have gathered for pre-game festivities.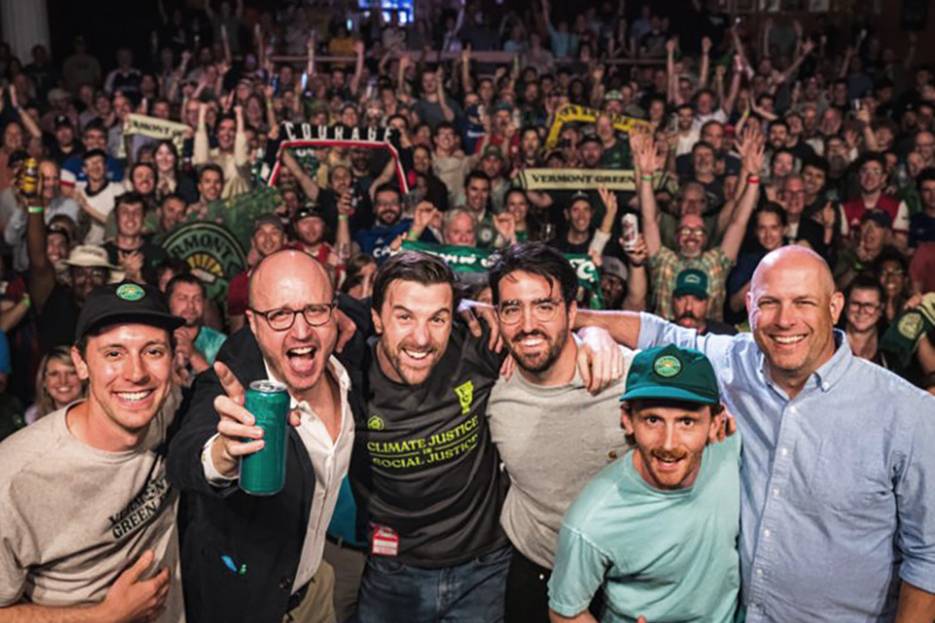 From left to right, Sam Glickman, Roger Bennett, Keil Corey, Patrick Infurna (a club co-founder), Matthew Wolff, and Colin Kelly (also a co-founder) celebrate at the "Men in Blazers" podcast featuring Vermont Green's success story.
Corey then heads for the stands to run security detail, which means he has lots of friendly conversations with members of an energized fanbase. Wolff is already in the broadcast booth orchestrating the show, and Glickman, who now works full time with Vermont Green and oversees finance and operations, is holding down the fort behind the scenes.
Back at Skidmore, Associate Professor of Political Science Bob Turner, who had both Corey and Glickman as students, recalled chatting with both about their plans for the future, as well as the English Premier League.
"I knew they were both passionate about the environment and soccer, but I never could have imagined that they would start a green soccer club," Turner said. "It's the most insane and awesome idea."
The alumni say Skidmore offered lessons about endurance and creativity that have proved important at Vermont Green.
"You have to have grit and try things, and if you fall, get back up," Glickman said. "You have to get creative because plans and circumstances change at every turn. We didn't know what we didn't know, but we believed in ourselves."