Jeo Bravo, Class of 2023
Philosophy and business-spanish double major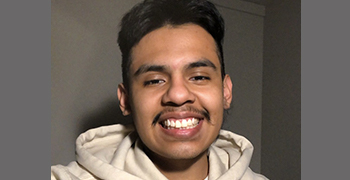 Jeo Bravo, Class of 2023

Highlights during the 2020-2021 academic year (including summer of 2020)
In January, I became a Scholar Support Officer at EEqual, a non-profit organization that strives to support homeless youth across the U.S to study in higher educational institutions. As part of the EEqual's Scholarship Rewards Program, my role is to mentor EEqual Scholars throughout their college journey and serve as a confidential resource so they are on track in their academics!
How did you choose your major? Or, what are you considering majoring in and why?
I am a Philosophy and Business-Spanish double major. I took my first Philosophy course back in high school I knew I was going to major in it. When I enrolled in my Ancient Greek and Modern Philosophy courses, I instantly remembered that learning passion that I felt previously. I love to THINK! I also knew I wanted to improve my Spanish but I also wanted to use my bilingual skills with something else, which is how I formed an interest in the Business-Spanish major!

What do you plan to do after Skidmore?
After Skidmore, I plan to enroll in law school! Growing up I always wanted to be a voice for underrepresented communities. It is critical that we properly address the political issues the U.S. is facing, and I want to be part of making solutions. I'm not sure what kind of law I want to pursue, but I am sure I will find my law of interest.

Recommendations for incoming OP students?
You got this! It is okay to be unsure about your first year in college. This is your moment to learn about yourself and what you like to do! It is okay to make mistakes, but it is very important that you learn from them. Failure does not mean it's the end of the world. One of the awesome things about being part of the OP community is the support from the staff and the friends you make! You are not alone because we are all in this together!