Dymass Molina, Class of 2022
Art major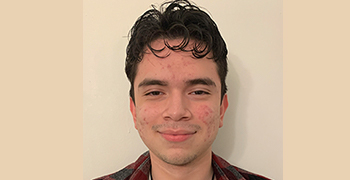 Dymass Molina, Class of 2022

Highlights during the 2020-2021 academic year (including summer of 2020)
Some highlights during the 2020-2021 Academic Year are that I have gotten the chance to explore different art mediums. Usually, I stick to digital media art but this academic year I've been able to explore a wide variety of hands-on art.
How did you choose your major? Or, what are you considering majoring in and why?
I chose my major because I love to do art. Back in high school, I did a lot of digital art through Adobe programs and Autodesk Maya. I choose to be an art major to further explore digital art.
What do you plan to do after Skidmore?
After Skidmore, I plan on pursuing my master's degree in animation. I hope to one day be able to work at Pixar as a 3D Modeler and Animator. To achieve this goal, I need to study more in the field of 3D art.
Recommendations for incoming OP students?
A recommendation that I could offer for incoming OP students is to not be afraid to try something new or be afraid if something proves to be too challenging. You never know what can come from a new experience or how things could end up if you see a challenge through.