Maria Shahzadi, Class of 2021
International Affairs with a minor in Environmental Studies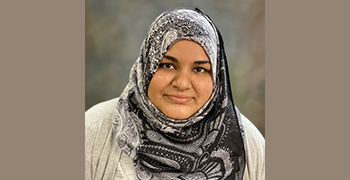 Maria Shahzadi, Class of 2021

Highlights during the 2020-2021 academic year (including summer of 2020)
During the Spring semester of 2020, I studied abroad in New Zealand through the Skidmore in New Zealand program. I was the first student to study International Affairs and attend a program that was mainly designed for environmental studies majors. This allowed for more options for students interested in other disciplines to study in New Zealand. Skidmore New Zealand will be a great opportunity for future International Affairs majors and Environmental Studies minors.
Another highlight was receiving my Certification of Women in Leadership from Cornell University through the generous help of donors. This certification of Leadership will help me advance my career in the State Department as an intern and eventually as Foreign Service Specialist.
How did you choose your major? Or, what are you considering majoring in and why?
I actually was set on majoring in Neuroscience and being on the Pre-Med track. It was after my fall semester of taking Introduction to Comparative Politics and Introduction to International Affairs the spring semester of my freshman year that I realized I was very passionate about global issues. In my sophomore year, I decided to major in International Affairs with a minor in Environmental Studies.
What do you plan to do after Skidmore?
I plan to be a member of City Year, working in a program that helps underperforming school districts improve their test and graduation rates while preparing students to take on a journey of learning and reflection. After City Year I plan to join the foreign service as foreign service specialist.
Recommendations for incoming OP students?
Be kind and patient with yourself. You will be learning not only to navigate college but also learning about yourself in a new environment. Never be afraid to ask for additional support. We can all use an extra pair of hands and listening ear at time.