Warissou Watara, Class of 2021
international affairs major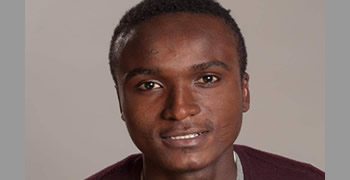 Warissou Watara, Class of 2021

Highlights during the 2020-2021 academic year (including summer of 2020)
Thus far, all I could say is I'm humble and fortunate to be alive despite what this pandemic has turned our lives into. Million people lost their loved ones and are still mourning their loss, but I'm here healthy. I was blessed to secure a remote internship over the summer, and I must confess that was a life changing experience and I could not have had a chance without the support from the OP and the career department center through their summer funds opportunity.
The 2020-2021 academic year is an academic year not like any other. With less break and a lot of work to do within this small amount of time is really draining and stressful. Sometimes, I find myself giving up, then I remind myself what I'm here for, and the roads and goals I set myself ahead. I'm glad to be back on campus and had a chance to see my friends and play some soccer with them. I'm still standing as I'm working diligently to complete my last semester. I found myself completing assignments upon assignments which can be so draining at time. My life slogan revolves around learning, I'm always looking forward to learning something new about myself or about something about my career interest.
How did you choose your major?
I'm an International Affairs student, and I always found myself loving History. I chose to major in International Affairs because it is a vast and broad major in which you can use your experience in anything you want in this life. International Affairs major was a potential major that I thought of as an opportunity field where I could branch out my history, public policy, social issues and law enforcement interests and thrive in my long-term career. I always have this feeling and am very hopeful to relocate back to Togo or somewhere in Africa to start my career some day and with an International Affairs degree, there would be a lot of opportunities for me to give back to my people and to the beautiful continent that I cherish so much.
What do you plan to do after Skidmore?
My plan after Skidmore is still unknown because I hate disclosing my plans and ambitions that I have if I have not started them. One thing for sure is I'm open to opportunities to grow and excel toward my career. I've been looking for jobs and I'm part of this wonderful fellowship program called BASTA, where we meet virtually every Thursday to discuss careers and networking. They have helped me upgrade my resume and now we are moving to steps where you get to connect with professionals from different industries. I'm so hopeful and optimistic that there's something positive coming, but it is just a matter of time.