From Skidmore to streaming on Amazon
September 27, 2018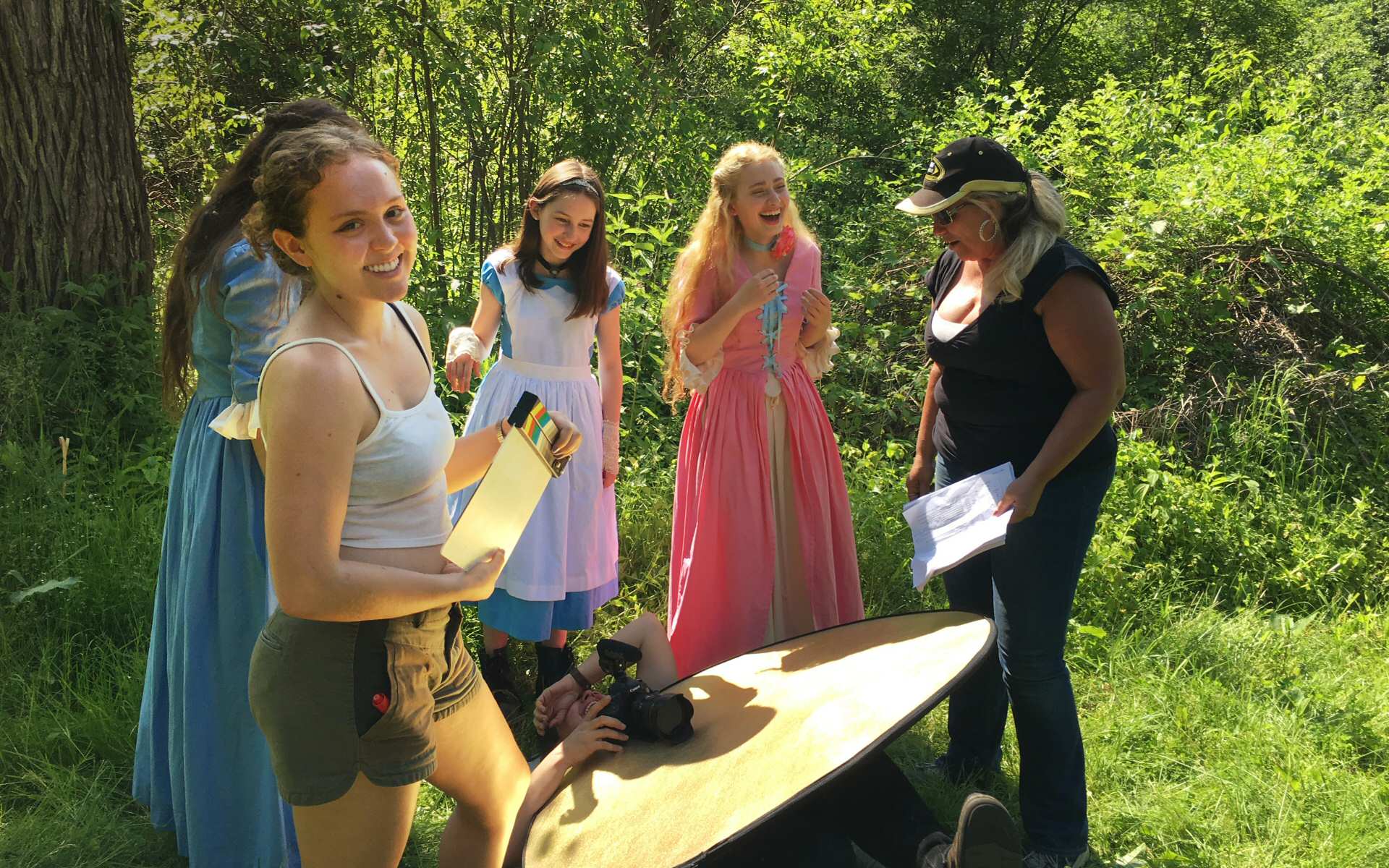 "Amazon screenwriter" is on my resume. Specifically, I am the writer on two episodes, "Lots of Locks" and "The Golden Key," in the recently released Amazon Prime series "The Adventures of Snow White and Rose Red."
How did I get here? From first-year student to senior screenwriter ready to take on the film industry, this is my story.
It all started in my very first semester at Skidmore when I enrolled in a screenwriting class with Nicole Coady, a Hollywood screenwriter and lecturer in Skidmore's MDOCs program. In the class, I wrote some comedic scenes about an Italian-American family getting their daughter into college. Over the semester, Nicole and I developed a special bond.
The following year, Nicole invited me to take her 300-level class to write, direct, produce, and act in my own short film. I also oversaw casting calls. (By the way, this is the best class I've taken at Skidmore so far.)
Callista and Demetra Zorbas (lead actors in "The Adventures of Snow White and Rose Red") auditioned for my film and I casted them in minor roles. Nicole, looking for people to act for her future show, "The Adventures of Snow White and Rose Red," pulled me aside and if I could introduce her to the Zorbas sisters.
Then, the greatest moment of all happened — she asked if I would write two episodes for the show.
Ecstatic, I accepted her offer and worked with Nicole for about two months. Nicole also hired two other female Skidmore alumni to write the other episodes — Mirella Nappi and Olivia Anderson — so we became an all-female writers show.
When it came time to film "The Adventures of Snow White and Rose Red," Nicole casted the Zorbas sisters from my student film to play Snow White and Rose Red. I helped Nicole shoot some of the episodes during the summer before my junior year. Also serving as a production assistant, I bought props and costumes, ran errands before and during shooting, went to rehearsals and scouted locations.

I was amazed by how close the scenes caught on camera looked like the scenes I had in my head.
It was so magical – long dresses and hair, quiet forests and country cabins. My Rapunzel episode looked better than I had imagined. The actress was stunning with dark, long hair tied in a braid filled with flowers.
The shoots were extremely fun too. I could hardly sleep at night because I wanted to wake up the next day and be back on set. Even though we filmed in 100-degree heat, and had hourly tick checks from deep adventures into the forest, it was a lot of fun and by the end of the summer, I'd made very close friends.
But it was only in my experiences afterward that I realized just how special of an opportunity it was.
Because, as I continue my studies and work on other film sets, I realized that I'm often the only female in the room other than the actresses. But "The Adventures of Snow White and Rose Red" was different. It was a set filled with women of all ages, but particularly young women and I'm grateful Nicole felt so strongly about this.
When our show premiered on Amazon, I couldn't help but feel immensely grateful for Nicole that she relied on me and the other two Skidmore writers to help bring her dream to fruition.
I couldn't imagine being here without her and I'm so grateful that she saw something in me so I could get the chance to gain real, hands-on experience in the film world.
But, while the writing, directing, producing and editing skills are invaluable, the confidence she gave me is priceless. And that's the most important part of all.