A Skidmore student's guide to Saratoga-area parks and trails
July 29, 2019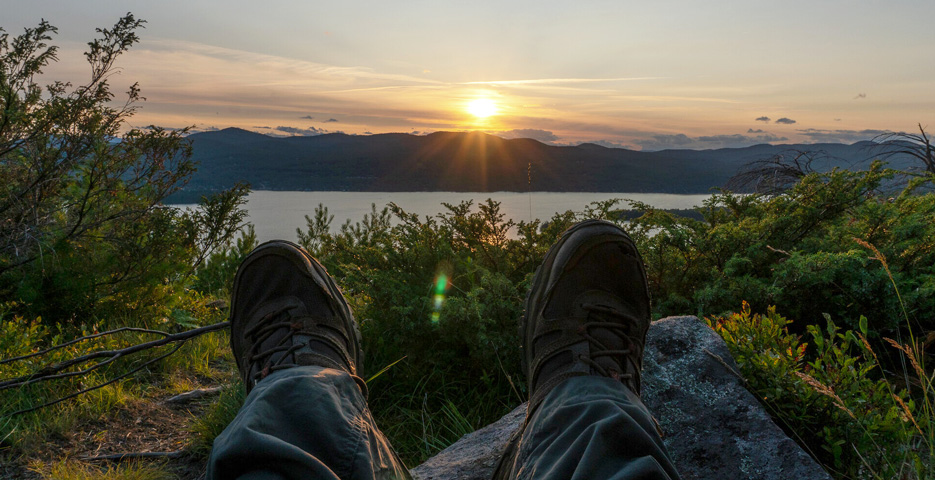 Travel & Leisure has named Saratoga Springs one of "America's Greatest Main Streets" and "one of the best college towns in the nation." Money Magazine says it's one of the nation's top 100 places to live, and Princeton Review describes it as a "perfect college town" that's "extremely fun and accepting of college students."
It's also consistently ranked as one of the healthiest communities in the region thanks, in part, to abundant access to recreation, parks and trails.
There are more than 25 public parks and trails in and around Skidmore and downtown Saratoga. Expand your view a few miles and that number only grows, into the hundreds even, as you include our surrounding mountains and waterways.
With so many options to choose from, it can be difficult to know where to dive in. As Skidmore Outing Club's potentially biggest fan, and a regular hiker, rock climber and all-around outdoors enthusiast, I'm sharing a few favorites spots for everything from lunch-break strolls to full-blown summit ascents.
Three favorites close to campus
Congress Park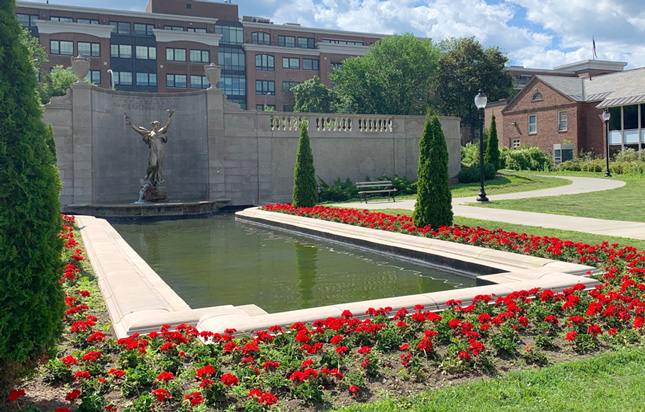 Located in the heart of the city, Congress Park is a beautifully restored park designed in 1876 by Frederick Law Olmsted (the same guy who designed New York City's Central Park), though its origin as a destination for mineral springs dates back even earlier.
Today, it's quintessential Saratoga — a historic Victorian park that looks back on a bustling, modern small city. Known for its perfectly placed benches in private pockets for peace and quiet, it also features several winding paths frequented by dog walkers, families and the several dozen happy-go-lucky ducks that inhabit it.
Spring Run Trail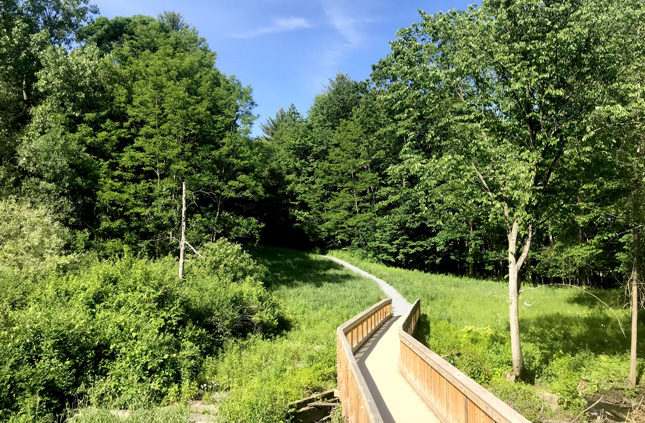 About a mile from campus is the Spring Run Trail, a handicap-accessible pedestrian and bicycle path that runs along an old railroad bed. Hidden between residential neighborhoods, it winds through a mix of woods, bogs and streams and even features a short boardwalk over a marsh.
Saratoga Spa State Park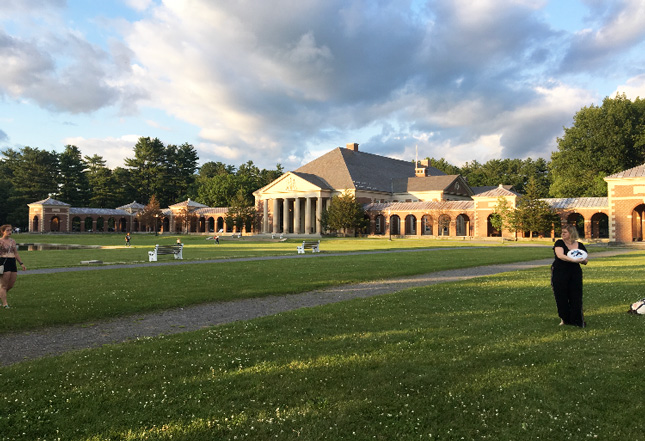 If you are looking for more space or variety, the Saratoga Spa State Park is about three miles away (15-20 minutes by bike). Distinguished by its classical architecture and noted for its diverse resources, the 2,379-acre state park is a popular destination for visitors far and wide.
Although it's home to the Saratoga Performing Arts Center (where we graduate and where dozens of cool concerts and events happen each year), two golf courses, a historic hotel and more, students visit it more often for hiking, walking, biking and picnicking.
The park's six major trails loop across and around each other to offer infinite new ways to explore. Plus, each one presents a different experience — try the 1.8-mile Avenue of the Pines Trail for some history lessons, the 0.22-mile Springs Trail to see bubbling natural springs or the 2.9-mile Geyser Trail to really stretch your legs and get out in the woods.
Three favorites outside of town
Saratoga National Historical Park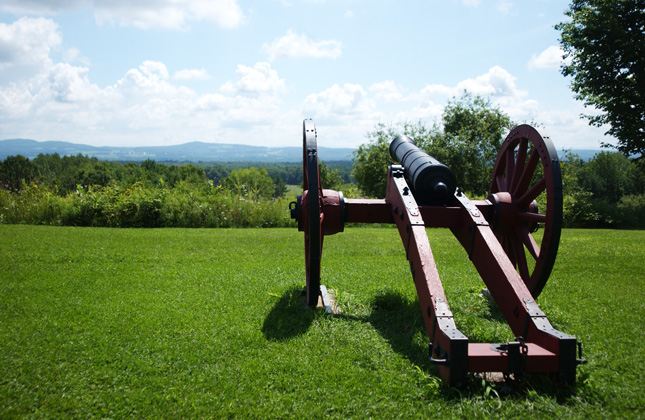 A little more than 10 miles from Skidmore (about a 20-minute drive) is both a sweeping landscape and a major historical destination — Saratoga National Park. The park preserves the site of the Battle of Saratoga in 1777, the first significant American military victory of the American Revolutionary War. It's more commonly known as the "turning point of the American revolution."
Located on the Hudson River, it's enjoyed today by both nature and history enthusiasts. The popular Wilkinson Trail is an 8-mile hike through open fields and serene woods with interpretive signage along the way explaining how the site looked in 1777.
Lake George region of the Adirondack Park
Lake George is the unofficial gateway to the Adirondack State Park, the largest state park in the United States. A visit to the lake alone is worth the trip. Called the Queen of American Lakes, it's breathtakingly beautiful.
Depending on your destination your distance from campus to a spectacular mountain view will vary, but you can estimate about 30–45 minutes by car, plus two to three hours for a round-trip hike. Some of the most popular hikes are Buck Mountain, Sleeping Beauty and Pilot Knob. Here's a great guide.
A trip to Lake George means one of my favorite activities: rock climbing. And that means a visit to Shelving Rock Mountain with its impressive rock wall towering above Lake George.
Don't worry if you didn't pack your ropes — the trail also has a beginner-level hike that offers the same views. If you do go, don't forget your swimsuit, Shelving Rock has a great spot to jump in the lake. I never drive back to campus without taking a quick dip first.
High Peaks region of the Adirondack Park
The Adirondack Park boasts infinite opportunities for all kinds of recreation. Hiking, birding, boating, climbing, cycling, fishing, golf … you name it, and it's there. Where we're located, on the eastern side of the park, it's easy to get to one of the most picturesque areas — what's known as the "high peaks" region.
The area is named after the "Adirondack 46," the 46 mountains that tower over 4,000 feet. It's a lifetime goal for a lot of local hikers to conquer them all. We use them as a guide for knowing we'll be in for a great hike with a major reward at the top.
Saving the best for last
Skidmore's North Woods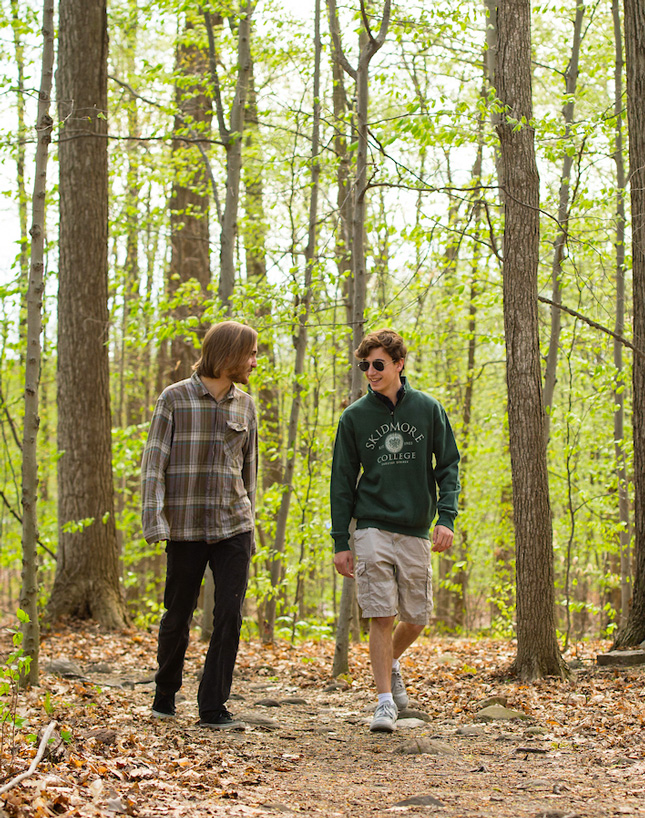 No Skidmore-Saratoga trails story would be complete without our very own North Woods. Located exactly zero miles from campus (it's on campus), you don't have to go far to get outside.
I cannot tell you how many times I have gotten out of class stressed, taken a walk in our North Woods and calmed down almost immediately. Quietly getting away from the bustle of campus, listening only to my feet crunching leaves or snow — it's like a 150-acre personal meditation retreat.
I think it's safe to say: Of the infinite options we have as Skidmore students, North Woods is hands down the best.
Going to college is different for everyone. Though, one thing is guaranteed: It will be a journey. Whether you choose to get outside for fun with friends, or use our many resources for your own self-care, as I often do, know that if you come to Skidmore, creative adventures are absolutely possible.