A recipe for the battle against garlic mustard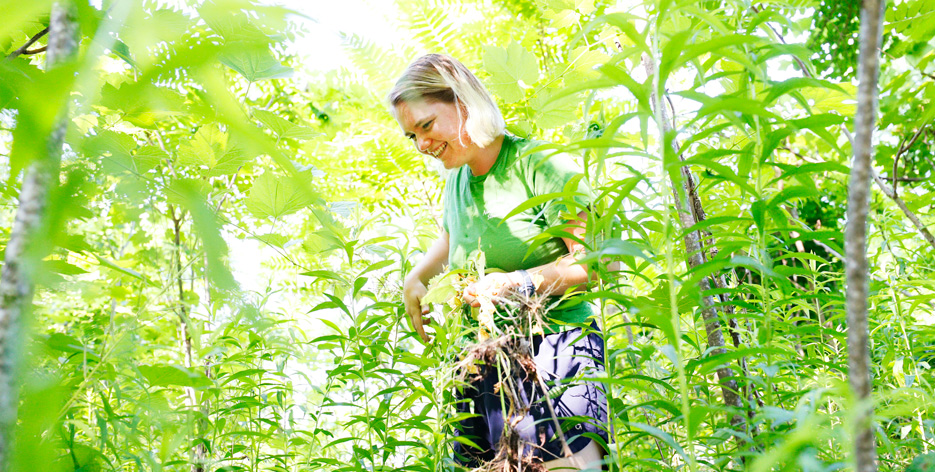 My name is Stella Piasecki '23. I'm an environmental studies major from Great Barrington, Massachusetts, and I've dedicated a decade of my life to the battle against a destructive, distressing and downright deplorable entity — garlic mustard.

I like to think of myself as a garlic mustard warrior, and this summer I am continuing my campaign here at Skidmore. How does one get drafted for this duty? It starts with a deep love for the outdoors.

Growing up in the Berkshires, I've always had a deep love for forests. When I was choosing a college, I knew it had to be one that had a forest readily available for my exploration.

When I arrived at Skidmore following a pre-orientation trip, one of the first things I did was look up a map of campus and head in the direction of the North Woods.
On that first day, walking the red trail loop, I got a small taste of what these beautiful 155 acres of preserved land have to offer. I knew I was in love, and the North Woods made me feel right at home.

In my time at Skidmore since that first walk, I've often returned to the woods for some respite and exercise and to explore and learn. But each time I visited, I noticed that invasive species like garlic mustard had taken root. I knew I had to find a way to get involved, and I found the perfect opportunity — working as a North Woods steward.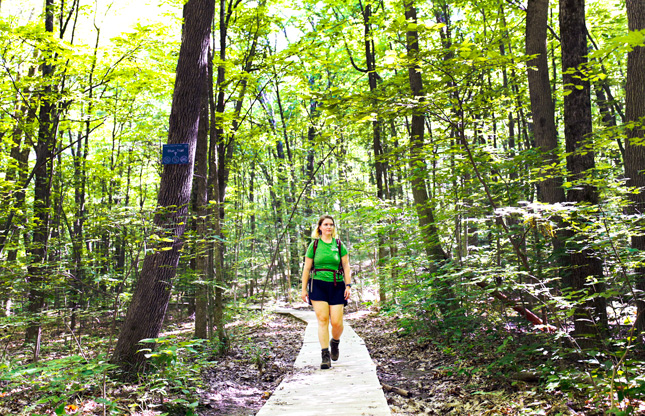 North Woods stewards are student employees who work for Skidmore's Sustainability Office over the summer and throughout the school year to help preserve, protect and raise awareness around this treasured campus resource. The woods are connected to campus with five hiking trails, which lead visitors through nature and away from the hustle and bustle of everyday life. In addition to offering recreational opportunities, the woods are also used by professors in classes and other projects, including summer collaborative research with students.

Stewards do everything from conducting trail maintenance to improving wayfinding with signage and kiosks. The whole job is very rewarding, but I feel the most joy when I know I'm helping to maintain the woods for future generations by pulling and disposing of invasive species.
In just three weeks on the job, I've pulled tens of thousands of garlic mustard plants. The North Woods Stewardship has given me the opportunity to devote the majority of my summer to doing what I love: protecting the natural beauty of native forests.
Why start a war with garlic mustard?
Throughout my life, I have been devoted to reducing populations of garlic mustard, both in Massachusetts and here at Skidmore. One single plant can produce hundreds of microscopic seeds that can sit in the soil for years and create hard-to-fight patches that displace native plants like wildflowers and tree seedlings.
Garlic mustard is particularly troublesome because it grows in thick outcrops that choke out anything else nearby. The roots of garlic mustard also produce a toxin that kills soil fungi that many plants depend on.
Basically, garlic mustard is the worst in all possible ways.

If left unmanaged, invasive species like garlic mustard can reduce the biodiversity of an ecosystem by outcompeting native species and reducing resources for native flora and fauna.

To pull garlic mustard effectively, you need to pull the entire plant, including its root system. It is really important to dispose of garlic mustard properly because if you leave the plants after you have pulled them, they can easily regrow in the area where they are left. We bag up the plants in trash bags, seal the bags and then throw them out as, well, trash.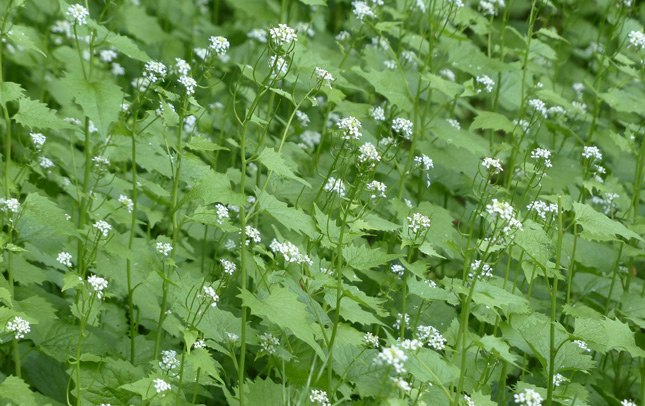 Garlic mustard, originally from Europe and Asia, has become a very troublesome invasive plant across the Northeast, Midwest and Northwest of the United States.
While I'm determined to destroy the garlic mustard and save the North Woods, I also struggle to see enormous piles of wasted plant material. I'm excited to share that there's a silver lining to such a dark and devious plant: Its leaves are completely edible.

I have been making garlic mustard pesto every summer since I was 10 years old, and it has become one of my favorite summer traditions.
Now, it is my honor to recruit you in the campaign against garlic mustard with this recipe:
Garlic Mustard Pesto Recipe
Ingredients
2-5 cups young garlic mustard leaves
2-3 cloves of garlic
1 small bunch of basil
1 teaspoon Tofutti cream cheese (or your choice of dairy Parmesan or regular cream cheese)
2-3 tablespoons extra-virgin olive oil
1/2 cup bean sprouts
3 pinches pepper
Salt to taste
Equipment
Food processor
Rubber spatula
Salad spinner
Directions
Remove healthy looking leaves from the garlic mustard stalk until you have 2-5 cups of healthy leaves.
Place the leaves in a salad spinner and rinse thoroughly. Let drain for two minutes and then rinse again. Repeat this process two more times for a total of four rinses then spin the salad spinner for a few minutes to get the leaves very dry.
Once the leaves are dry, place them in the food processor.
Add olive oil, pepper, garlic and basil then turn the food processor on high for 30-50 seconds or until it is pretty finely ground.
Add cream cheese and a few pinches of salt.
Turn the food processor back on until cream cheese has been thoroughly mixed in.
Salt to taste.
Use a rubber spatula to stir the pesto making sure everything is finely ground and mixed in, then use the spatula to transfer pesto into a container of your choice.
Sprinkle bean sprouts on top.
Enjoy!