Digging into Skidmore's archaeological past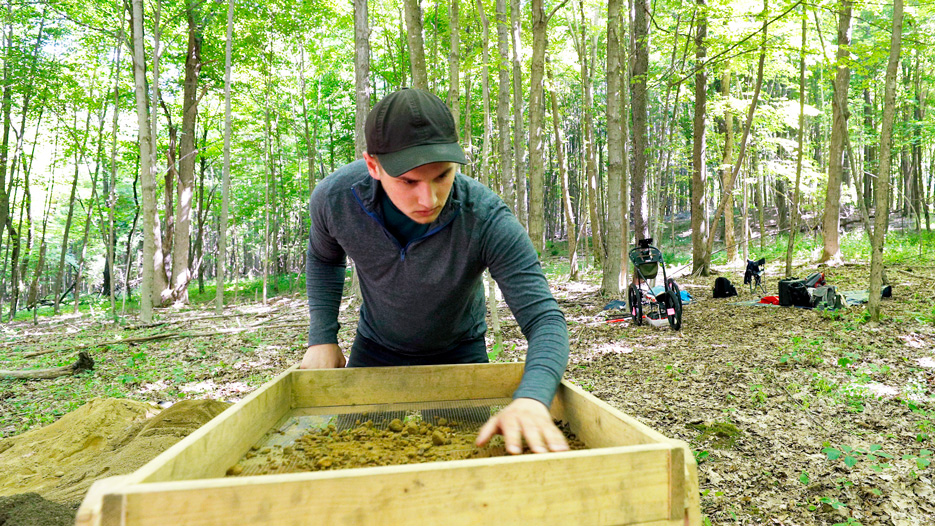 It's Kelby Wittenberg's first summer in Saratoga Springs. The Minnesota native and anthropology major is dividing most days between an active on-campus dig and a laboratory.
His mission? To help color the story of the land long before it was Skidmore College's campus and use that information to help Associate Professor of Anthropology Siobhan Hart develop course materials and plans for the upcoming year.

We asked him about his experience.
What research are you doing this summer?
I'm conducting an excavation and artifact analysis on the Denton homesite, a multi-generational family farm and estate that dates back to the Revolutionary War. The site is in Skidmore's North Woods.
Oh wow, it's right on campus? What are some highlights of the history that we should know?
Beginning in 1775, the area was home to Preston Denton (a Revolutionary War veteran), his wife, Esther Deyoe Denton, and their six children.
A century later, Henry Hilton bought the Denton land and adjacent parcels, investing his recently acquired wealth in the creation of the park-like Woodlawn Estate. In addition to the mansion-like "cottages," stables, miles of tree-lined carriage roads, and a racetrack at the estate's core, Hilton had several structures built on the former Denton farmstead, including the Overlook Mansion, a sheepfold, and a shepherd's cottage.
What specifically are you doing at the site?
For the first portion of the summer, I was out in the field conducting ground surveys, metal detection, and ground-penetrating radar, and was also excavating test units. Currently, I am processing all the artifacts we uncovered and cataloging them in the lab.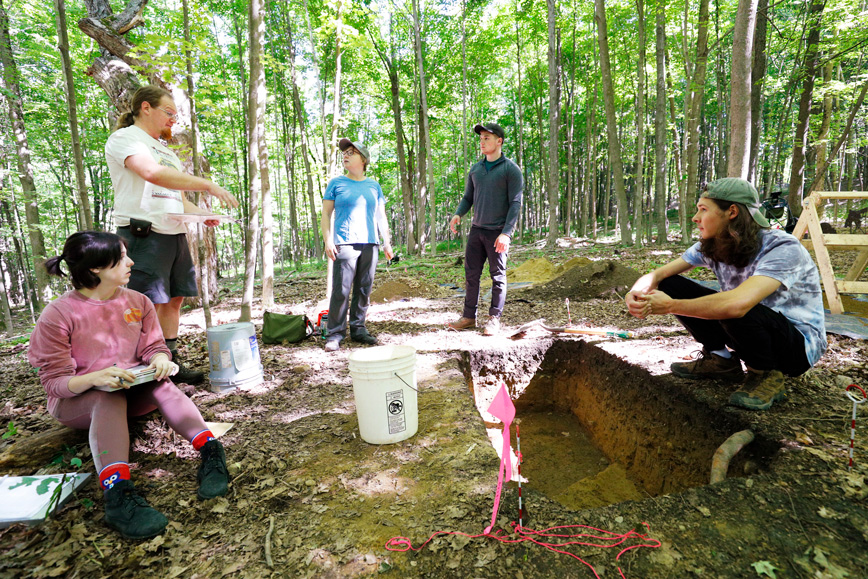 From left, Kaylee Jellum '22, Visiting Assistant Professor Andrew Horst, Associate Professor Siobhan Hart, Kelby Wittenberg '23, and Riley Mallory '22 compare findings at a dig site in the North Woods.
Why did you choose to get involved in this project?
I am an anthropology major, and one of the ways we can apply anthropology is by participating in archaeology excavations to uncover material culture left behind by people before us.
I had taken Professor Hart's AN 202R class, Archaeological Field Methods, last fall and really enjoyed it, so when the opportunity to excavate a new site this summer through Skidmore's Summer Experience Fund came up, I knew I had to be a part of it. (Two other students are also working with Professor Hart this summer as part of Skidmore's summer collaborative research program.)
This is our first time being at the site, so not only am I helping conduct the research this summer, but I also will work with Professor Hart as a teaching assistant for the AN 202R class this fall. We'll be returning to the Denton homesite, so it'll be fun to see how it all comes full circle. 
What have you learned so far?
Undoubtedly, I am coming away from this experience with a greater understanding and appreciation for archaeology.
At lot of what we do in the field is very precise and predetermined, so executing our excavation plan and artifact analysis takes quite a bit of time. I also have been able to hone my skills in the field by using ground-penetrating radar and metal detectors, and in the lab by cleaning artifacts carefully. 
Has anything surprised you?
There are a lot of surprises in archaeology, because when you start digging, you only have a rough idea of what you might find — if that. Pulling out entire bricks or pieces of glass and ceramic feels like a surprise every time you do it. At our site, there is a good chance that material hasn't been touched by anyone else in many decades or even longer.
As I mentioned earlier, I took Professor Hart's AN 202R class, so I had a rough idea on how to conduct quality archaeology. Now that I've done it at a more professional level, it is surprising just how much data collection goes on for something as seemingly simple as digging a hole. That's because once you've disturbed that provenience (the place where the artifact is found), there is no way of ever getting it back, so you must be exceedingly careful. 
What are your plans for the rest of the summer?
This is my first summer in Saratoga Springs, so having all the people in town for the racing season and having more time to do things in the Saratoga area than I usually have during a semester has given me a greater appreciation for where I go to school.
For the next few weeks, I will continue processing artifacts. Simultaneously, I will be getting the Denton homesite ready for class in the fall by doing things like clearing a path for students to walk into the forest and marking out where their test units will be. 
Thoughts about the future?
I am so glad I was given this chance to work with Professor Hart. Not only do we have interesting conversations while working together, but outside of work the research group will go out to dinner or for ice cream or go for a nature walk in Schuylerville.
I am excited that I will help her with teaching AN 202R this fall. In January, we will be presenting our work at a historical archaeology conference in Philadelphia. Even further in the future, during the fall of 2022, Professor Hart is thinking about teaching a Scribner Seminar for first-year students, which I would very much enjoy helping with.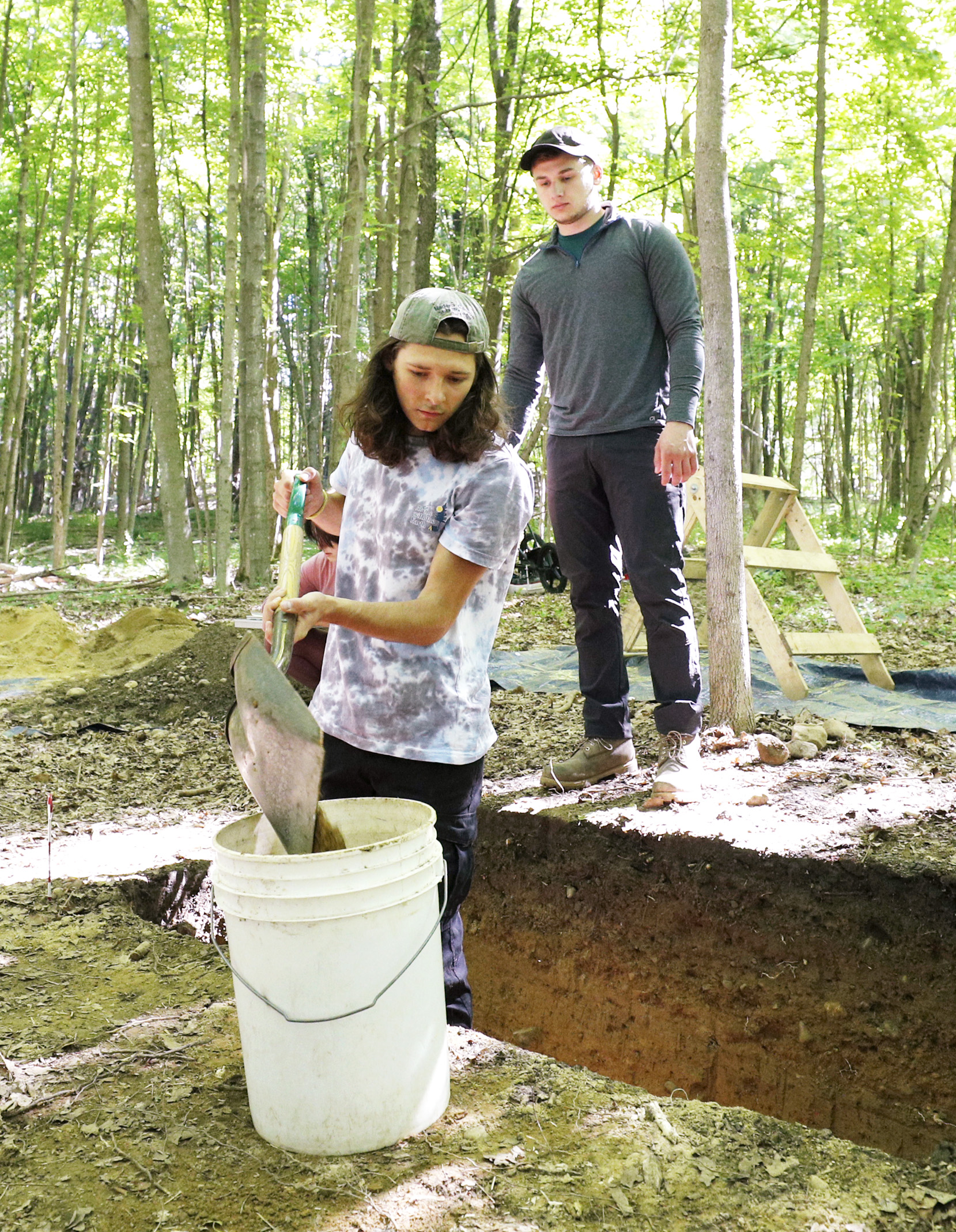 Riley Mallory '22, left, and Kelby Wittenberg '23 work together at the archaeological site.