AMA: Life as a first-gen student at Skidmore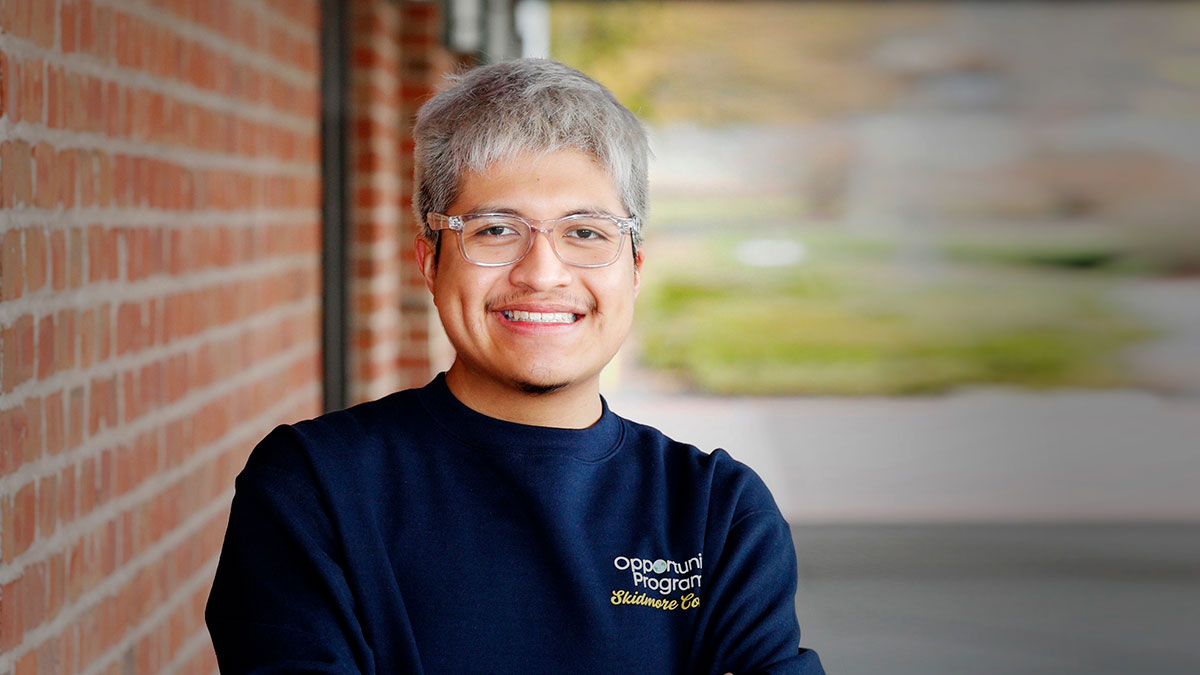 Hello! My name is Bryan, and I am a social work and Spanish double major from New York City. We recently asked prospective and incoming students to submit questions via Instagram, and I'm excited to answer some of them here.
Just a few things about me: I am a first-generation college student, and I came to Skidmore from a low-income family through the College's Opportunity Program (OP). I'm also a BIPOC student, and I was the president of Raíces, our campus Latinx cultural club. I used to work at the dining hall, and I currently work at the information desk in Case Center, our central student hub. I am also a First-Year Experience peer mentor.
Q: How did you choose your major? Why did you choose social work and Spanish?
A: I came to Skidmore thinking I was going to major in international affairs with a minor in gender studies. It turns out that I was wrong, but that's okay — it wasn't a good fit for me. The situation at the U.S.-Mexico border means a lot to me.
I was attracted to social work and Spanish because I want to help people in detention centers around the United States, particularly those who are undocumented and seeking asylum. I want to be one of the people who advocates for them, helps them access resources, and helps them adjust to life in the United States.
Q: What was is it like to be a first-generation student at Skidmore?
A: To start, it's great. Really. We are students like everyone else, and there's a community here to support us. Being first-gen may mean we may carry different things with us — or more than those with families who have already been through college.
I sometimes feel guilt that I'm leaving my parents behind and pursuing this privilege of continuing my education, something my parents didn't have. Another feeling that sometimes comes up is imposter syndrome. Sometimes when I'm struggling academically, I can fall into a spiral of questioning my abilities and think "Oh no, did Skidmore make the wrong decision? Should I not be here?"
Once I got closer with my professors, utilized office hours, and started opening up to friends about what I was experiencing, these feelings started to subside. I also learned that a lot of people have similar experiences, and not just first-gen students.
You are absolutely not alone. Skidmore chose you. That means something.
Q: Are there clubs and other opportunities to talk about our countries, culture, politics, education, etc.?
A: There are over a hundred clubs on campus! I was president of Raíces, our Latinx culture club, and there are a number of others including Ujima, Asian Cultural Awareness Club, and African Heritage Awareness Club, just to name a few. There's also the Office of Student Diversity Programs, or OSDP, which often hosts events and other ways to get together.
With our club, we try to create space where our Latinx students can feel comfortable and meet other students who share the same identity. We have our own Latinx banquet, which is very popular during the fall semester and is our showcase event during the spring semester. If you can't find the right club for you, there's even a way to create your own at Skidmore.
Q: How do you know where clubs meet and how do you get involved?
A: The best way to get involved is to go to Club Fair at the beginning of each semester. It's a huge showcase of all our clubs and is a Skidmore tradition. During the year, clubs also use a website called SkidSync. It's where you can go to see what's happening on campus and the time and place of an event or meeting.
Some of my favorite clubs are Ujima, Raíces, Skidmore Women in Business, and the Skidmore Wombats, our Frisbee team.
Q: What are some of the challenges of being a first-generation college student?
A: A big part of being first-gen is just navigating the college system. What is work study? What is the financial aid office? What are academic services? Little things like that.
Skidmore has a ton of resources to offer, but I had to find them. Thankfully, word travels fast, and OSDP does a great job of introducing you to things. Sometimes I would think, "Am I allowed to use that?" The answer is always "Yes!"
As I've alluded to, there's also some pressure; I want to achieve, and I have high expectations. But I think Skidmore, my friends, and my professors have helped build my confidence a lot. Now that I've got the hang of it, I'm like, "You know what? It's OK. It's OK to make mistakes. It's OK to ask questions. I'm OK."
Q: What is one of your favorite Skidmore memories?
A: Skidmore has a program called Alternative Spring Break that allows you to sign up to do service work and travel to some really cool places. I was able to go to Guatemala to volunteer with Planting Seeds International, a not-for-profit organization that seeks to reduce poverty by working with communities to provide high-quality, comprehensive education for children and families.
Q: Who is your favorite social work professor?
A: This is a tough question! I love everybody in the Social Work Department. Someone I've become close with is my advisor, Assistant Professor June Paul. I love them, and they've helped me through some tough moments. They're the person I go to with everything. If I'm ever questioning myself, they give the best advice. They're always a text or call away.
Q: Can you talk about your experience as a peer mentor?
A: I was a peer mentor this past fall for a Scribner Seminar called Chaos Finds a Voice. It's the same Scribner Seminar that I took as a first-year student. I worked with about 15 students whom I just love. I was kind of their go-to person to answer any questions they had as they transitioned to college life. I helped direct them to any offices or people that they needed. We also took trips, including one to the Saratoga Race Course, where I had recently interned, and I helped with schoolwork and other life questions. It was nice to help ease some of their worries. I know it can be scary to leap into this big change, but you have a nice support system.
Q: How was your OP Summer Academic Institute?
A: For those who don't know, OP students are brought to campus over the summer for the Summer Academic Institute. It's a time for us to connect, learn about Skidmore, and get us all feeling confident about joining in with peers, who may have come from schools with more college preparation.
For me, it was about transitioning from high school to college. I learned how to read a syllabus and what academic resources are available to us. I also got to enjoy Skidmore and Saratoga Springs during the summer and bond with 39 other students like me.
The typical schedule was Monday through Friday, from 7 a.m. to 9 p.m. with breaks and fun activities in between. On weekends, we took trips around the region and enjoyed hikes, lakes, restaurants, movies, and more. I made amazing friendships and am really close with a lot of those people today.
Q: What advice do you have for incoming students?
Embrace yourself.
Don't overload yourself.
Build your support system.
Don't doubt yourself.
"Embrace the broken" (everything doesn't always need to be perfect all the time).
Ask questions.
Go to office hours.
Join clubs.
Acknowledge your privileges.
Stay humble.