A look at the Class of 2023's first-year seminars
July 1, 2019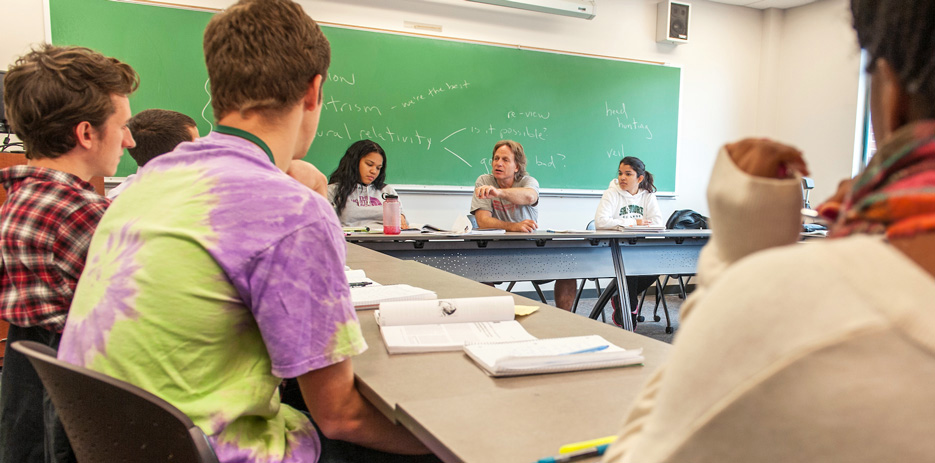 Oh, to be a first-year Skidmore student and take a deep, intellectual dive into some of the most challenging and compelling issues of today's world.
Scribner Seminars are a cornerstone of Skidmore's First-Year Experience program. Taught by faculty from virtually every discipline, nearly 50 courses this fall highlight the curiosities and passions of each seminar's professor.
Interdisciplinary by design, they introduce first-year students to a community where Creative Thought Matters, whether the topic is sleep, food, religion, immigration or even time travel.
Visit the Scribner Seminar Program website to explore all seminar offerings, including two in the FYE program in London.
A SAMPLING OF SEMINARS:
Cultures of Climate Change
Timothy Wientzen, assistant professor of English
What role do the humanities play in addressing climate change? A warming world will require more than just better science — it will require reimagining the structures that have made the modern world possible and creating new narratives for our future.
Cultures of Climate Change is a brand-new course offered by Timothy Wientzen, whose research interests include literary modernism, science fiction and the environment. Read more
I truly hope the students leave the course resolved to address climate change through their major, whether that be in the humanities or elsewhere."

Plastic Fantastic?
Ann Gallagher Ernst, lecturer on environmental studies and sciences
Plastic — miracle molecule or environmental scourge? Plastics have helped the Allies win World War II, transformed transportation and revolutionized medicine. But plastics have a dark side that is becoming more apparent every day: They leach toxic chemicals, litter our landscapes and imperil marine life. Examine the basic properties of plastics, the scale of society's dependence on them and the impacts on public health and ecosystems. Read more

Our Things, Our Selves
Saleema Waraich, associate professor of art history
Consider the importance of objects in our lives. Then, examine the impact of the absence of objects as a result of tragedy and loss: what is left behind, lost, looted or destroyed due to forced migration, war, tragedy and natural disasters. What roles do objects play in our personal lives? What are the meanings we assign to objects, and what is their significance in our personal and collective narratives? Read more
For Associate Professor Waraich, this Scribner Seminar is an opportunity to engage students in crafting their own narratives about the objects in their lives.
"I look forward to immersing ourselves in a critical and creative exploration of the meaningful ways in which objects — that we too often take for granted — shape our lives, personally and collectively," she said.
I hope the students become more self-aware and conscientious consumers and cultivate meaningful and empowering relationships with the objects in their lives."

Chaos Finds a Voice: The Politics of Identity in the U.S./Mexico Borderlands
Diana Barnes, senior teaching professor of world languages and literatures
Border: boundary or frontier? Division or bridge? The wall that cuts through the landscape where Mexico ends and the United States begins imparts mixed messages: Stay out, stay in, welcome, go away. Consider this paradoxical space of encounter and contradiction and learn about the politics of border identity through an artist's lens. Read More

Sleep from A to ZZZ
Christopher Vecsey, assistant professor of neuroscience
What is the behavioral state in which we spend almost a third of our lives but know very little about? Sleep. Learn about sleep from a biological perspective, and compare and contrast what we know and still don't know about the nature of sleep. Read More
Christopher Vecsey, who regularly engages Skidmore students with his on-campus research on sleep, is eager to introduce this field of study to first-year students.
"I'm excited to teach other ways people have tried to understand sleep across human history — for example, from religious, philosophical and psychological perspectives," he said.
I hope students gain an appreciation for what is actually happening in their bodies and brains when they are asleep and how important sleep is in their lives, and how much about sleep remains to be discovered."

Coming of Age in London
Thomas (Pat) Oles, associate professor and chair of the Social Work Department
When does adolescence end and adulthood begin? Is there a distinct period of life called emerging adulthood? How is emerging adulthood expressed in family relationships, at work, at school and in peer relationships? Coming of age brings big changes in identity and relationships, new roles and more responsibility. Examine the developmental experiences of emerging adults and relevant social institutions in the U.S. and U.K. Read More