A history of making big plans for Skidmore's future
September 28, 2021
Skidmore College President Marc C. Conner's implementation of bold measures for the College's future while steering through the immense challenges posed by the global pandemic during his first year in office reflects a tradition of creative and visionary leadership that extends to the College's founding more than a century ago.
The idea of turning moments of challenge into opportunities for transformation is deeply embedded in the history of the College.
Widowed at a young age and struggling with multiple health issues, Lucy Skidmore Scribner worked to see the Young Women's Industrial Club that she founded in 1903 grow into a fully accredited women's college by 1922 — and eventually the great liberal arts college that it is today.
Lucy Skidmore Scribner used her fortune and willpower to found Skidmore College.
The expression "Make No Small Plans" was once used by Board of Trustees Chair Josephine Young Case as a call to action as it committed itself to building a new campus for the growing College. It was later popularized by former President Joseph Palamountain. The expression has become so engrained with the College's mission that it is also the title of Skidmore's official history.

"The phrase seems to me to capture Skidmore's spirit of rising to meet challenge throughout its history," Mary C. Lynn, the late historian and professor of American studies, wrote in her authoritative account of the College's history through 2000.

That transformative vision, even in times of challenge, goes back to Lucy Scribner, who turned personal tragedy into inspiration when she founded the Young Women's Industrial Club with the aim of helping all girls and women "to become self-supporting."
Despite a number of health issues — typhoid fever in 1905, retinal hemorrhages that left her nearly blind, and severe illness in 1916 — Scribner remained strongly committed to the young school and its future until her death in 1931.

Charles Henry Keyes was brought in as Skidmore's first president in 1912. By 1922, Keyes had fulfilled his goal of having the Skidmore School of Arts chartered as Skidmore College, a four-year, degree-granting institution. He also developed the foundations of a liberal arts curriculum.
Henry T. Moore's more than three decades as president (1925-1957) represented moments of important growth, but they also coincided with monumental challenges, including the Great Depression and World War II. A prominent example of Skidmore's "can-do" spirit of leadership occurred with the destruction of South Hall in 1937 by fire, which became an opportunity to construct a much-needed new library. Under Moore's presidency, the College ascended to a leading position in women's education. Enrollment rose to 1,300 under President Val Wilson.

Leadership has not been limited to presidents. Sarah Gridley Ross, Josephine Young Case, Edwin M. Moseley, David W. Marcell, Phyllis A. Roth, and Susan Kress have served in interim leadership roles for presidents during times of need, contributing to fateful decisions that would impact the Skidmore community for generations.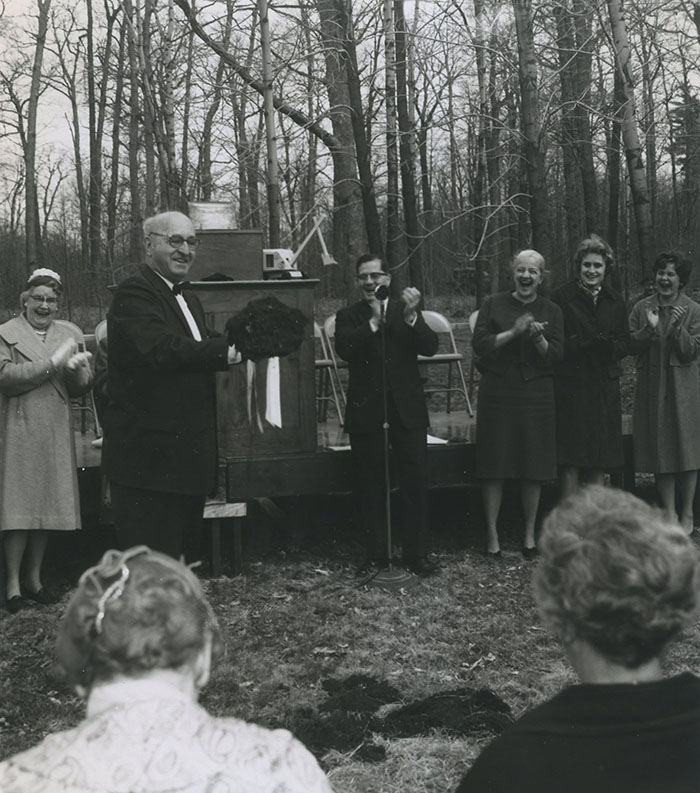 A groundbreaking ceremony for Skidmore's new campus. In addition to President Wilson (by microphone), trustees, including Josephine Young Case (to Wilson's left) and J. Erik Jonsson, were essential to bringing the ambitious project to fruition.
With financial backing and nudging from Trustee J. Erik Jonsson and direction from Chair Josephine Young Case, Skidmore's trustees themselves tackled a problem that had emerged from strong growth: the College was also outgrowing its physical space in downtown Saratoga Springs. Thus, they made the bold decision to relocate to a brand-new campus on North Broadway .
"Skidmore has a long history of taking risks: Lucy Scribner's donation of most of her fortune to the Skidmore School of Arts, Charles Henry Keyes's decision to turn the School of Arts into a real college, Henry Thomas Moore's response to the challenges of the depression and world war," Mary Lynn wrote. "But this" — the decision to construct a new campus — "would be the greatest risk of all."

As president, Joseph C. Palamountain Jr. was responsible for overseeing much of that transition. During his 22-year presidency, the College enjoyed strong growth, financially and academically. But Palamountain and other College leaders also faced important questions about the school's future: growing the school's student body also meant a transition from a women's college to a coeducational institution — a shift that evoked strong opinions as well as questions about the institution's identity.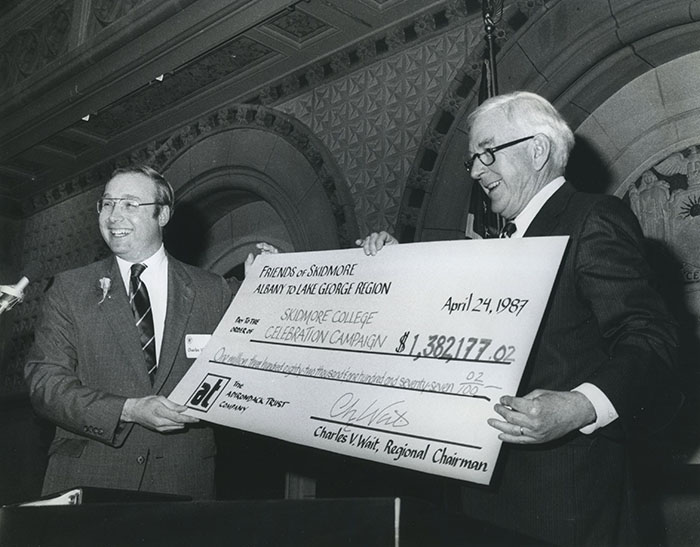 President Palamountain receives a check from Charles Wait Jr., president and CEO of Adirondack Trust, as part of the Celebration campaign.
Skidmore leaders' continuing efforts to look to the future have involved a deepened sense of Skidmore's community. When David Porter, the College's fifth president, established the "Commission on the '90s" to help chart Skidmore's course to the 21st century, the commission came back with recommendations to enhance academics, ensure long-term financial stability, and promote greater diversity within the campus community and curriculum. During her tenure, Jamienne S. Studley further supported advances in academic quality and completed a strategic plan that would guide Skidmore for the next decade.
Major academic initiatives over the past two decades, including the Tang Teaching Museum, Zankel Music Center, and now the Center for Integrated Sciences — the largest single initiative since the construction of the North Broadway campus — all embody new visions for the future of the College.
A 2021 opening ceremony for the first phase of the Center for Integrated Sciences, the largest single project since the construction of the new campus.

"Skidmore always has been an institution on the edge, surviving by cunning and audacity, by a willingness to take risks," Philip Glotzbach said in his own inaugural address in 2003, the beginning of a distinguished 17-year career that witnessed record applications, increased financial aid, and expanded academic programs despite a global financial crisis and challenges in higher education as whole. "In the process, we have created a school that is competitive with some of the finest and most prestigious liberal arts colleges in the nation."
President Conner is helping Skidmore write the next chapter in that unfolding history. Under Conner's leadership, Skidmore has taken swift actions to keep the campus community safe from COVID-19, found creative ways to deliver its curriculum under difficult circumstances, and taken steps to maintain financial and academic strength moving forward.
At the same time, he also outlined a vision for fostering a more diverse and inclusive community — a community of trust — through initiatives such as Skidmore's Racial Justice Initiative and the drafting of a collaborative new Campus Master Plan that will outline a vision for the future of Skidmore's campus. For Conner, collaboration will underlie everything that comes next.
"This is a community, a place where we support each other, challenge each other, and support one other in the challenge. To truly learn, you have to be brave enough and trusting enough to take chances," President Conner said in a message to the Skidmore community at the beginning of the 2021-22 academic year. "That's what a community is all about."
---
Skidmore College celebrates the inauguration of Marc Conner as its eighth president on Oct. 16, 2021.