Careers to their own beat
January 24, 2022
For David Slitzky '14, the opening of Skidmore College's Arthur Zankel Music Center in 2010 represented much more than the launch of an acoustically superb concert venue for Skidmore and the broader community: Zankel served as a training center for Slitzky's budding music career.
"Zankel's being built was a huge part of my decision to come to Skidmore because I wanted to learn more about making music, playing music, and experiencing music," said Slitzky, now director of music development and special projects at Epidemic Sound, a global music-technology company headquartered in Stockholm, Sweden, that offers soundtracks for video productions and other creative content.
During his time at Skidmore, Slitzky spent much (if not most) of his waking hours at the music center, taking classes, serving on the technical crew, participating in student experiences like Beatlemore Skidmania, playing the drums, and — most of all — "learning by doing."
In many ways, Zankel Music Center became a 54,000-square-foot classroom for Slitzky's self-determined major in music production and engineering, which drew on courses from multiple disciplines, including music, arts administration, and computer science.
"Skidmore was great at encouraging critical thinking, and it was great at encouraging folks to find their passion and really seize it," Slitzky said. "Zankel was the physical manifestation of everything I was passionate about — it was my ultimate playground: I got to hang out in the studio. I got to go upstairs to the hall. I got to put on shows like Beatlemore. I got to work with (Technical Director) Shawn (DuBois) and (now former Managing Director) Shelley (Joyce), who were putting on the rest of the seasons."
Since its opening in 2010, students and alumni like Slitzky have felt the impact of Zankel Music Center in more than just great performances, which have ranged from Emanuel Ax and John Baptiste to Dave Brubeck and Branford Marsalis over the years. The skills and experiences that Zankel offers also benefit students pursuing professional careers in music as well as careers bridging fields as diverse as marketing and software engineering.
The music center is also integral to programs like Skidmore's Arts Administration Program, which trains students for professional leadership roles in music, dance, theater, and the visual arts. The manager of the music center has also taught in the program. That integration is no coincidence: The establishment of both Zankel Music Center and the Arts Administration Program came from the estate of Arthur Zankel, a longtime Skidmore trustee, friend, and benefactor, who bequeathed $46 million — the largest gift in College history.
Slitzky spent countless hours at Zankel Music Center, where he helped produce Beatlemore, recorded two albums, put on a show for his senior project, took courses, and worked closely with music center staff.
"I was literally producing my senior project from the second desk in Shelley's office," he said.
After graduating, Slitzky completed a master's degree in music business at New York University, while also working closely with a number of musicians, including The Roots, who serve as the house band on NBC's "The Tonight Show Starring Jimmy Fallon." In 2018, he joined Epidemic Sound, moving to Stockholm the following year.
My professional life after Skidmore has been successful because of being well rounded in music."
"I believe that understanding a little bit of everything and really focusing on how to think and how to learn as an education is foundational to why I am having a great time in my career and in my life today, " said Slitzky, a firm believer in the value of a liberal arts education.
A professional remix
Slitzky knew early on that he wanted to go into the music business. For many others, Zankel Music Center also offers opportunities to explore new directions and career opportunities.
When George Dilthey '16, an accomplished cellist, was looking at colleges, he knew he wanted a strong music program but also wanted the freedom to explore other fields. He ended up winning a Filene Scholarship, a program that allows exceptional scholar-musicians to major in any discipline at the College.
"I still wanted a big music program, but I wanted the opportunity to do other things," said Dilthey, who ended up majoring in both music and psychology. Through a winding career path in the arts, he is now a web analytics strategist at the marketing firm acKnowledge.
Although Dilthey had expected the opposite, he found himself playing the cello more than ever because of the many opportunities available. He also worked at Zankel, serving as an usher, managing the box office, and supporting staff on a number of projects.
"I think I probably spent more time in Zankel than every other building on campus combined. I was there pretty much all the time," he added. "Prior to Skidmore, I didn't know anything about arts administration. I didn't know anything about arts marketing. I didn't know anything about the box office or selling tickets even. Zankel opened my eyes up to this entire world that happens behind the scenes of what happens on the stage."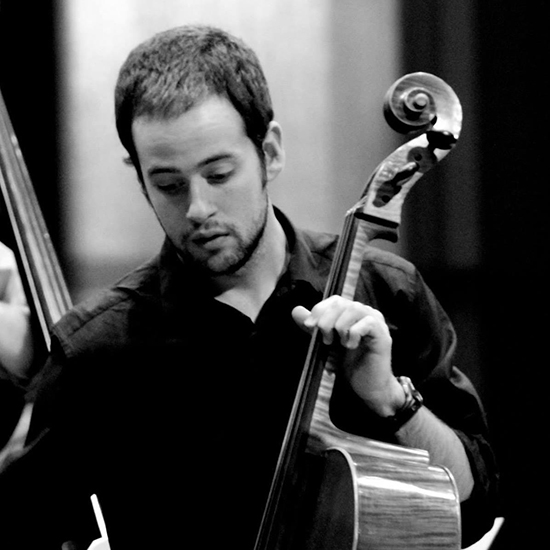 While still a student, Dilthey landed an internship at Lincoln Center. He ended up securing a full-time job there after graduation and helped to produce its Mostly Mozart Festival and other programs. He eventually wound up on Lincoln Center's marketing team before moving to Capacity Interactive, a digital marketing consulting firm for the arts. He is now at acKnowledge Digital Media, or AKDM, which works in a variety of industries.
Dilthey credits opportunities at Zankel Music Center, and Skidmore's liberal arts curriculum more broadly, with fostering his eagerness to learn new things and pursue new experiences. He even recently participated in a software engineering bootcamp.
I constantly think about is how similar software analytics or software engineering is to playing music — you're thinking critically, finding a problem, and coming up with a solution or you're collaborating with other people."
Even so, Dilthey's cello is never far away: He continues to play for the Greenwich Village Orchestra and is also president of its board.
"The arts will always be some part of my life. Even if I'm not doing it all the time, it will always be something that's important to me and that I will be doing in some capacity," he added.
Beyond Zankel's stunning architecture, both Dilthey and Slitzky emphasize that Zankel Music Center represents much more than a stunning physical space. The opportunities under its roof are made possible by Zankel's people — supporters, alumni, staff, faculty, and students — and the programs that take place there are what drive Zankel Music Center's rich artistic, learning, and career experiences.
"Shelley taught me everything that I know about how to work in the arts, and Shawn was just as much one of my teachers. I think that really speaks to everybody at Zankel," Dilthey said. "Everyone there has made it a place that you want to be — for 12 hours a day, every day."
---
This article first appeared in the fall 2021 issue of Skidmore College's Scope magazine.