A front-row seat to history in London
September 16, 2022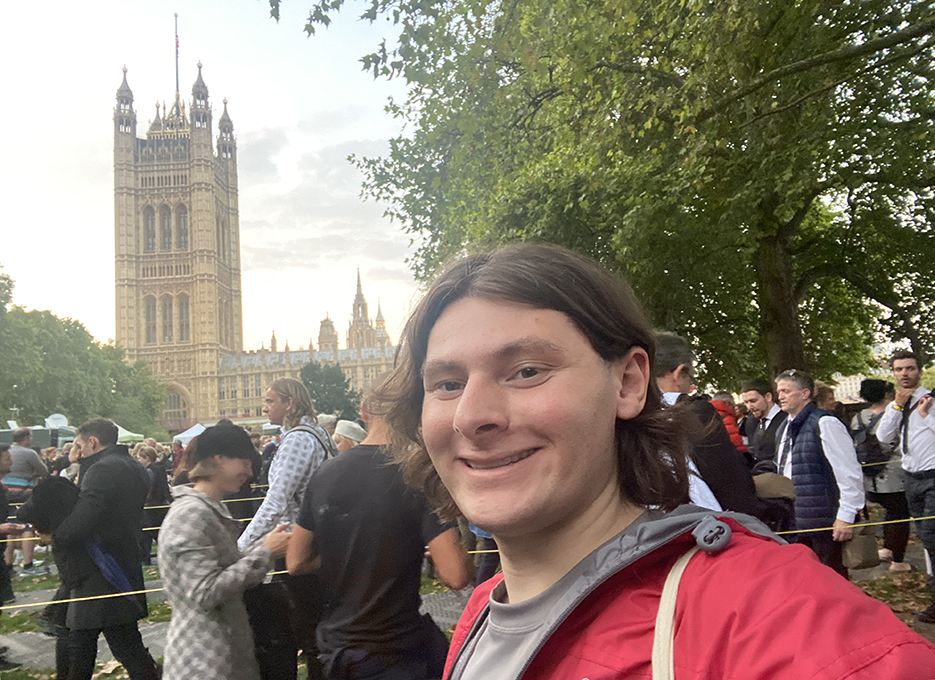 Each fall, students in Skidmore's First-Year Experience (FYE) in London program like Zach DeGennaro '26 enjoy rich historical and cultural experiences in one of the great cities of the world. This year, DeGennaro and 28 other first-year students also have a front-row seat to history following the death of Queen Elizabeth II and accession of King Charles III.
"It is such a big thing happening historically. I just got here and there was a new prime minister, and within two days the monarch changed," DeGennaro said, a prospective math major and music minor from Ocean City, New Jersey. "It's been hard to process, but I want to be there and be involved to see what's happening and learn. It's a lot of learning experiences: You learn best from being there firsthand."
DeGennaro received word of the queen's death in a calculus course, which was cut short by the announcement.
"We just sat there frozen for a minute. In the street, you could see people crying, people running to buy flowers, people singing 'God Save the Queen,'" he said. "It was just very sad. Lights were dimmed. Every electronic billboard showed her face suddenly. On all the news stations, everyone was wearing black. It was surreal."
That evening, he and other students had plans to attend a production of Shakespeare in the historic Globe Theatre as part of a theater course.
"After a minute a silence, they said 'God save the king,' which was weird to hear. After watching 'Julius Caesar,' a group of us went down to Buckingham Palace to see thousands and thousands of people and flowers everywhere," he said.
Zach DeGennaro '26 captured this video of the proclamation of Charles as king in Scotland.
During a field trip to Edinburgh with other Skidmore students, DeGennaro stood close enough during the proclamation of Charles as king that media outlets even requested his footage. Some in the crowd also booed the new king, DeGennaro said, a reflection of complex and divergent attitudes toward Charles and the crown in Scotland.
Back in London, he waited for hours to watch the procession of the queen's coffin from Buckingham Palace to Westminster Hall and again endured a line stretching for miles to see the queen's coffin lying in state ahead of a state funeral on Monday, Sept. 19.
"Although people understandably have a range of reactions to the death of a monarch, many have been swept up in the history-making of it all — I definitely count myself in that category," said Associate Professor of Psychology Casey Schofield, who is DeGennaro's advisor and leads the Scribner Seminar he is taking, Lunacy in London. "For a number of us, Zach has served as the go-resource for what's happening and when it's happening."
Zach DeGennaro '26 snaps a selfie in the London Underground.
Professors Schofield and Beau Breslin, Joseph C. Palamountain Jr. Chair in Government, have offered students opportunities to talk about the historic moment — both in and out of class. While hiking the famous Arthur's Seat during their fieldtrip to Scotland, both professors and a group of students watched as a royal helicopter landed at Holyroodhouse, the official residence of the British monarch in Scotland, just a stone's throw away.
Professor Breslin said that the historic transition also offered students a new perspective on the Scribner Seminar he is leading, The American Revolution from the British Perspective.
"It's super interesting to read about King George III at the time when King Charles III is coming to the throne," he said.
Like other FYE programs, Skidmore's FYE in London is meant to prepare students for the transition to college life and success at Skidmore. A hallmark of the program is the Scribner Seminar, an intensive interdisciplinary course designed to stimulate curiosity.
Breslin (whose previous Scribner Seminar even inspired a book) said that the London program continues to offer amazing learning opportunities every semester. He noted, for instance, that students were also in London when Liz Truss because prime minister following the resignation of Boris Johnson — just two days before the queen's death.
Zach DeGennaro '26 waits to watch the procession of the queen's coffin from Buckingham Palace to Westminster Hall.
DeGennaro opted to study in London his first semester for the chance to experience a big city and travel: In addition to trips through the U.K., he has already taken a trip to Ireland and has another planned for Sweden and Denmark. He is also playing violin in a local orchestra.
But the death of Queen Elizabeth II dramatically changed his experience. While he's looking forward to new experiences on campus next semester, he's already making plans to continue exploring.
"This experience definitely wants to make me go abroad again my junior year," DeGennaro said.