Fall 2020 plan update from President Conner
July 2, 2020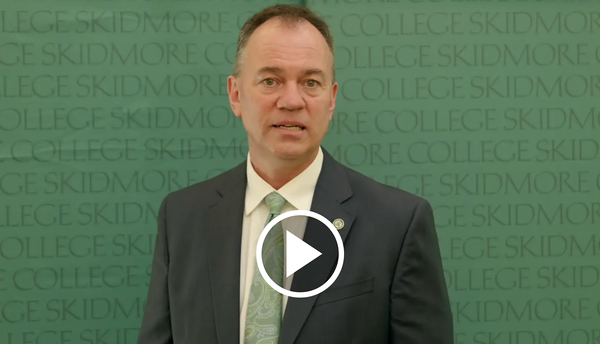 Dear Skidmore Community,
The COVID-19 pandemic has presented challenges the likes of which Higher Education has never seen. Our response in March and April was true emergency management in the face of acute crisis, and Skidmore responded beautifully. Staff, students, faculty — everyone accomplished amazing things to keep the Skidmore education going. Now we are in a different phase: not emergency response, but highly challenging operations in the context of a global pandemic whose implications are changing every day.
Ever since shifting to remote instruction and teleworking in early March, Skidmore has been working diligently to define the best plan for returning to instruction and learning in the fall 2020 semester. Numerous working groups, offices, departments and individuals from all areas of the College have contributed to these planning efforts, including the COVID-19 Working Group, the Academic Planning Working Group, the Institutional Policy and Planning Committee, department chairs and program directors, the president's cabinet and the Board of Trustees' Strategic Planning Committee. More recently, we have been working as administrative action teams, pursuing key questions and areas in academic affairs, student affairs, finance and operations, admissions and financial aid, and communication.
Through these discussions and with the help of considerable feedback from students and their families, the College has developed a comprehensive plan for fall 2020 that will bring back all or nearly all of our students to campus for largely in-person instruction and learning. At the same time, we acknowledge that some students will be unable or unwilling to come to campus for a range of reasons, and we will work equally hard to provide a high-quality educational experience for those students through remote avenues.
Skidmore's fall plan covers the following topics:
Testing, Isolation and Quarantine, and Contact Tracing
Personal Accountability and Conduct Commitment
This plan is and will remain a work-in-progress, subject, of course, to the health guidance and restrictions of New York state, and will certainly require further updates as circumstances surrounding the pandemic evolve. Due to the unpredictable nature of the situation, the College will be prepared to adapt and make adjustments in the plan into and throughout the fall, as necessary.
Next week, we will hold virtual community forums for staff, faculty, students, parents and families, with an opportunity for questions and answers and a discussion with campus leaders in academic affairs, student affairs, finance and operations, admissions and financial aid. The schedule is as follows:
Staff: Tuesday, July 7, from 11 a.m. to noon
Faculty: Tuesday, July 7, from 2 to 3 p.m.
First-year students, transfer students and their families: Wednesday, July 8, from 11 a.m. to noon
All returning students (sophomores, juniors, seniors): Wednesday, July 8, from 2 to 3 p.m.
Families of sophomores, juniors and seniors: Wednesday, July 8, from 4 to 5 p.m.
Connection details will be sent to each group on Monday, July 6.

I encourage everyone in our community to review the full plan, which will continue to be updated as new information becomes available and decisions are made, on Skidmore's Fall 2020 Planning website.
This will be a semester unlike any we have ever experienced, and the efforts outlined in our plan will only be successful if all members of our community fully commit to the actions, precautions and safety measures that will be required of them. In short, this is an all-in moment in our history, when we will rise or fall according to the commitment and collaboration of all of our members.
At this moment, one day into my term as Skidmore's president, I am conscious of the importance of community. I thank you all most sincerely for your efforts and understanding as we respond to a rapidly changing landscape and learn how best to live and work alongside this virus for at least the near future. I have complete confidence in our ability to succeed this fall, together.
Sincerely,
Marc C. Conner
President