Saratoga traditions Skidmore students love
March 1, 2020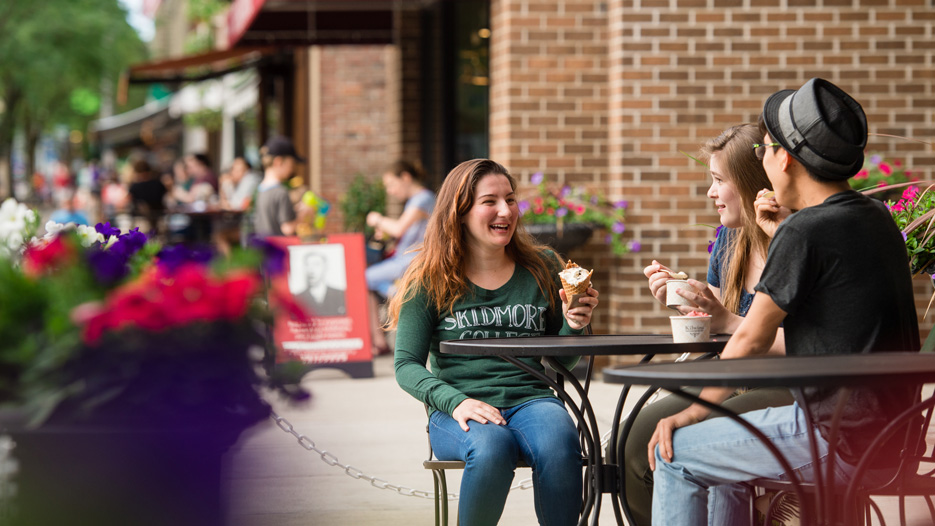 Saratoga Springs is the perfect college town. What really makes it stand out, however, is how passionate the community is about its traditions. Some may be expected — like its horse-racing history — but others can only come from a small city that values creative thought as much as Skidmore College does.
To get a taste (a lot do involve food), here are a few Saratoga traditions Skidmore students love.
Saratoga Farmers' Market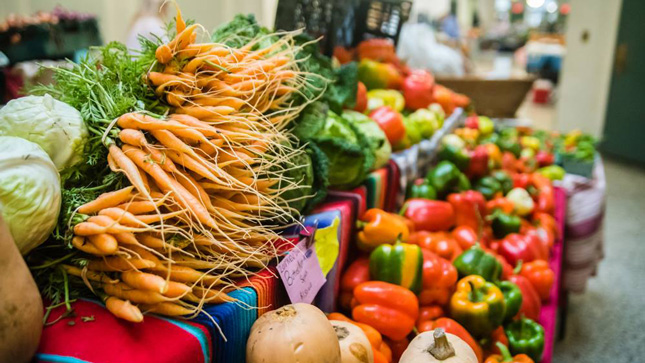 Filling the High Rock Park Pavilion in the summer and the Lincoln Baths building in the winter, the Saratoga Farmers' Market provides warm, freshly baked bread, vibrant produce and artisanal cheese all year round.
Since 1978, the market has grown to include vendors selling everything from hand-crafted accessories to hydroponic vegetables and even ready-to-eat hot and cold meals. A trip to the Farmers' Market is a great way to celebrate the craft and skill of this community.
Chowderfest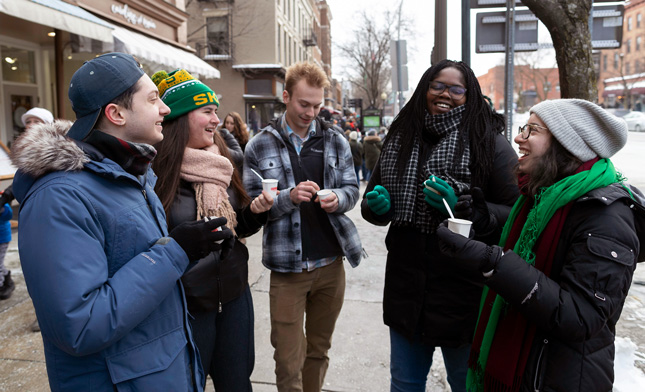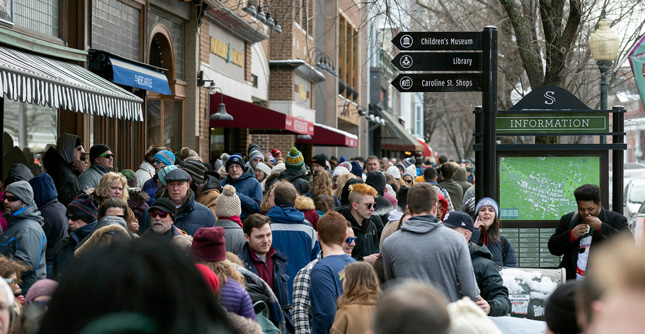 It may fall on a frigid February day, but Saratoga's annual Chowderfest is always a highly anticipated culinary celebration.
Every year, Skidmore students and visitors from near and far traverse the packed streets of downtown Saratoga Springs, carefully inching from storefront to storefront so as not to miss a single cup of $1 chowder.
To put it in perspective, according to Discover Saratoga, in 2018, 88 restaurants served more than 137,000 cups of chowder to 40,000 people.
From classic seafood to spicy chicken, hearty vegetable or even dessert chowder, each restaurant offers its own unique spin on this rich soup. With so many to sample, you'll always have a cup in hand, warming your frozen fingers and tiding you over as you and your taste buds wait in anticipation for the next spoonful.
The Saratoga Race Course
While some towns gather together with noise makers, jerseys and face paint for a highly anticipated sports game, we do things a little differently in Saratoga, trading baseball caps for dramatic, decorative hats.
Saratoga's most known tradition, the annual Saratoga Race Course meet, has drawn a large crowd to the city every summer for 150 years. In fact, the population of Saratoga Springs triplesduring the summer. As a Skidmore Thoroughbred, be sure to catch a glimpse of these speedy horses as they make their way around the track.
Restaurant Week
Nationally ranked as one of the top five towns with the most restaurants per capita, Saratoga Springs is a true foodie destination. So naturally, Saratoga's annual Restaurant Week is a fall favorite.
Throughout the week, patrons can enjoy a $20 or $30 three-course meal or a $10 lunch special at participating restaurants. With so many options so close to campus, Restaurant Week offers the perfect chance for a college student to explore — at a fixed price — the exceptional restaurants Saratoga has to offer.
Great Pumpkin Challenge
Put away your books, but keep them close by for the Great Pumpkin Challenge. For this creative, Halloween-themed contest held by Skidmore's very own Scriber Library, participants design a "literary-inspired" pumpkin.
Using their literary-artistic minds, students and faculty transform their pumpkins into imaginative works of art. Past creations include Cinderella's carriage — complete with Cinderella herself — the Lorax seated on his tree stump surrounded by truffula trees, and the iconic deep-blue cover of "The Great Gatsby."
The finished pumpkins, bearing very little resemblance to a winter squash, are put on display for all library-goers to enjoy. At Skidmore, the creative possibilities are truly endless.
International Flavorfeast
It may be one of Saratoga's newer traditions, but for this foodie community, there are never too many ways to celebrate eating.
Held in mid-October, the International Flavorfeast celebrates the international culinary flavors and styles of Saratoga Springs. With dishes from France, China, Japan, Italy and Mexico, just to name a few, participants experience worldly flavors in the heart of Saratoga Springs.
With nearly 30 participating restaurants, flavor-feasters can sample everything from potato knish to sushi rolls, tacos and ziti Bolognese. For just $1 per sample, this event is the perfect opportunity to try something new.
Victorian Street Walk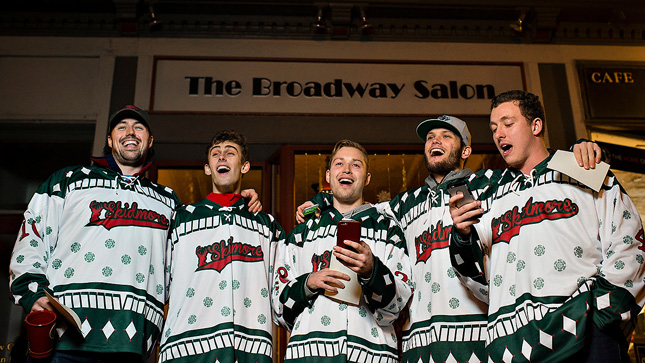 Travel back in time as you make your way along a brightly lit Broadway on a chilly December night. Filled with music, performances, shopping and plenty of spirit, the Victorian Street Walk is the perfect way to celebrate the arrival of the holiday season.
Sponsored by the Saratoga Springs Downtown Business Association, this event is just one of the many quintessential traditions that bring together members of the community, local businesses and Skidmore students, many of whom volunteer as performers and behind-the-scenes event planners.
More favorite winter traditions
Bonus: Charitable giving
There's no question that Skidmore has a unique bond with Saratoga Springs. And there's no better way to show appreciation for this city than to give back to it. Supporting charitable causes is a tradition for Skid Kids and Saratogians alike.
Off campus, students volunteer at organizations such as the Saratoga Senior Center, Saratoga Bridges, Shelters of Saratoga and Franklin Community Center. On campus, each holiday season the Skidmore Cares program raises donations of food, provisions and school supplies for the Saratoga community. Since 2006, the program has raised more than $90,000 for community causes and has distributed more than 28,000 items.
No matter the season, place or time, there are dozens of ways to get involved in this caring tradition.
A great place to call home
All year round, these one-of-a-kind traditions, whether they're 150 years old or five, bring endless joy and entertainment. But more than anything, they continuously connect us with one another. Each tradition, whether it be a light-hearted dog parade or volunteer work, strengthens the bond between Skidmore and the creative and passionate city it is lucky to call home.