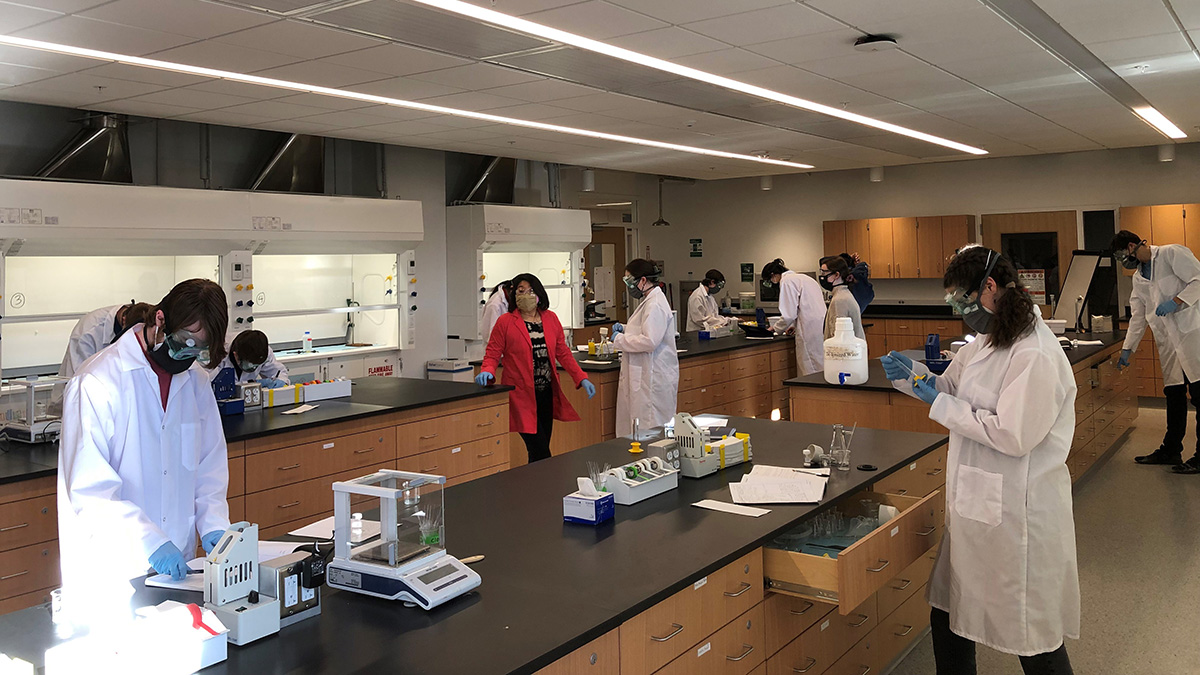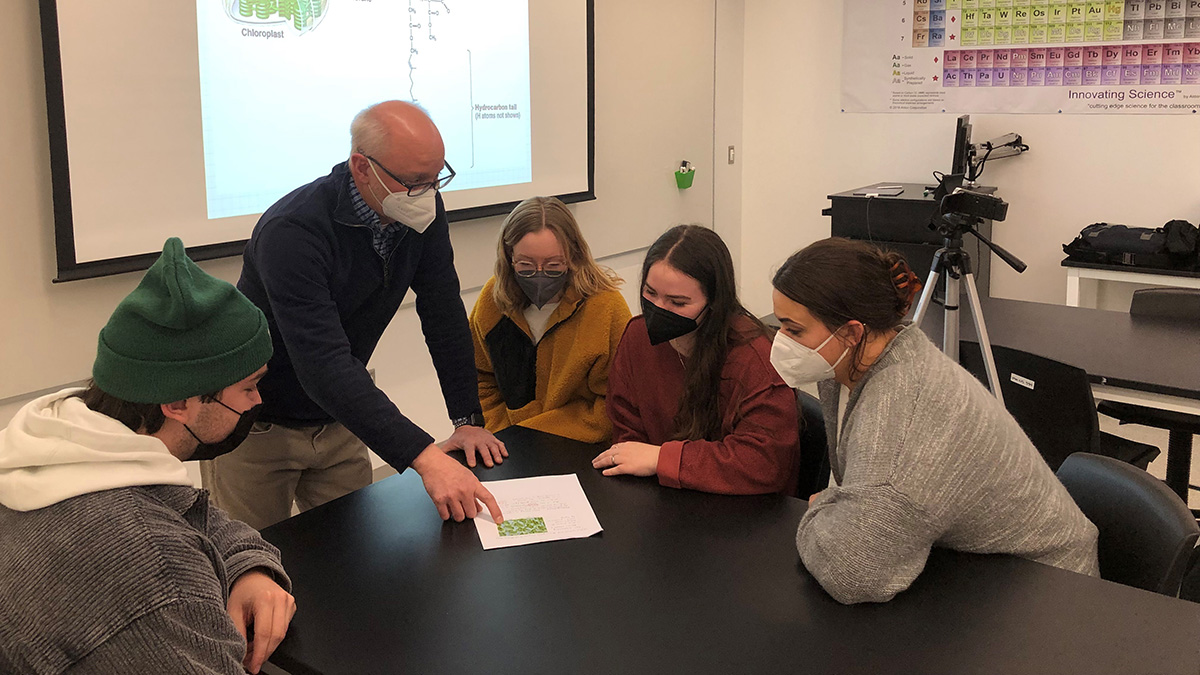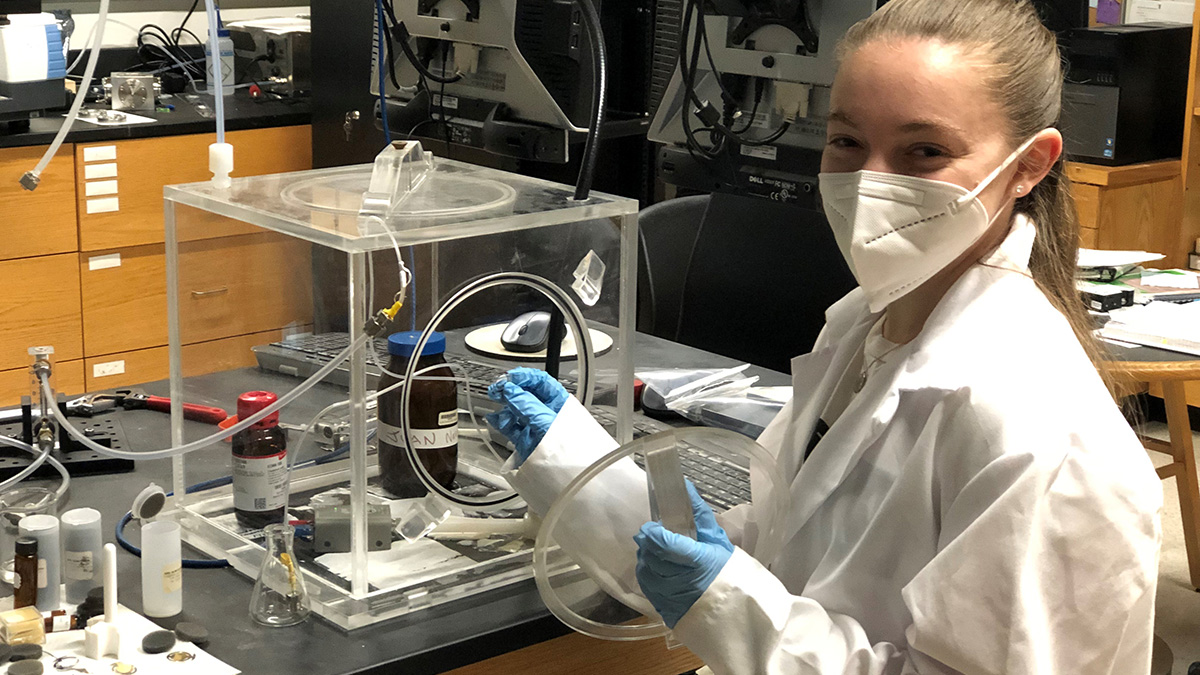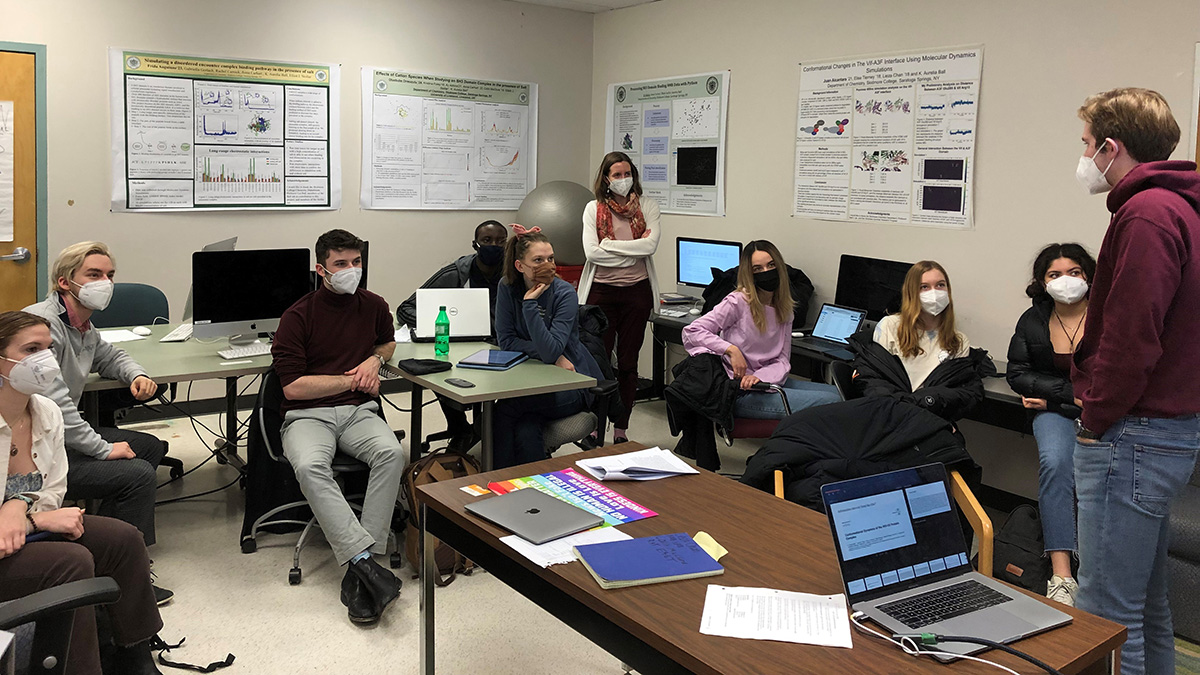 Welcome to the Department of Chemistry at Skidmore
Chemistry is at the heart of modern scientific and technical inquiry — from the composition of distant stars, to geochemical transformations taking place deep within our own planet, to modern pharmaceuticals and high-performance materials, to our own bodies. Not surprisingly, chemistry is often dubbed the "central science," given it is key to advances in fields as diverse as geology, neuroscience, molecular biology, and materials science. The Chemistry program at Skidmore College is certified by the American Chemical Society (ACS). Students can major in Chemistry or Chemistry with a biochemistry concentration, and earn an ACS certified degree.
In recent years, 40% of our students have gone on to graduate programs in chemistry, biochemistry, and related fields including at Harvard University, Yale University, the University of California-San Francisco, University of Michigan, and Johns Hopkins University to name a few. In addition, 30% of our students have enrolled in graduate programs in the health professions including at Boston University, Massachusetts General Hospital, SUNY Downstate, Albert Einstein, Tulane University, Howard University, Stony Brook University, and New York Institute of Technology. The other 30% have found employment in industry, research laboratories, education, and non-profits such as Albany Molecular, eBioscience, Pfizer, Merck, Concentric, Clean Membranes, Memorial Sloan Kettering Cancer Center, Lincoln Laboratories-MIT, Brigham & Women's Hospital, Weill Cornell Medical College, NYU, Mount Sinai, and the New York Hall of Science.
Our 13 faculty members support them in all these paths and you can read more about them and our program here.
department news
Presenting Computational Chemistry Research at a National Conference
Lab members participating in summer research in Lia Ball's Computational Biophysics Lab (Elizabeth Miller, Ray East, Frida Anguiano, Oluebube Onwuzulu, Adriana Cuibus, and Lizbeth Mendoza) presented at the Mercury Conference held at Furman University in South Carolina.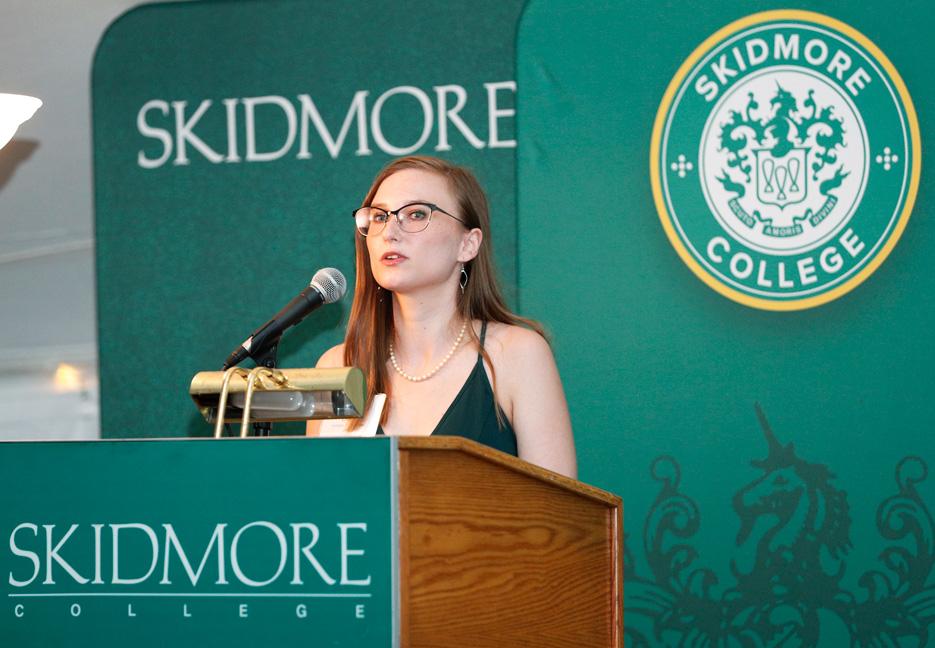 Georgia Dittemore '22, a chemistry major who graduated with honors in May, accepts the 2022 Anne T. Palamountain Scholar Award, presented each year to a Skidmore student or recent graduate who has demonstrated leadership, service to others, and a commitment to the larger good of society.
43rd annual Palamountain Benefit supports student opportunities through scholarships.Skidmore News, July 27, 2022.
Members of the Skidmore and local communities came together July 19 at the College's historic Surrey-Williamson Inn to support the Joseph C. and Anne T. Palamountain Scholarship Fund, raising more than $150,000 to benefit students who, because of financial need, might not otherwise be able to attend Skidmore.
Members of the class of 2022 at the outdoor senior gathering at Porter Plaza on May 17, 2022.
Congratulations to the Chemistry and Biochemistry Class of 2022!
The Department of Chemistry celebrated its graduating seniors and honored several students with end-of-year awards during Chemistry Academic Festival Symposium on May 4, followed by an outdoor senior gathering on May 17, 2022.
The following students earned chemistry awards this year:
The Charlotte W. Fahey Prize: Georgia Dittemore, Heather Ricker
The American Chemical Society Undergraduate Award in Organic Chemistry: Jason Li
The American Chemical Society Undergraduate Award in Inorganic Chemistry – Katie Rinaolo
The American Chemical Society Undergraduate Award in Physical Chemistry: Heather Ricker
The following students earned American Chemical Society certified degrees this year:
Georgia Dittemore, Sarah Finnegan, Katie Rinaolo, and Emma Straton
We are proud of all of our senior graduates in Chemistry and Biochemistry, many of whom are going on to graduate schools such as the University of Wisconsin, Harvard, Yale, and Princeton, applying to medical and dental schools, working in industrial positions such as Corning Glassware and Blue Print Medicines, doing clinical research at teaching hospitals, or teaching chemistry at a private school. Congratulations to each and every one of you, and please stay in touch!