A perfect match: Skidmore's Arts Administration Program and a historic community arts venue
March 7, 2023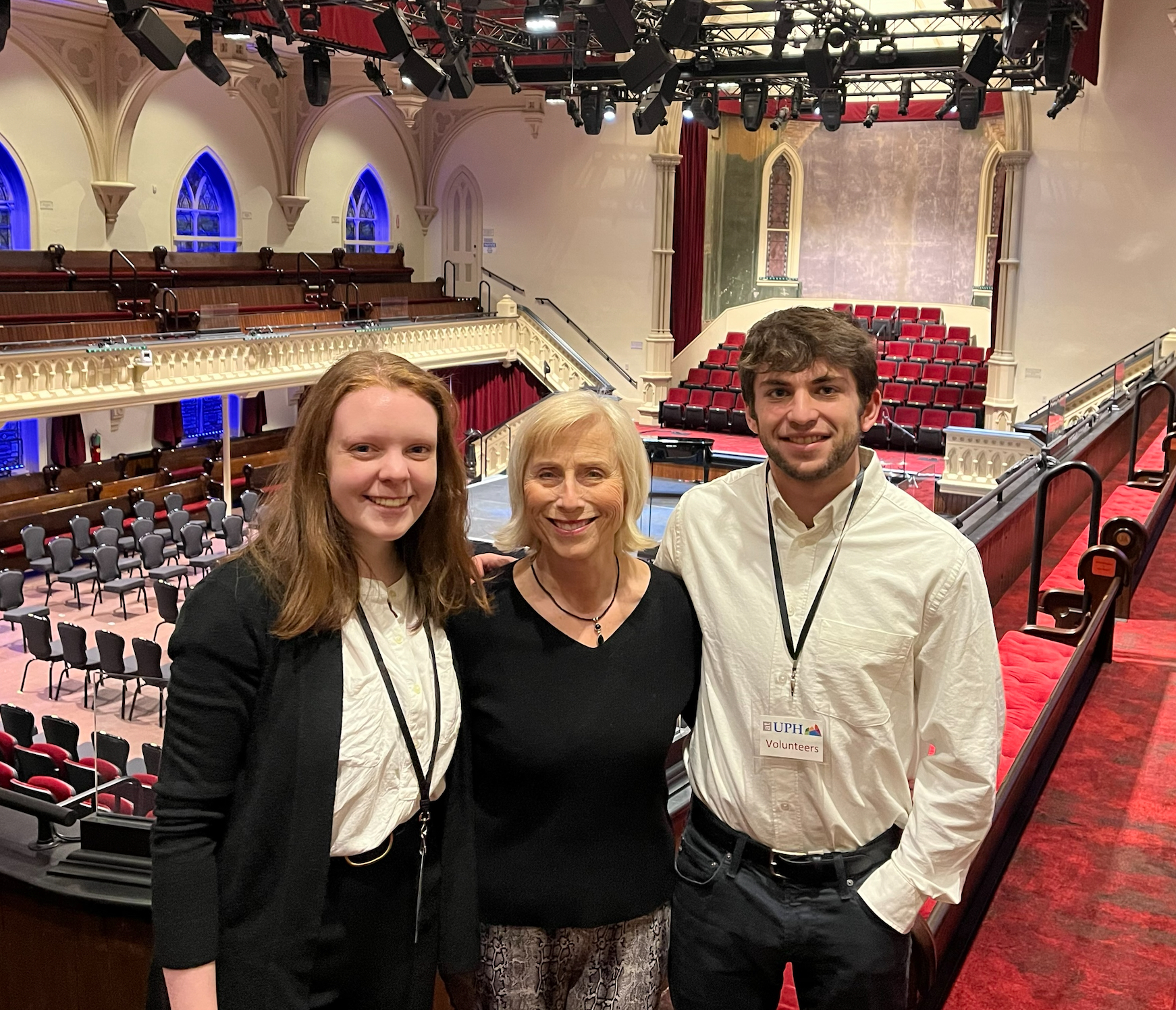 When David Howson, senior teaching professor and Arthur Zankel Executive Director of Arts Administration, joined Skidmore 14 years ago, he set out to create a new academic program that offered students an opportunity to learn about the other side of the arts – the administration.
In 2012, two years into his tenure, arts administration was made an official Skidmore College minor.
Upon meeting Teddy Foster '95 around the same time, Howson recognized a perfect match in the work she was undertaking to turn a dilapidated church in downtown Saratoga Springs into a year-round performing arts and community events venue. In March of 2012, students met in the unheated shell of Universal Preservation Hall (UPH) with Michael Kaiser, then-president of the John F. Kennedy Center for the Performing Arts in Washington, D.C., and the Carr Distinguished Interdisciplinary Lecturer at Skidmore, to imagine what the space could become.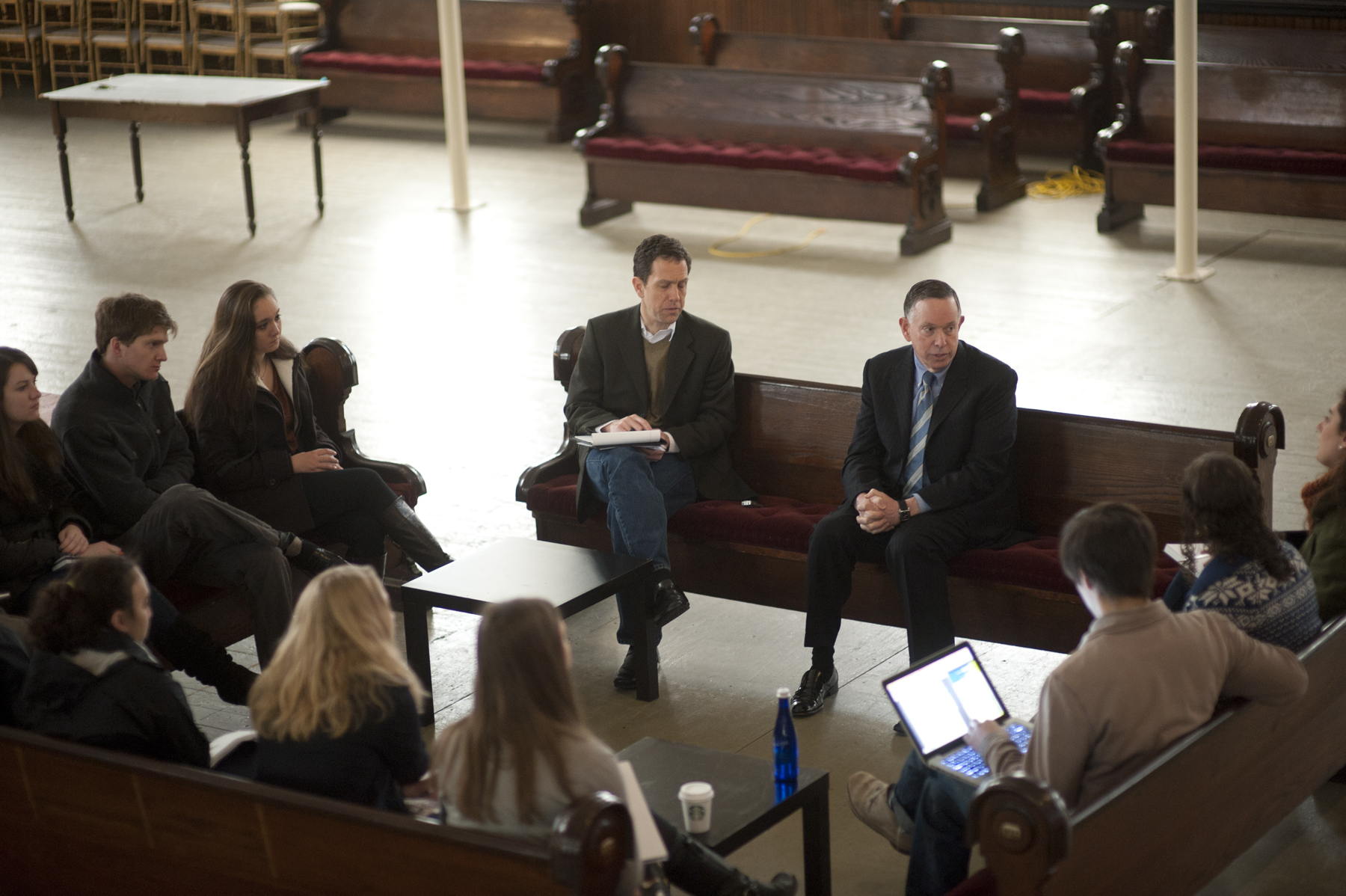 Skidmore arts administration students and then Carr Distinguished Interdisciplinary Lecturer Michael Kaiser meet in the unheated shell of UPH in 2012 to imagine what the space could become.
After years of painstaking renovations and updates, UPH's doors opened in 2020. Foster and Howson officially began organizing an opportunity for Skidmore's art administration students to work within its walls.
In designing the Arts Administration Program, Howson wanted to ensure experiential learning was at its core.
"Our faculty has grown over the years and we are unique in the fact that we are all currently working within the industry," he said, "which offers a lot to the student experience, including the opportunity to help them connect and network as they look to enter the workforce."
The Skidmore-UPH partnership was exactly the right fit for the program, offering arts administration students both practical experience and opportunities to expand their network across arts organizations.
Foster, now the director of UPH, considers the relationship with Skidmore to be a very personal one. "As someone who decided to get my degree in business and management later in life, I feel very grateful for what Skidmore provided to me, and I take great pride in being able to offer opportunities to current – and future – Skidmore students."
Four arts administration students are currently taking part in this newly formed partnership between Skidmore and UPH, and the benefits are already apparent: Students receive academic credit for their time spent working 10 performances at UPH, and they get an inside look into what it takes to deliver an exceptional performance to an eager audience and in a unique community venue.
Whether working the concessions, ushering guests to their seats, managing volunteers, fundraising, marketing, or honing skills in other areas of arts administration, the students are learning from dedicated UPH staff who want them to gain valuable real-world experience.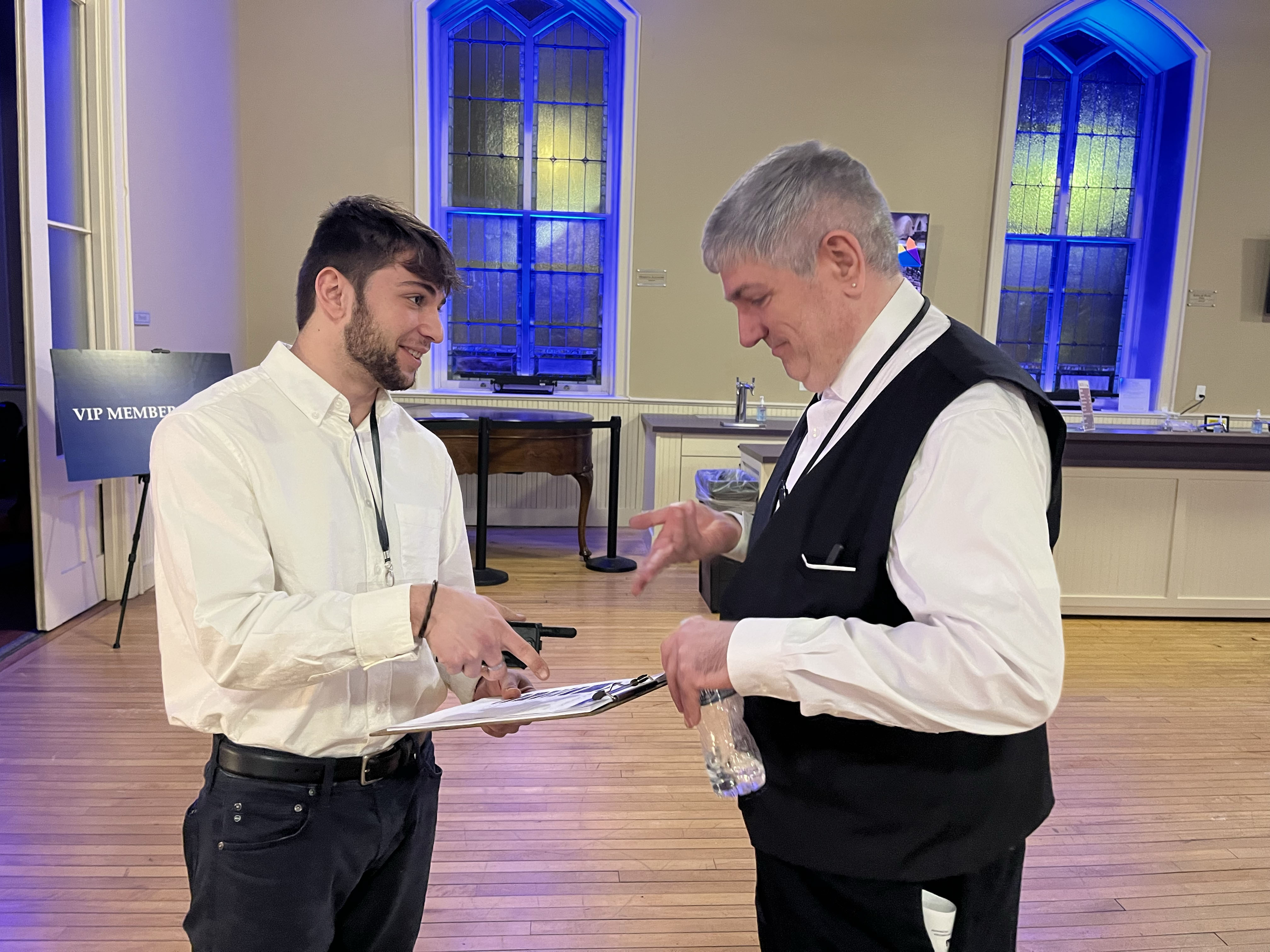 Eli Cott '25 and a volunteer at UPH discuss venue preparations before guests' arrive at a recent performance.
"It's a wonderful chance for students to learn from a grassroots organization how to curate a performance, and we have the flexibility (and desire) to meet them where their interests lay," said UPH Operations Manager Karen Good.
Eli Cott '25 has appreciated the staff's passion for providing an exceptional experience to the students. "You can tell the staff is incredibly knowledgeable and also interested in hearing our perspective and feedback. Even though we're volunteering, they make us truly feel a part of the team," said Cott. "I get such joy in supporting artists as well as the audience, and this experience – and the staff at UPH – has allowed me those opportunities."
Gillian Garvey '23 has been able to apply the skills she has learned through the partnership to her work as a supervisor at Arthur Zankel Music Center and to her course work as a sociology major.
"Studying sociology provides me an understanding of how people interact, therefore allowing me to thoughtfully create a better experience for people exploring and enjoying the arts," she said.
Both Garvey and Cott were performing artists prior to coming to Skidmore and say they have felt tremendous gratitude for being exposed to the administrative side of the arts.
Professor Howson has seen his students transform through their experience at UPH. "Students are gaining hands-on mentorship and learning how to problem-solve on the fly, all while seeing amazing performances that help curate their own tastes and artistic vision."
"They will never go to an arts venue as just an audience member again," he added. "Instead, they will think through all the details that went into their experience."
The UPH community partnership is one of numerous unique experiential learning opportunities the Arts Administration Program has offered to students over the years. Partners have included Saratoga Performing Arts Center, various arts organizations throughout the greater Capital Region, and even The Wild Center, a nonprofit science museum in the nearby Adirondacks. Each partnership is tailored to the the needs of the students and the organization.