A time of extraordinary academic achievement, pandemic or not
December 9, 2020
This fall at Skidmore, students conducted experiments using state-of-the-art microscopes in a brand-new, cutting-edge science center. They staged live theater and organized events featuring celebrity talent. First-year students curated an exhibition, and one even presented her award-winning paper to Russian diplomats.
Cross-cultural experiences, artistic achievement and innovative research — all of these would be the hallmarks of an accomplished semester, but Skidmore students achieved these and much more during an extraordinary semester framed by a global pandemic and strict measures designed to contain the spread of COVID-19.
"Although our classrooms may look different, our classes remain vibrant centers of engaged learning."

Marc C. Conner

Skidmore College President
From the natural sciences to the arts, Skidmore professors and students demonstrated exceptional creativity in their classes — in person and online — and helped create the cross-disciplinary and standout learning experiences that characterize Skidmore's unique take on the liberal arts.
Years in the making, the first phase of Skidmore's largest single academic initiative ever, the Center for Integrated Sciences, opened its doors this fall, and students quickly benefited from its resources, including the cutting-edge Skidmore Microscopy Imaging Center.
"For my BI 311 (Biological Electron Microscopy) course, students were able to access and use our scanning electron microscope and transmission electron microscope from anywhere — even one student from as far away as China," said Professor of Biology David Domozych. "Students were able to observe specimens ranging from unicellular algae to rat kidney to fruit flies."
This fall, students in Professor of Biology David Domozych's Biological Electron Microscopy course used sophisticated microscopes to capture stunning images, including this one of the secretory apparatus in the unicellular alga Penium.
The semester concluded with students producing a portfolio of 40 stunning images with accurate, detailed legends.
"For our students to use an electron microscope is unusual and impressive. But now to do this remotely is incredible," added Associate Dean of the Faculty Pat Fehling.
Across the curriculum, faculty worked hard to ensure that students could continue to participate in the extraordinary learning opportunities that characterize Skidmore.
As part of the College's Racial Justice Initiative, Kevin Young, poet, author, poetry editor at The New Yorker and the next director of the Smithsonian's National Museum of African American History and Culture in Washington, spoke to the Skidmore community and participated in courses with Professor and Director of the Black Studies Program Winston Grady-Willis and English professors Barbara Black,Mason Stokes and Peg Boyers.
Edward Pierce, a Tony-nominated Broadway scenic designer whose work appeared in "Wicked" and "Angels in America," spoke in Senior Teaching Professor David Howson's arts administration course about the future of Broadway following the pandemic.
Students attend the class Math in the Museum, which met this fall in the Tang Teaching Museum and Art Museum.
Students in another arts administration course, taught by Zankel Music Center Managing Director Shelley Joyce, organized an exclusive online event for the Skidmore community featuring "Daily Show" correspondent and comedian Jaboukie Young-White.
Musician Toshi Reagon, who was a McCormack visiting artist-scholar in residence at Skidmore in 2015, participated in a Zoom session with Professor of Religion Eliza Kent's first-year seminar Science Fiction and Religion to discuss Octavia Butler's "Parable of the Sower," reflect on the message of the novel today and share her experience transforming it into an opera.
"It was thrilling for both the students and me to meet Toshi," said Kent, who also chairs the Department of Religion. "Her dynamic energy sent sparks of insight throughout the Zoom session and made us think hard about what we each could do to create a more positive future."
Despite strict social distancing protocols and a range of other successful measures to prevent COVID-19, Skidmore even provided international learning opportunities for students.
Kaitlin Katirachi '24, a student in the first-year seminar Soldiers, Diplomats and Spies with Associate Professor of Political Science Yelena Biberman-Ocakli, submitted a paper from the course to an international essay contest sponsored by the Diplomatic Academy of the Russian Foreign Ministry and received an award for the best creative project. Katirachi also presented the paper at an online conference that included Russian diplomats and policymakers, and it will be published in the International Relations Scientists' Herald.
"In her paper, Kaitlin boldly and creatively (in Skidmore spirit!) proposes improving the relationship between Russia and Western countries (U.S. and Europe) by 'remote signaling' on an issue of existential importance: climate change," Biberman-Ocakli said.
Professor Maria Lander arranged a global classroom experience by pairing students in her upper-level Spanish class with students from the Mexican university Tecnológico de Monterrey to discuss a short story by Canadian Nobel Prize winner Alice Munro.
"It was a very rewarding experience, especially for those who couldn't study abroad this semester," Lander said.
Other students' creativity took them to outer space.
In their first-year Scribner Seminar, students in Assistant Professor of English Maggie Greaves' Reading the Cosmos course undertook an interdisciplinary study of the universe and put together an online exhibition for the Tang Teaching Museum and Art Gallery.
Brandon Solis '21 and Kathleen Oakley '21 performed during a class with Professor of Dance Debra Fernandez.
Skidmore faculty and students also found creative ways to advance their artistic skills and organize performances.
"My Choreography II class created projects that took place outside, in the Tang and even through written scripts so dancers could learn material in a socially distanced way," said Debra Fernandez, professor and chair of the Department of Dance.
Lisa Jackson-Schebetta, associate professor and chair of the Department of Theater, and students in her Production Seminar managed to stage an outdoor performance of "The Sor Juana Project," inspired by "Casa de los empeños" by Sor Juana Inés de la Cruz.
Similar ingenuity and a spirit of optimism have encouraged students to continue pursuing their passions.
Art major Cassie Bond '22, who had been using the dining room table in her campus apartment for art projects, enjoyed the chance to use a campus art studio for a painting course.
"It was really fun for me to have an opportunity to play with color and actually get the studio time to just explore," she said. "Painting and making art is my happy place. It's my outlet. In the end, my motivation was to just do what I could to keep creating, because I knew the more I could do what I love, the better things would be."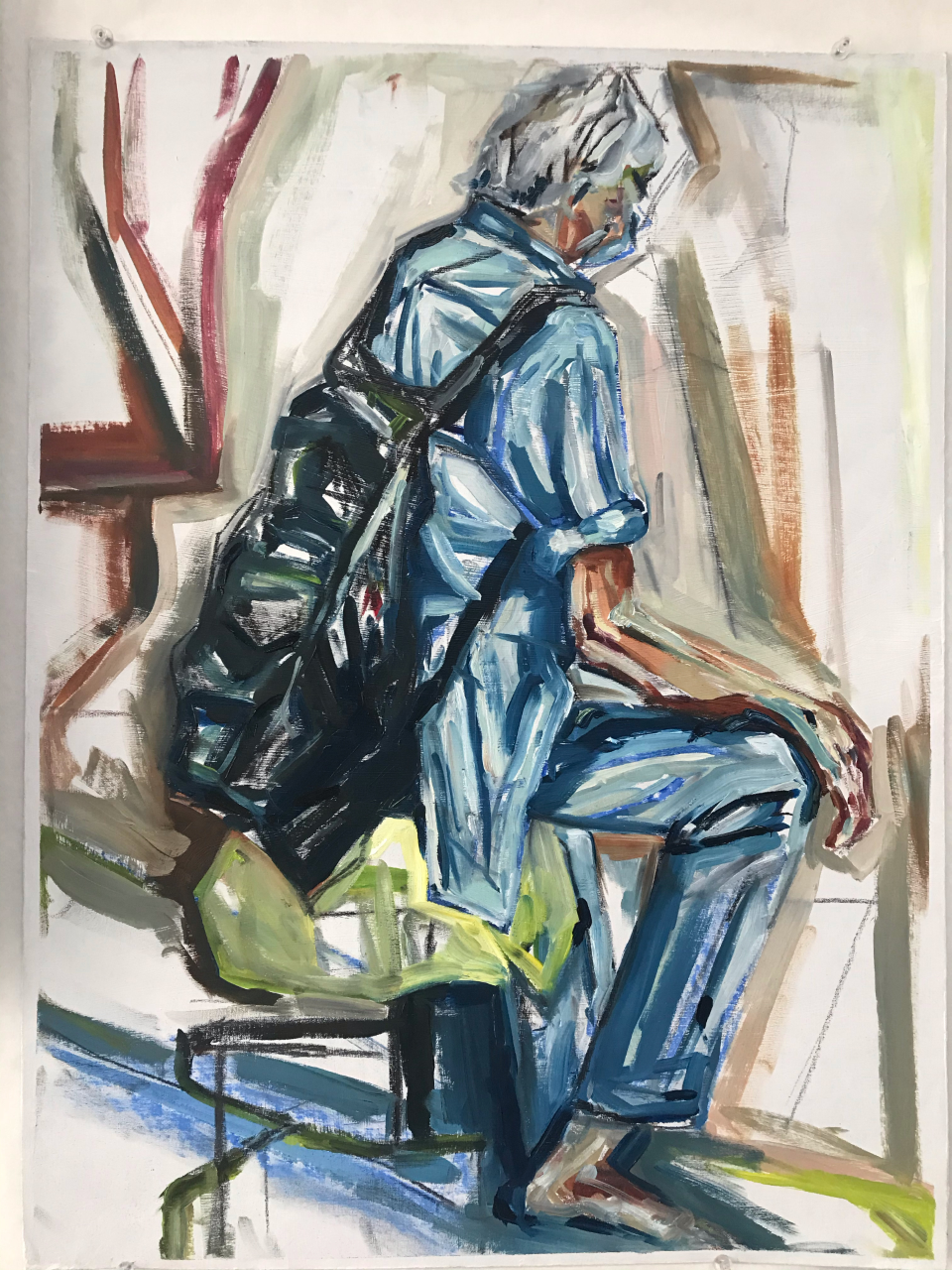 A painting by art major Cassie Bond '22