Multidisciplinary markets: Alumni reunite in creative cryptocurrency field
June 3, 2021
Lincoln Lin '19 has looked to friend and fellow alumnus Melvis Langyintuo '12 for his candid advice and insights into the finance industry since first seeking his career mentorship as an undergraduate with interests in business, math, computer science and international affairs.
"Melvis and I both have an international student background, so coming to Skidmore and not knowing much about the career path that I could take, there were a lot of waters to navigate," Lin says. "To know somebody like Melvis, who has navigated these waters so successfully, certainly provided a sense of security that somebody was there. He is completely transparent about how he sees things from his perspective, which is really helpful for me to factor into my own decision-making."
Lincoln Lin '19
So when Langyintuo told Lin he had pivoted to cryptocurrency in 2020 after years of working in traditional finance — in fixed-income risk management at Morgan Stanley, macro trading at Goldman Sachs and electronic trading at J.P. Morgan — Lin was interested to learn more about the growth potential his mentor saw in the sector.
"With crypto, it's only 12 years old, so the writing isn't on the wall yet, the paint isn't dry yet. The ecosystem is still growing and evolving," says Langyintuo, now client solutions strategist at OKCoin, a regulated digital asset exchange based in San Francisco. "And so being in a field that is entrepreneurial, you definitely have to be creative to try to solve issues. And so that's why it's pure — it's a very green field in crypto right now in the sense that people are coming in and they're solving new, interesting problems."
Having joined OKCoin as a trading analyst in February, Lin is now proud to call Langyintuo his co-worker as well. The exchange, which offers global retail and institutional investors the ability to easily buy and sell cryptocurrencies and generate high yields through savings and lending products, has grown from about 45 employees to over 100 in less than a year, has offices across the globe and has been able to "work remotely and efficiently during COVID," Lin says.
In fact, the pandemic has boosted interest in cryptocurrency and made the case for it, Lin contends. "For example, the federal government's pumping of trillions into the circulation of U.S. dollars has a lot of implications on inflation," he says. "So that had the institutional as well as retail clients worried about the value of their dollars going down and started a chain reaction of the big institutions buying into cryptocurrency."
To understand the value of cryptocurrencies, Langyintuo says it's first important to understand the technology that enables their existence — blockchain — and its far-reaching applications.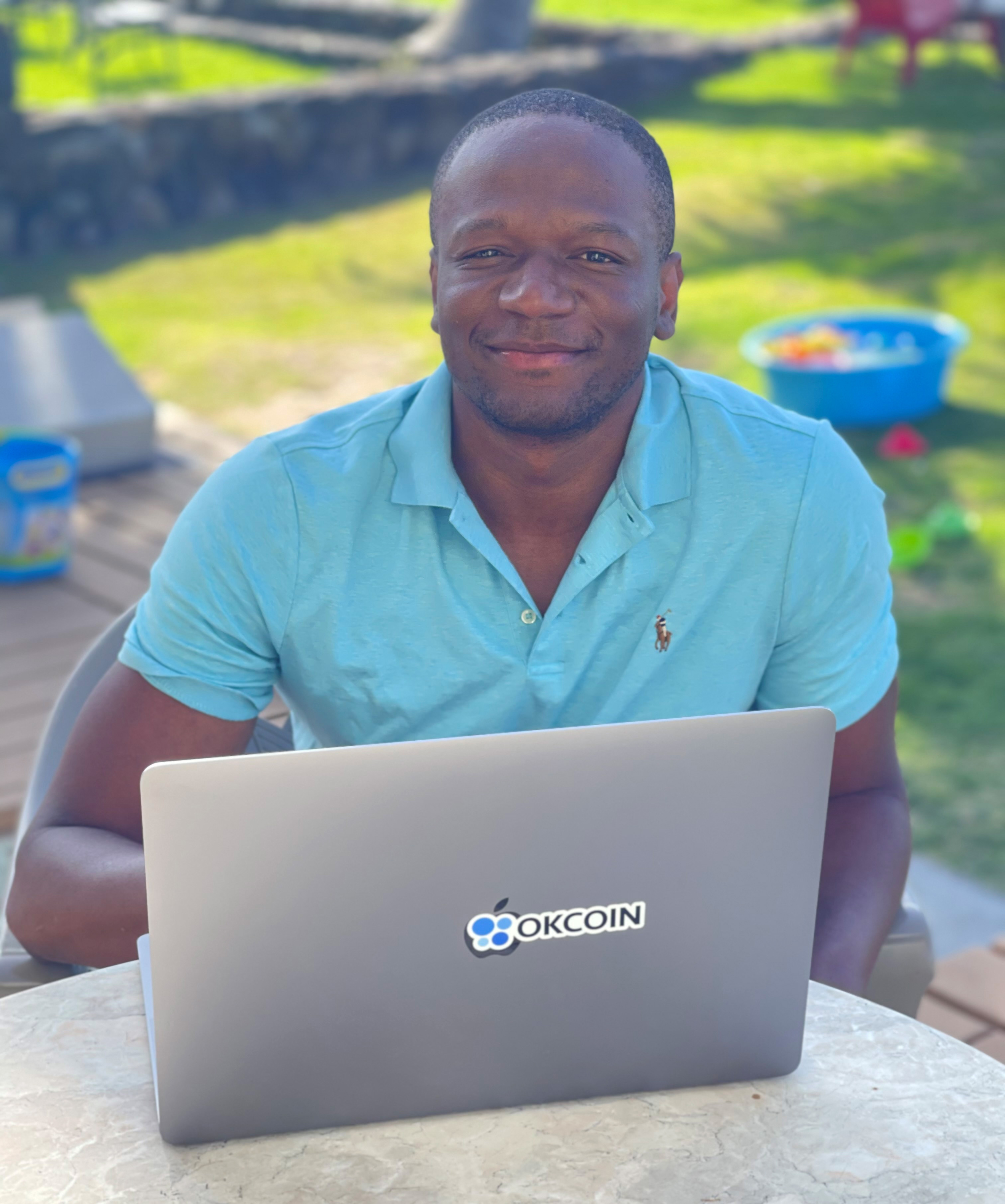 Melvis Langyintuo '12
"The blockchain is a distributed ledger that is immutable, as in no one can change what transactions have been put on it. It's also cryptographically secure, which prevents anyone from hacking it. And it's decentralized, as in there isn't a central party who manages it," explains Langyintuo. "And so globally, it democratizes investing and enables anyone with an internet connection to be able to make an instantaneous transaction with someone somewhere else in the world, without someone in the middle taking a fee in order to facilitate it. Anyone can invest in any protocol or any token that they want."
The biggest use now is for payments and as a store of value, he says. "That's what people are using Bitcoin for, to basically help hedge against inflation with all the money printing that governments are doing. It's the digital gold."
Second to Bitcoin is the protocol Ethereum, Langyintuo says. Called "the world computer," it enables the creation of smart contracts, which are essentially transaction agreements built into blockchain.
But the other dimension of blockchain is utility. By enabling protocols that fill needs in the traditional world, blockchain can be "very, very transformative across different industries in helping to solve various projects or problems," Langyintuo says.
In the medical industry, patients' health records could be stored securely on a blockchain. In education, diplomas could be stored on a school's blockchain and be available for verification by employers or other interested parties, eliminating opportunity for forgery. Digital art, music and other creative work are now being bought and sold using non-fungible tokens, or NFTs, which are units of data on a blockchain that represent unique digital items.
"There are so many potential use cases for the future. I think it really depends on what the end goal is," Lin says. "So creative thought matters. It's wherever you want to take it."
In terms of investing in it, you're investing in the technology and its utility in filling a need in the traditional world, or you're investing in it as an investment product for the future growth and utility of that coin, explains Langyintuo.
"Governments are looking into it, traditional institutions are looking into it. And so there are a lot of moving parts," he says. "It seems like one week in crypto is equivalent to three months in traditional markets, as so much is happening. So there's immense excitement day in and day out."
Though he's just getting started, Lin also finds the work to be engaging.
With cryptocurrency, you need to be very intellectually curious, entrepreneurial and have a multidisciplinary mindset.

Lincoln Lin '19
"All of that comes into play in all of the initiatives we're creating and the solutions that we're trying to present," Lin added.
"It really fits into our backgrounds coming from a place like Skidmore," adds Langyintuo, who remains very involved with the College as a member of its Alumni Board and as a career mentor who has advised upwards of 100 students in his nine years since graduating. "Lincoln had an interest in political science, then ended up going into a quantitative field. And for me, I studied chemistry, physics and then law, and then ended up in economics. And now I'm in a technology field. So from the electives to major requirements and core curriculum, that education helped us to think outside of the box."
---
Read this and other stories in the spring 2021 issue of Scope magazine.