Skidmore School of Arts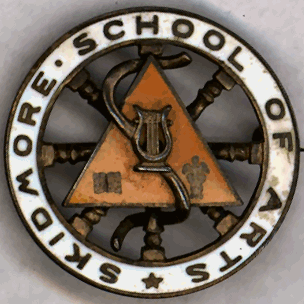 The Young Women's Industrial Club (est. 1903) became the Skidmore School of Arts in August 1911. Lucy Skidmore Scribner designed a pin for the new entity. Though it was not intended as an official school seal, the design was eventually reproduced and used as a logotype.

On September 5, the Saratogian published this item explaining the design:
NOTES OF INTEREST FROM THE SKIDMORE SCHOOL OF ARTS

New School Pin.

A new school pin, designed and presented to the faculty members by Mrs. Scribner, has been adopted. It will be generally used hereafter.

The design for the pin shows as a background a wheel from a spinning wheel; upon this is an equilateral triangle for science; upon this a Lyre, symbolizing music; an open book, for learning; and the Caduceus for business. A quaint "S" is entwined through the design.

Caduceus, Mercury's rod, is a wand entwisted by two serpents, borne by Mercury as an ensign of quality and office. On medals the Caduceus is a symbol of good conduct, peace and prosperity. The rod represents power; the serpents, wisdom; and the two wings, diligence and activity.