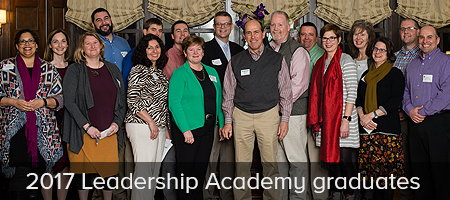 Professional Development and Training
New Employee Orientation
Professional development and training at Skidmore begins with our New Employee Orientation (NEO) program. All new community members (exempt, faculty, non-exempt and union employees) are invited and encouraged to attend this half-day program. The design of the program enables new employees to explore life at Skidmore through a variety of departmental presentations. The purpose of this program is to provide an overview of the college and the opportunity to meet with other members of the Skidmore community.
Staff Development
In addition to the NEO, a number of staff development programs are offered throughout the year. Some of the recent topics include:
Collaborative Effort
Developing Your Emotional Intelligence
Intervention Skills for Supervisors
Performance Review
Project Management
Position Questionnaire (PQ) Review
Retirement Planning Workshop
Time Management
As part of building community across campus, Human Resources hosts informative gatherings through our annual Networking Luncheon and Networking Breakfast, giving community members an opportunity to strengthen and build working relationships throughout campus.
Through the years we have introduced a Learn on the Go Series developed from our summer Wednesday Matinee Program that can be used for department retreats or mini meetings.
A full list of programs can be accessed on our course listing page.
Your suggestions for new programs or possible presenters are always welcome. If you have any suggestions, please email gsteffan@skidmore.edu.

Technology Learning Opportunities at Skidmore
Often Human Resources receives inquires about technology training, especially regarding various Microsoft applications. Learning Experience Design and Digital Scholarship Support (LEDS) offers both instructor-led and online training opportunities.
Online just-in-time training is available through our subscription based provider, Virtual Training Company (VTC.com). Click here to request a VTC.com account.
To learn more about other on-campus, customized workshops and off-campus learning opportunities, please visit the LEDS website.
Tip of the Month
"Fun Is Good" is about helping you make your time spent at work as satisfying as possible. And although fun is the foundation, Fun Is Good is about teamwork, leadership, creativity, passion, attitude, and overcoming challenges. Once you understand the fun foundation, you can incorporate it into just about every element of life and work!
---
Upcoming Events - to be announced
Visit the Training Calendar/Registration website to view descriptions and sign up for programs.