Meet your peer advisors
Ashley '21
Yoooo SCOOPies! My name is Ashley and I am a PA for H2O (the best scooop ever)! I am a rising sophomore, and soon to be a sociology major with a double minor in political science and math! SCOOP was literally the best decision of my life, and I am so happy I could ~embrace~ nature! It was also cool to meet other first years—I am actually living with a pretty cool Colorado gal I met on SCOOP (@India)! Also if you see me, say hi to me, or I will just keep waving at you until we make eye contact! Email me if you have an questions or just wanna chat at aramsay@skidmore.edu.
P.S.: I have a twin on campus so if you see someone who looks like me and is avoiding eye contact, do not engage! JKJK Alyssa is super chill.
Olivia '20

HEYYYOO! I'm Olivia, I go by many variations of my name but usually I'm Liv! Class of 2020 double major in dance and education and I will be one of your PA's for NAHUNA get hyped! This will be my 3rd year hanging with the NAHUNA squad and I am beyond psyched!! Being a part of SCOOP is an amazing decision and I promise you won't regret it! You get to chill in the woods (the Adirondacks are dope) hand with cool people (we rock), learn a lot (the fun kind of learning of course), and have a blast!! SCOOP is like your mini family to get you amped and ready to meet your huge family which is Skidmore! If you have any questions about Skidmore, life, SCOOP, or anything really, want to tell me a fun fact, a story, a favorite quote, email me obray@skidmore.edu I'm crazy available!!
I CAN'T WAIT TO MEET ALL OF YOU!! YAYYYYYY SCOOP!!!
Erin '19
"HEY future SCOOPies! My name is Erin and I'll be a senior this fall (AHHHH!). I'll be your peer advisor on Rock and River (arguably the best SCOOP trip out there). Deciding to go on SCOOP my freshman year was the best decision ever. I'm so excited to get smelly with all of you in the fall! Here's a picture of me hiking in Ireland! SEE YOU ALL SOON! "
Cheers,
Erin
Mattie '21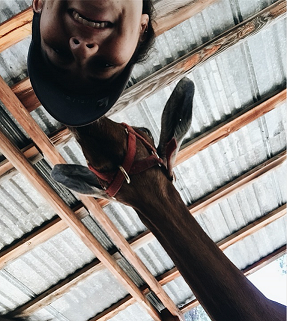 Hi SCOOPies!!! My name is Mattie! I'm a rising sophomore from New Jersey, planning on double majoring in Political Science and History. Hobbies include knitting, rollerblading, watching Food Network, and gently obsessing over Harry Styles from One Direction. I also love anything outdoors, from hiking to biking to skiing!
There is no better way to start off your time at Skid than being surrounded by amazing people in the beautiful Adirondacks. SCOOP was definitely one of the highlights of my first year and I cannot wait to do it over again with all of you! GET EXCITED!!!
James '19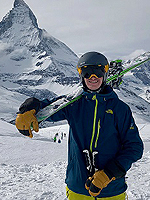 Hi everyone! My name is James, I am going to be a senior this year, which is crazy and scary because it feels like just yesterday that I was heading into my first year beginning with SCOOP! I love anything and everything outdoors especially skiing—this is a picture of me skiing in February of 2018 in Zermatt, Switzerland, when I was abroad ... an amazing and beautiful place! Can't wait to meet everyone on SCOOP!
Becca '19
Hey SCOOPies! My name's Becca (class of 2019) and I'll be leading wilderness hiking and canoeing! I took this trip as a freshman and I and am so excited to be leading it now! I can't wait to share all of the mosquito bites, wet socks and cramped tents with you! If you have any questions,feel free to reach out.

Happy camping.

PS the chameleon's name is Jean Luc.
Kathy Jo '20
Heyo scoopies!! My name is Kathy Jo and I'm PAing H2O this year. I study Computer Science, Math and Dance but when I'm not grinding away I'm probably daydreaming about SCOOP. I can't wait to meet you all, and email me(kmaas@skidmore.edu) if you got any questions!
Adrian '19
Hey everyone! My name is Adrian, and I'm a member of the Class of 2019. I wanted to participate in SCOOP because the program helped me feel so much more comfortable when I first came to school and introduced me to some of my best friends. So I wanted to help share this great experience with other people as well. I can't wait for the amazing journey we have ahead of us, and I look forward to seeing you soon!
Bradley '19
What's up SCOOPies!!! My name is Bradley, I'm going to be a senior this year! I am an Environmental Studies and Science major with a minor in Media and Film Studies. I spent last semester studying abroad in Iceland at an Ecovillage called Sólheimar! This will be my third year leading the Rock and River trip and my fourth year participating! I love scoop so much and I can't wait till I get the chance to meet you all!
Colin '20
Hi my name is Colin Liscord. I will be a sophomore at Skidmore in the fall. I am from Maine. I am undeclared but over the summer traveled to Florence, Italy, and took a few art classes. I am also on the rowing team and a member of the Student Athlete Advisory Board. I was on the Nanuna orientation trip my freshman year and loved it. I am excited to be a peer advisor this time around!
Freddie '20
Hello SCOOPies!! I'm Freddie and I will be bringing you hiking
in the best area of the ADK's, the High Peaks! I loooove SCOOP because it really helped a random Swede on the wrong side of the Atlantic such as myself transition into life at Skidmore and in the U.S. Besides SCOOP, I love biking, dancing to Abba and ranting about depleted aquifers and cultural eutrophication (Yay environmental science). I can't wait to meet you all and if you have any questions, please don't hesitate to email me at kklaus@skidmore.edu. In the meantime you can enjoy this photo of me chilling in mud and get stoked for SCOOP.
Gina '20
It is me, Gina! Welcome Class of 2021; fresh out of high school, gap years, maybe even the womb. I am a competitive player of a sport made for dogs (ultimate Frisbee), a lizard enthusiast and a lover of the Light speed, freshly scented Jonsson tower elevators!
Catch me as your SCOOP PA if you're lucky enough and I'll sing you lullabies of nonsense and worship your soul.
Seamus '21
What's up SCOOPies? I'm Seamus from Cape Cod, Massachusetts. Going on SCOOP is the best decision I have ever made in my entire life ever. I met some of my best friends, climbed some rocks and jumped in a freezing river! All aboard the hype train!
Samara '21
Hi! My name is Samara (sounds like Marinara (yes, that is a
nickname of mine here at Skidmore)) and I am a PA for Nahuna. I'm a rising sophomore and hopefully a double major in neuroscience and English (subject to change). SCOOP was the best way to start my first semester at Skidmore. Those three nights in the woods really force you to bond with people in the best way (if you've been to camp you probably know). On Nahuna, I met amazing friends including my long-lost best friend soul sister Allie (pictured to the right). Allie, who is also a Nahuna PA (yes, we screamed when we found out) and I are freakishly similar and we get in arguments about which one of us is the more amazing person. It's her. I can't wait to meet you all and for you to meet your Allie. Please please please email me if you have questions about scoop, college, or literally anything! slandau@skidmore.edu
P.S.: The Adirondacks are cold. Really, really cold. Don't ignore the emails that tell you to pack warm clothes. Trust me, you will thank me (and shiver less).
Linnea '19
Coming back from being abroad and coming in hot as the new SCOOP coordinator .... You are all blessed!
Hello my friends!!! My name is Linnea (Lin) and I'm so stoked for my third year at SCOOOOOOP with Paddles and Paths! I'm an English and environmental studies double major. I work as a tutor in the Writing Center and as an s-rep for the Sustainability Office, I do website design for WSPN (Skid's college radio station), and am your resident aggressive environmentalist. Likes include crocs w/ socks, being outside, pinecones, the Grateful Dead, people who carry large dogs in their purse on the subway, reading, hiking, and veggies. You're all about to embark on a really amazing journey filled with lots of snuggles, sunrises, stargazing, and new friendships :)
Some of my favorite college memories are from the magical times I had under the trees and stars at SCOOP, smelly socks and all :) Please please email me (lharris1@skidmore.edu) if you want to chat about anything or talk about our feelings or send fun pics of hedgehogs wearing hats to each other! See you so soon! <3
Dean '20
Hey SCOOPies! My name is Dean Rette and I'll be a PA for Wilderness Hiking! I am a rising sophomore, and a soon to be neuroscience major. On campus I'm a peer health educator and a D-Hall supervisor (watch out)! I am so psyched to be heading back out there! SCOOP was by far the best way to enter into college. I'm ready to conquer some mountains, freezing lakes and leeches with y'all! If you have any questions at all or just wanna chat, email me at drette@skidmore.edu.
I can't wait to meet ya!
My name is Elodie Keating and I'm so excited to be a PA on H2O this year! Doing SCOOP is the best decision I made and it's the best decision you made too! All my closest friends are either from SCOOP or through friends I made on SCOOP! I can't wait to eat some great granola and complain about the cold with you! If you have any questions or want to chat shoot me an email (ekeating@skidmore.edu) or find me on the webs! I'm literally only thinking about meeting you on SCOOP so please talk about it with me!
Peer Advisors Abroad
Kailey '20
Going abroad Fall 2018 to Austrailia have fun on SCOOP matey's! I will miss it whilst eating my vegemite sandwich!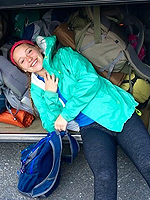 Hi I'm Kailey! I'm your SCOOP coordinator this year. I'm here to hype you up to embark on the coolest adventure to kick-off your freshman year! This is a pic of me hiding out in the SCOOP bus 'cus I didn't wanna leave :-(( I did wilderness hiking at Lake Placid, and it was one of my Skidmore highlights. Many campfire memories made with amazing people, who are still my close friends. Got any questions?? Still on the fence? Wanna chat? Email me!
Bryce '20
Going abroad fall of 2018 to Copenhagen yahhhhhhhhhhhh! He will be pleased to help you with your ruksack upon his return!


SCOOP is great, and you should do it and especially choose rock and river! It's definitely the best one and I have zero bias. (You'll have a blast on any of them). Also, poop before SCOOP! Deep thoughts from Bryce!
Matt '20
Going abroad ... to South Africa, what a lucky goat! Yebo Gogo and tata ma chance
Congratulations, you done it. you're coming on SCOOP! Good choice, A1! Hello, it's me: Matt Moriarty (yes you read that correctly) AKA skidmore's #1 dad. On top of being a dad, I am also a choreographer and treasurer of Rithmos (Skidmore's only jazz and hip-hop group), a dance and exercise science double major and an avid fan of D-Hall's sunflower butter. Be prepared for a lot of Vine and Spongebob references if you're one of my SCOOPies! I cannot wait to meet you all in the fall and I hope you're all as excited as I am! SCOOP helped get me off on the right foot at college, and I'm amped to make sure that happens for you too! Let's get it!
Arianna '20
Going abroad to Spain ... what? Buena Onda
My name is Arianna, and I can't wait to be a PA for SCOOP this year! On campus you can find me at the racquetball courts losing a game, wandering around Northwoods, or just nonstop laughing anywhere. SCOOP is the best way to meet people and go on beautiful outdoor adventures, and you won't regret signing up. Looking forward to meeting all of my SCOOPies!
Andy '20
Going abroad to Panama ... I do not know if Panama will know what to do with him! Dale Puez Vaina
Hiya studs!
I'm Andy Rhodes, one-of-a-kind nature-loving peer advisor for SCOOP this summer! If you're on my trip, we're going to be hiking, awkwardly dancing, laughing and talking about the fabrical (fabulous + radical) racquetball parties! On campus, I'm an s-rep in the Sustainability Office, and I'm also the event coordinator for the Outing Club, so please feel free to talk to me about anything environmentally friendly or climate change! One of my admirable qualities is that I am an avid gluten enthusiast who loves to solely eat yellow foods! Ask me about my Crocs, flamingos, cows, my beautiful rats, and how to properly drop it low on the dance floor. SCOOP will change your life and help you transition into college so perfectly, so please come!! —chirp chirp@andyrodes out.
Emily '20
Off to Spain why don't you all just go to Spain then huh? Ojo Emily Ojo
Heya 2021ers! My name is Emily, and I'll be a PA on for all you wilderness hiking folk! You can usually find me dancing awkwardly at inappropriate times, making corny (but hilarious) jokes, and talking excessively about how much I love Spanish. SCOOP was 100% the best decision I made my first year—nothing compares to meeting cool new people in the great outdoors, unplugged with zero distractions. Get ready for the best (and only??) three days before your first year of college of your life!
Maggie '20
Off to Madrid to speak Spanish and drink vino (jk, kinda)


Hello I am Maggie, and I am so excited to be a PA this year with rock and river! SCOOP was one of the best decisions I made my first year, and I hope everyone chooses to do it. It is such a special experience and you meet so many cool people! Some of my closest friends were on my SCOOP trip. Feel free to email me if you have any questions. I can't wait to meet all of you!
GRADUATED, BUT NOT FORGOTTEN
These past peer advisors are on the path to great things!
Devon Kilburn '18
Devon is graduating 2018 YESSS go Dev! He will miss SCOOP too; I am expecting lots of tears come Aug. 30.

Signing up for SCOOP was by far the best decision I made prior to my first year here at Skidmore. I connected with so many people who founded the base of my community on campus and I met mentors who I still look up to today. We can guarantee that the rain, shine, smelly socks and campfires will come to define your first-year experience.
Tessa '18
Graduating ... how dare you Tessa!


"I'll be one of your PAs for Adventure Challenge!! I can't wait to meet you all and have some crazy amazing Adirondack times together. I promise you, SCOOP is gonna be the best kickoff to college you could ever hope for! Have a great summer!"
Izzie '18
NOOOO also Graduating a true SCOOP lifer!


I am a PA for SCOOP this year! Congratulations, you've just made the best decision of your college career!! SCOOP has been my family at Skidmore, and I'm so excited for new first-years to join. Campfires, spontaneous swimming , beautiful stars and beautiful people like yourself! If you have any questions, email me at ialley@skidmore.edu and we can chat about all things Skid and SCOOP and life!
Henry '18
Graduating as you can see, SCOOP will never be the same!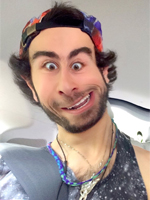 SCOOP forever

Hey friends, family and future acquaintances! I'm Henry, and I'm one of the Nahuna SCOOP PAs! SCOOP was an amazing experience for me and made the transition into college much more smooth and comfortable. SCOOP is to this day one of my favorite experiences at Skid! Hope all you first years choose a scoop program!
Ben '18
Graduating, how can this be happening to me all my SCOOPies are graduating!


I am a PA for SCOOOOOP this year (extra "o's" optional)! Congratulations, you've just made the best decision! SCOOP tremendously enriched my social life at Skidmore, and I'm so excited for new first-years to join our family. I've hiked with my fam (ADK 4 lyfe), I've sledded down mountains with my fam (don't forget a helmet), I've traveled with my fam (Puerto Rico for example), I've died with my fam (quidditch pitch against RPI for example). If you have any questions, email me so we can chat about all things skid and SCOOP!
Mack
Don't go Mack!


SCOOP is the greatest! Get ready for friends and adventure so exciting that college seems like a breeze. I had such a good experience that I haven't stopped SCOOPing since. There will be love, laughter and ice cream on High Peaks Hybrid, and I can't wait to lose at bowling to each and every one of you.
Devyn
Graduating another SCOOP lifer; oh you will be missed!
My name is Devyn and I'll be one of your SCOOP PAs! I'm super stoked to meet you all and explore the spectacular Adirondacks. I'm excited to hike, swim, star-gaze, have spontaneous dance parties and nature pee together. It's going to be fantastic. If you have questions, or just want to say hey feel free to email me.

SCOOOOOOOOOP for life.
Connor '18
Darn you Connor how could you go and graduate on me? Boo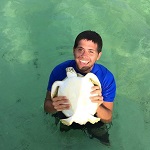 My name's Connor, and I'll be one of your very excited PAs! SCOOP was a defining moment of my college career. You have made a wonderful decision to come play with us, and I can't wait to poop in the woods with each and every one of you wonderful humans. PLEASE feel free to contact me beforehand! (Or after.)
Laila
Graduating ... gone but, never forgotten


Best call you've ever made, SCOOPies! Here is me lookin' overwhelmed on a mountain. Call me, beep me if ya wanna reach me.
Sylvie '18
Graduating in swag style, go Sylvie!
Helllooooo SCOOP! My name is Sylvie, and I will be one of your Paddles and Paths PAs! I am a rising senior majoring in biology (concentration in ecology, evolution, and behavior) and I cannot wait to get out into the mountains with you all and have some good old-fashioned fun. Signing up for SCOOP was hands-down the best decision I made when coming into Skidmore, and it will be yours too! I met some of my best friends on SCOOP and was able to have an easy and fun transition into college! Please feel free to reach out to me at sfinn@skidmore.edu with any Qs about SCOOP and/or Skid! I can't wait to meet you!