Welcome back breakfast - Fall 2023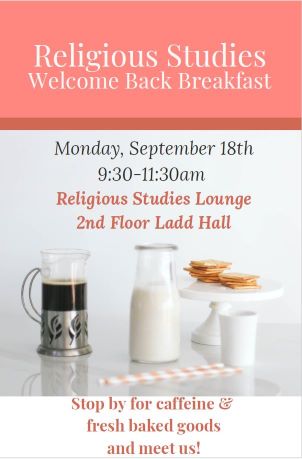 Why study religion?
About Explorations in Religious Studies
It is impossible to comprehend the world around us without understanding that religion is a vital, dynamic, and irrepressible element of cultural life, both nationally and globally. One simply cannot comprehend our pluralistic and increasingly interconnected world without knowledge of the various religious traditions that inform cultural identities and contribute to distinctive outlooks on life. Indeed, the contemporary need to understand religious diversity has become more urgent, rather than less, contradicting what many observers predicted a generation ago. Now, more than ever before, the study of religion is a necessary and integral part of a truly well-rounded liberal arts education.
The academic study of religion is necessarily interdisciplinary insofar as religion intersects with so many different aspects of human existence. With a view toward globalized cultural literacy, our students investigate how religions shape and are shaped by culture, society and the environment from multiple theoretical perspectives, including History of Religion, Philosophy of Religion, Feminism and Gender Studies, Postcolonial Studies, Cultural Studies, Environmental Studies, Literary Theory, Art History, Anthropology, Sociology and Psychology of Religion. Encompassing the study of literate and non-literate societies, our courses investigate the richness and complexity of religious traditions, be they indigenous, Western, or Asian in origin. Our students engage questions at the heart of the human effort to understand and represent the self, society, the world, and immanent and transcendent realities.
Courses in our department cultivate the empathetic imagination necessary for cross-cultural understanding and offer training in a unique constellation of skills, including close textual analysis, creative and critical thinking, and direct observation. Such training well equips our students to enter any occupation requiring a solid liberal arts preparation, including education, law, medicine, diplomatic service, human services, journalism, international business and development—to name just a few relevant areas. Some religion majors choose to pursue graduate studies in religion or to enter seminary, but for the most part our students find that their work in religion informs and enhances their professional preparation for a broad array of careers. The foundational skills acquired in the study of religion may be applied widely. Special expertise provided by advanced work in the discipline proves invaluable in any environment that requires well-honed research skills, critical thinking, sensitivity to diversity, fluency in challenging cultural issues and a globalized knowledge base.