Jonsson Tower (North Quad)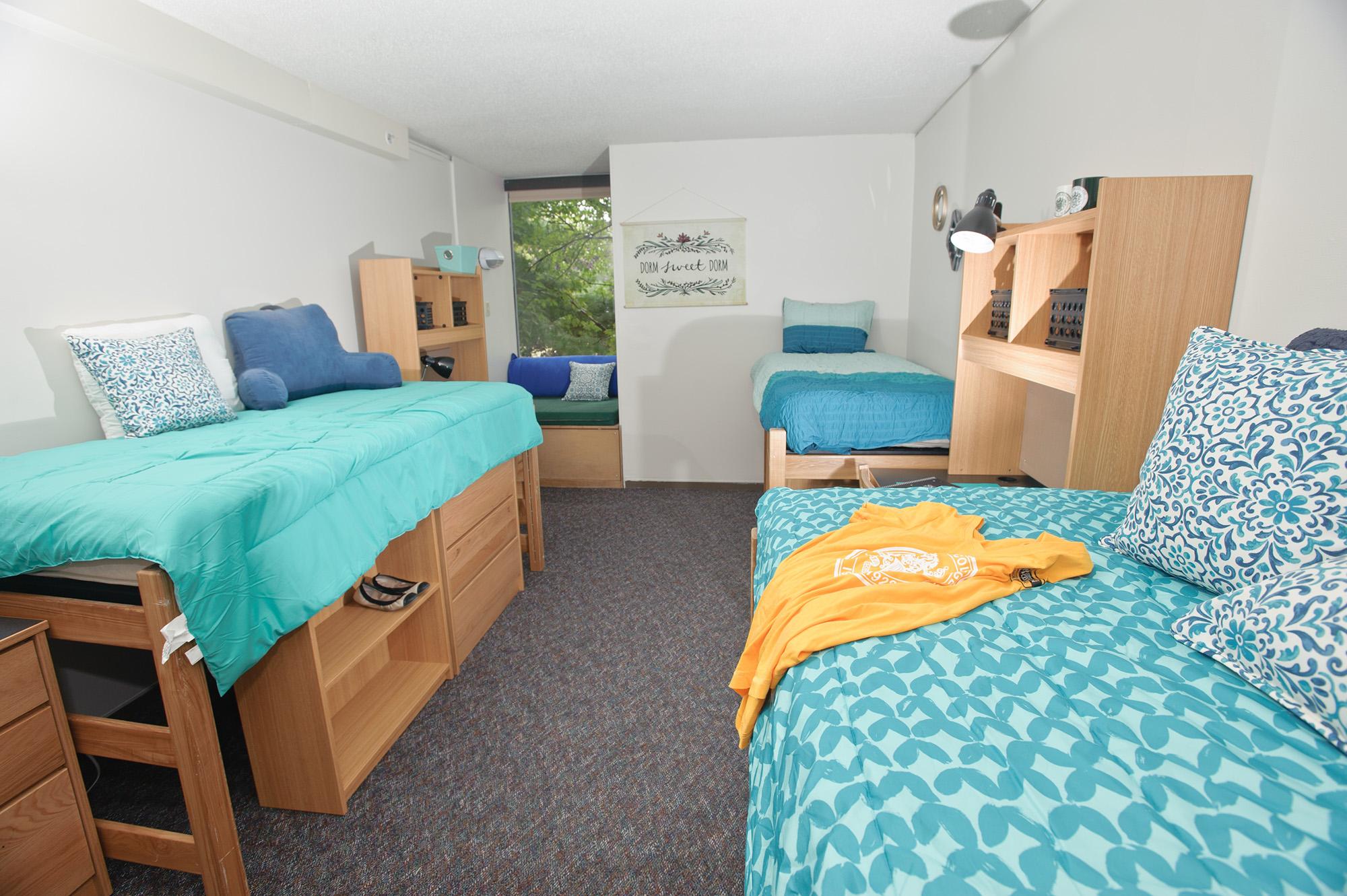 Jonsson Tower is one of four North Quad areas.
History
Jonsson Tower and the Jonsson Campus are named for Margaret Jonsson, wife of J. Erik Jonsson. Founder of Texas Instruments and former mayor of Dallas, J.E. Jonsson played a key role in Skidmore's move from downtown Saratoga Springs to its current location. While a trustee, he and his wife purchased the Woodlawn Estate and persuaded Skidmore to build an entirely new campus on the park-like location. Mrs. Jonsson's portrait hangs in the first-floor entryway of Jonsson Tower.
Campus Offices
The Jonsson Tower basement is home to Campus Safety and the college radio station, WSPN. The first floor of Jonsson Tower is home to Health Services and the Counseling Center.
Amenities
Laundry room with washers and dryers (located in the basement)
Kitchenettes with a microwave, refrigerator, sink and recycle bins (one per floor)
Vending machines (located in the basement)
Trash rooms (one per floor)
Building lounge with pool table, TV and DVD player (located in the penthouse on the 12th floor)
Exercise machines: one treadmill and one elliptical (located in the basement)
Floor lounges (one per floor)
Study rooms
Outdoor bike racks (the college assumes no responsibility for missing or damaged bikes)
Room Furnishings
Rooms are furnished with the following items upon move in:

Desk (42-1/4" x 24-1/8" x 29-13/16" H)
Desktop bookcase (40" x 12" x 35" H)
Desk chair
Dresser (31-1/2" x 24-1/8" x 29-13/16" H)
Floor bookcase (31-1/2" x 12 x 29-13/16" H)
Twin extra-long bed (The bed ends are 36" high with nine adjustable height settings. The clearance under the spring at the highest setting is 30")
Closet
Padded window seat
Modem box with cable and internet connections (one internet port per student, and one cable port per room)
Room Style
All rooms in Jonsson are suite style. Each suite can contain a different combination of single rooms, double/triple rooms, and a bathroom.


Room Sizes
Double/triple room (68 rooms): 10'-4" x 19'-6"
Closets (double): 60"w x 24"d x 96"h
Closets (triple): 40"w x 24"d x 96"h
Single Room (134 Rooms): 10'-6" x 9'-10"
Closet: 77"w x 24"d x 96"h
Location