Give+Go

What you don't want, someone else might need. Give+Go is an annual program designed to gather gently used goods students leave behind at the end of the year and bring them to local and regional nonprofits, where they can be reused or resold. This program diverts tons of material from the landfill and gives Skidmore students an opportunity to give back to their community. Since the start of the program in 2007, more than 100 tons of material have been diverted from entering the landfill and are instead donated to local, regional and international agencies.
The video above features Skidmore volunteers collecting and sorting donations, and it includes footage from one of our partner organizations, Backstretch Employee Service Team.
May 2022
This year we are accepting donations of unopened non-perishable food items, home goods, bedding, mini-fridges, appliances, clothing, and accessories. Please note the complete list of accepted items below. These items will be donated to our community partners, Capital City Rescue Mission, Trinity Alliance, and the Backstretch Employee Service Team (B.E.S.T.).
Nine U-Box collection stations will be open Monday to Friday from 9am - 5pm, starting Monday, May 9th through Friday, May 13th. The five stations by the apartments will remain open for Senior Week through Friday, May 20th and senior move-out on Sunday, May 22nd. Students living off campus are encouraged to stop by these on-campus locations to donate as well.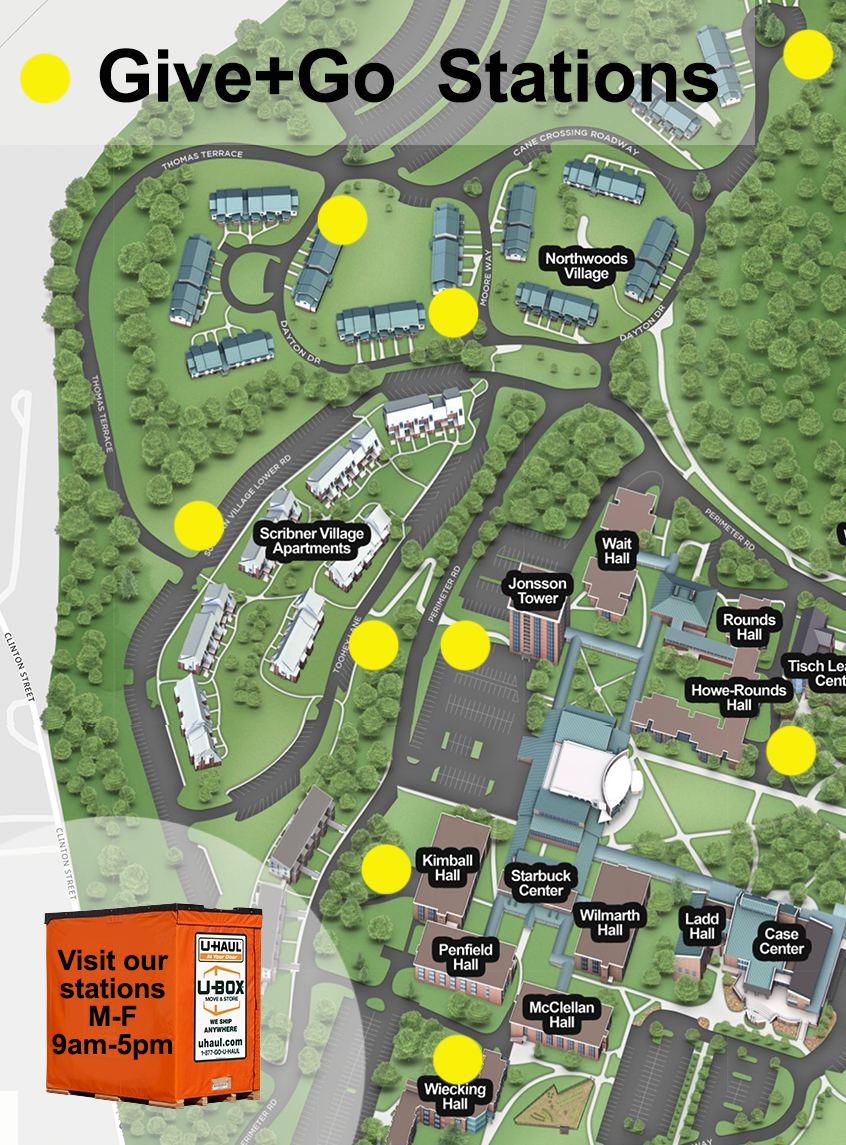 Stations at JoTo, Kimball, Wiecking, and Howe Rounds will be open Monday, May 9th - Friday, May 13th. Stations by east and west Sussman Village and in Northwoods Apartments by Whitman, Moore, and Cane, will be open Monday, May 9- Friday, May 20th and on Sunday, May 22.
Please reference the list below for items we can and cannot accept. Please note that WE CANNOT ACCEPT TEXTBOOKS this year.

We encourage you to start packing early, especially if you live in the apartments and have a lot to move! More tips here:
For the things we cannot accept at Give+Go...
For broken and unwanted, dated electronics, you can drop off these items to e-waste recycling by contacting Campus Safety to escort you to the collection shelves in Wait Hall basement. We accept broken TVs, laptops, printers, and more.
Batteries and printer cartridges can be recycled in the Post Office in Case Center. A tall green collection unit is located at the north end of the Post Office.
Textbooks can be sold back to Skid Shop bookstore, online, or amongst peers in your major/minor.
You can post your books, furniture, etc to Skidmore's Swap and Sell page on Facebook.
Save boxes from the Post Office to make moving easy! Reference our Green Guide on Move-Out for a more thorough guide to moving out.