Lands and Grounds
Skidmore currently owns about 1,400 acres of undeveloped land across various properties. The North Woods is adjacent to the developed portion of campus and is used both by the College for teaching and research and by the Saratoga Springs community for education and recreation. Off-campus parcels include the Denton Road property, site of Skidmore's solar farm, and several wooded properties to the north and west of campus. Skidmore continues to develop comprehensive land management plans and encourage and practice better stewardship of its land.
North Woods preservation: Skidmore is dedicated to protecting open space on campus, having committed to preserving about 150 acres of the Northwoods until 2050. To learn more about Skidmore's North Woods, please visit the North Woods homepage.

Invasive species eradication: Skidmore has pledged to eradicate two invasive plant species from all landscaped beds and developed portions of campus. The pledge includes Japanese barberry (Berberis thunbergii) and burning bush (Euonymus alatus), two popular landscaping species that are also problematic invasive species.

Fertilizer and pest control reductions: Skidmore seeks to build the health of the soil so that fewer and fewer chemical fertilizers and pest controls will be required. These incremental application reductions are currently being followed.

Woodlands atlas report: The Woodlands Atlas Project is a student-faculty collaborative project that surveyed and mapped the more than 1,000 acres of land owned by Skidmore College. Click here to view the report.

Campus Tree Care Program: The purpose of the Skidmore College Tree Care Plan is to outline general tree care and management and procedures to maintain the integrity of our forest community and natural ecosystems. See the full plan here.
Pre 2015
Skidmore formed the Skidmore Student Conservation Corps to

partner with regional conservation areas on outreach and education.

Skidmore developed

and implemented a Stewardship Plan for the North Woods in 2011, which includes funding for students to act as North Woods Stewards to oversee the conservation, education,

and outreach.

Students and faculty inventoried Skidmore's properties in a 2012 Skidmore Woodland Atlas.

Skidmore developed a community garden to feed and educate the campus community.

Skidmore created a bioretention pond for stormwater management in Sussman Village.

North Woods Stewards and the Sustainability Office continue management and removal of several large communities of invasive species, including Japanese knotweed, burning bush, Japanese barberry, and garlic mustard.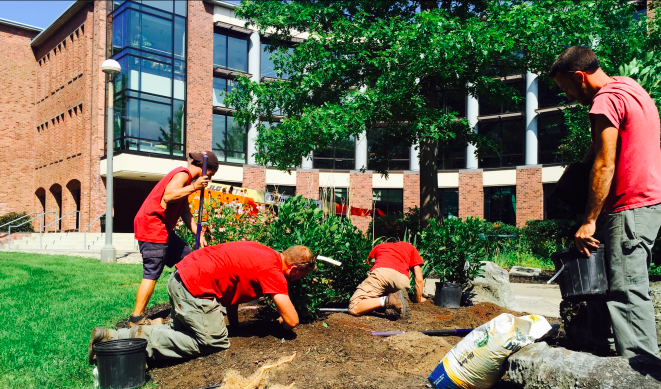 2015/16
Skidmore became Tree Campus USA certified.

Skidmore built a boardwalk in the North Woods to improve safety and reduce soil erosion.

Skidmore removed over 80 invasive plants from the developed portion of campus and replaced them with native species.

2016/17
Skidmore developed a Lands and Grounds Working Group of students, faculty, and staff

Student North Woods Stewards apped protected species in the North Woods and created a management plan to protect these communities.
2017/18
Skidmore convened the Lands and Grounds Working Group to assess the College's undeveloped land.

Skidmore mapped points of interest and existing trails on the college's new property to better understand the property and its current uses.

Skidmore completed a North Woods Field Guide.

Skidmore developed an internship to map, inventory and monitor campus trees.
2018/19
Skidmore posted signage within its property boundaries.

Skidmore rebuilt a small bridge in the North Woods with the help of student volunteers.

Skidmore mapped the perimeter of over 500 acres of undeveloped land.
2019/20/21
Mini- kiosks installed in North Woods trail network with maps.

Stairs installed on orange trail entrance to North Woods at Northwoods Parking Lot.
Skidmore continues to take steps to create more sustainable lands and grounds on campus. Here are some of the steps we plan to implement in the future.
Skidmore hopes to develop additional maps of Skidmore properties where needed.

Skidmore seeks to join the

Southern Palmertown Project

Guidance Committee to support the community conservation initiative to connect Saratoga Springs to Moreau Lake via a 13-mile trail surrounded by thousands of acres of conserved land.

Skidmore seeks to engage stakeholders in conversations about the recreational, academic, and operational potential of its wooded parcels.

Skidmores seeks to enhance student engagement to implement the recommendations put forth by the stewardship plan, possibly in partnership with other organizations such as the New York State Department of Environmental Conservation.