regarding services during OUR remote learning period
Health Services and the Counseling Center are available to support students. During this interim period, as we work to finalize plans for referrals, crisis services, and tele-medicine for students living on campus, staff are available by phone and email. Please contact them to develop an individualized plan for your care. If you are experiencing a mental health emergency, please call the Counseling Center main number 518-580-5555 and follow the prompts to be connected with immediate assistance.
IF YOU HAVE THE SKIDMORE STUDENT HEALTH INSURANCE PLAN
Your student health plan also links you to a national network of providers. If you're living away from campus, you're welcome to call our office and we can help you access care in your community. You can also find doctors, pharmacies, etc. in your area at: https://www.cdphp.com/members/use-your-benefits/find-a-doctor.
Accessible, personAlized care
Skidmore's Counseling Center offers confidential and professional mental health services to students struggling with a variety of social, emotional and psychiatric problems. Our skilled, compassionate and professional mental health clinicians are here for students as a resource, advocate and liaison — ensuring that no matter the need, they have access to the right care, when they need it.
To access non-emergency counseling, call or visit the Counseling Center on the first floor of Jonsson Tower during business hours. We are open from 9 a.m. – noon and 1 p.m. – 4:30 p.m. during the school year. In the summer, we are open from 9 a.m. – 11:30 a.m. and from noon to 3 p.m.
If you are in crisis or concerned about a Skidmore student in crisis, please call us 24 hours a day, seven days a week at 518-580-5555.
Important services. An empowering process.
Pathways to Care
We believe mental health requires a personalized, flexible and multi-faceted approach. We also believe empowered students are at the center. That's why our model emphasizes timely access, encourages collaborative choice and ensures each students' acute needs are matched with appropriate kind(s) of care.
Explore our service model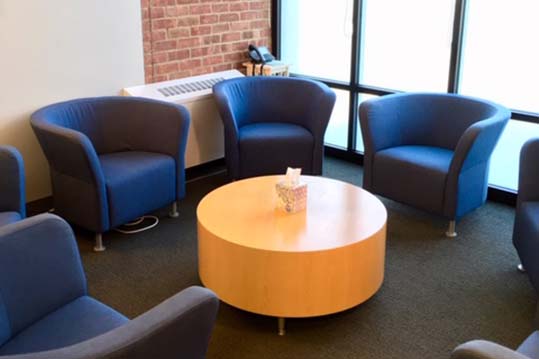 Education
Information and Resources
Fully accredited by the International Association of Counseling Services, we provide a range of resources for students, parents and Skidmore faculty and staff to assist in resolving acute concerns and supporting the healthy development of our enrolled students.
Mental Health Resources & Self Care
A collective commitment
Our Core Principles
Individually and collectively, we strive to engage all members of the Skidmore community with empathy and respect. But there's more to it than just a promise. At the heart of our mission, our core principles shape every element of our work.
Know our core principles
Newsletters
Stay Informed
The Counseling Center newsletter has great information for mental health resources and self-care. New issues are released at the end of every month.

View the monthly newsletters