Year in review
December 21, 2016
Leonardo DiCaprio finally won an Oscar, Britain left the European Union, and Alexander Hamilton did not throw away his shot. No matter where you were in 2016, big things were happening. Skidmore celebrated the high points, reflected on the low, and came together over the ones in between.
Here are highlights from 2016:
National recognition
Skidmore climbed in the rankings in 2016.
Skidmore made the grade for everything from energy efficiency to value to entrepreneurship. Check out the rankings below.
Record-breaking applications
Skidmore's Class of 2020 broke records.
More than 9,150 students from the U.S. and abroad applied to join Skidmore's Class of 2020. The largest and strongest applicant pool in College history, the total apps represent a 6 percent jump over the previous high and include a 33 percent increase in those seeking Early Decision. From those accepted, 719 new students arrived on campus in September.
From TriBeCa to Sundance

Official trailer: Memories of a Penitent Heart by Cecilia Aldarondo, on Vimeo.


English professor Cecilia Aldarondo burst into 2016 with a film that moved viewers and won awards. Memories of a Penitent Heart, her debut documentary, is about her closeted uncle who died from AIDS in the 1980s. The film was accepted to the renowned TriBeCa Film Festival in April, and this fall she was named a 2017 Women at Sundance Fellow.
Honoring David Porter
Skidmore mourned the loss of its fifth president, David H. Porter, in March.
On March 26, the Skidmore community was shocked to hear that President Emeritus David Porter died after an accidental fall. President from 1987 to 1998, he was still teaching and active with faculty and students.Skidmore honored Porter's life with a memorial service where hundreds came together to remember his puns, music, scholarship, and humanity.
Liberty League champs
2016 Liberty League champs
For the seventh time in nine seasons,Skidmore's field hockey team was crowned champion of the Liberty League. Kayla Rose '18 was named the league tournament's Most Valuable Player after leading Skidmore in scoring. Listen to Rose and co-captain Becca Halter '17 talk about their season with Coach Beth Hallenbeck in a This is Skidmore podcast.
Firefighter safety research
Denise Smith presents her federally funded research on firefighter safety.
Denise Smith, professor of health and exercise sciences, received a $1.5 million grant from the U.S. Department of Homeland Security to continue her research developing tools to protect firefighters' health. It's the fifth such grant, totaling $5.4 million, to support research by Denise Smith and her students in her First Responder Health and Safety Laboratory.
Remembering Will Golden '19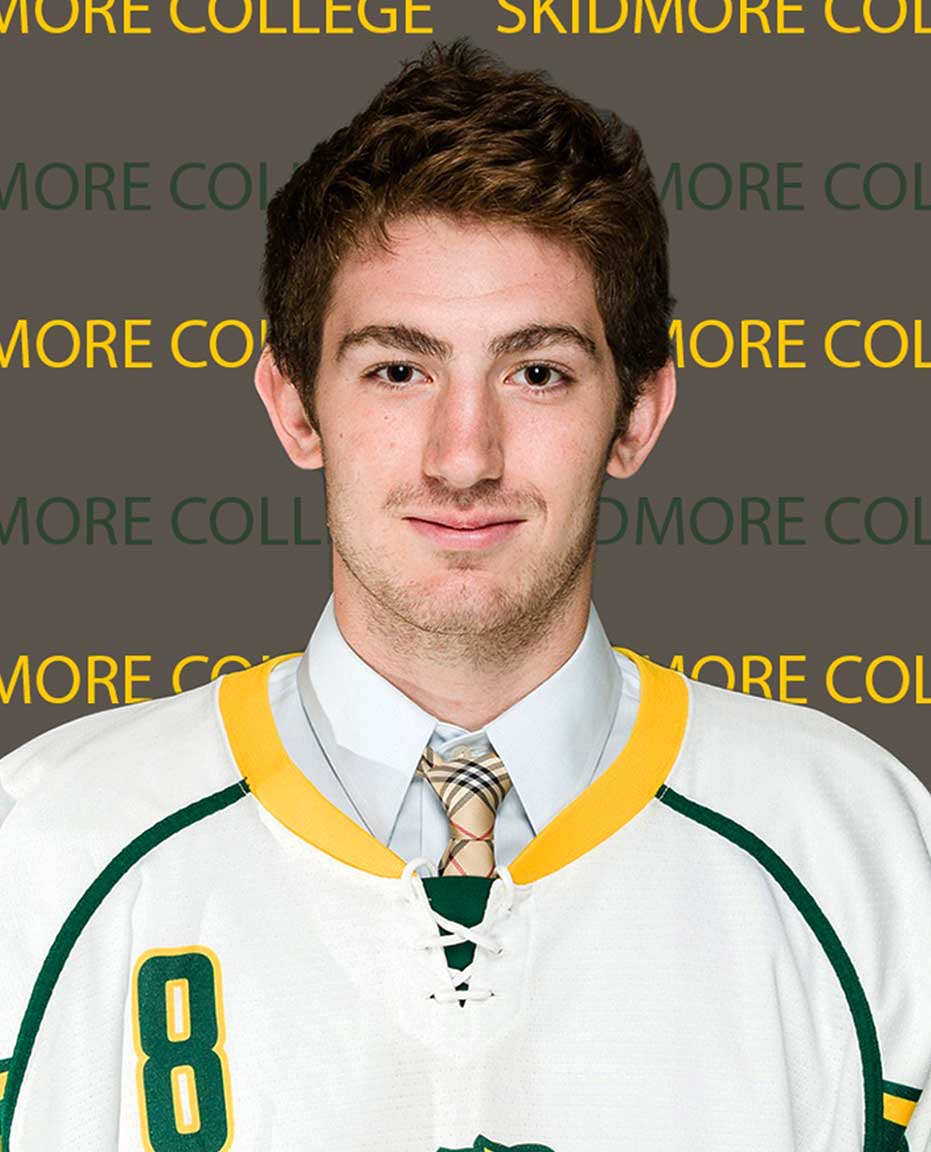 Willem Golden '19
More than 600 students, faculty, and staff came together to mourn the spring-break death of Willem Golden '19. Golden, a hockey player from Massachusetts, was remembered as a fun-loving friend and supportive teammate. A candlelight vigil after the formal ceremony included stories and thoughts about the vibrant new member of the campus community.
For science
More than 40% of campus is already regulated by geothermal energy.
Drilling began for geothermal wells to heat and cool a new building that is sure to transform the Skidmore campus: the Center for Integrated Sciences. Joining the more than 40% of campus already regulated by geothermal, the CIS will be a model for sustainability as well as for cross-disciplinary innovation in science facilities.
International hoops
Edvinas Rupkus '19
Another athlete from a league-champion team, basketball's Edvinas Rupkus '19, was the only Division III athlete to make the roster for Lithuania in the International Federation U20 European Basketball Championships. Lithuania fell to Spain in the final round, but Rupkus contributed seven points, three rebounds, and two assists.
Best American essay
Mason Stokes, English professor and author
Mason Stokes, professor of English was tapped for inclusion in the 2016 Best American Essays anthology. He tells the story of his namesake uncle who was possibly gay and inspired Stokes to be open about his own sexual orientation. This year's collection was curated by Pulitzer and National Book Award winner Jonathan Franzen. Also included is an essay by Joyce Carol Oates, a regular at Skidmore's annual NYS Summer Writers Institute.
Moore no more
Skidmore said goodbye to Moore Hall in 2016.
Demolition was completed on Skidmore's Moore Hall residence, aka the Pink Palace, on Saratoga's Union Avenue. Alumni from around the globe shared memories of life in Skidmore's last downtown building over social media.