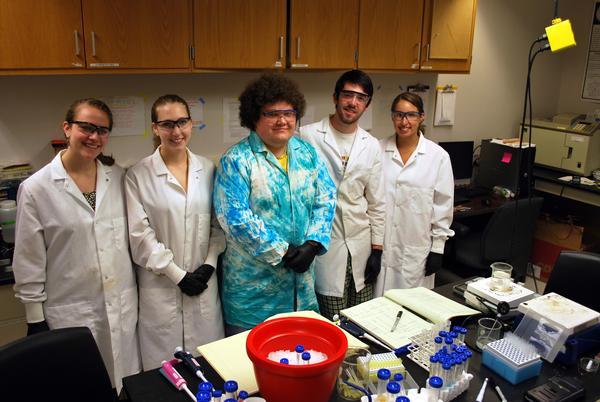 Collaborative research
Posted: 07/13/2012
Forty-five students started collaborative research assignments with Skidmore faculty two months ago, heading into labs, the field (as far-flung as Arizona and Michigan's Upper Peninsula), even a swimming pool, to investigate phenomena as diverse as why the drug MnTBAP reduces obesity in mice, the extent to which magazine print ads effectively drive readers to the Web, choreographing and filming dance in water, and the benefits of forgiveness in the aftermath of divorce.
Now, just two weeks from the conclusion of the 10-week, summer program, the heat is on to finish analyzing data, complete surveys, edit video clips, and prepare to present findings to peers in final presentations on August 2.
In the Williamson Sports Center, exercise science professor T.H. Reynolds is a happy camper as he surveys results from an experiment on a computer screen. "That's big data," he tells Alexandra Sosinsky '14, one of four students working with him to see if the enzyme HO-1 is a lead contributor to weight loss. "Huge," says a smiling Sosinsky.
In Skidmore's swimming pool, dance professor Rubén Graciani is working with Cameo Lethem '14 and Emily Pacilio '12 on a series of moves that they will eventually perform in nearby Lake George. "It's a lot harder than I imagined it would be," says Graciani, who is still scouting out locations for the performance. "Gravity is a little different in water than on land."
In Skidmore's Geographic Information Systems Center, government professor Kate Graney and Emma Kurs '12 are pleased to see visuals of the data they've been slogging through documenting the Europeanization of former Soviet republics. With 16 countries and 48 variables, it's a relief to see trends emerge.
Open to the public, the final research team presentations will be held Thursday, August 2, from 9 a.m.– 3 p.m., on the second floor of Murray-Aikins Dining Hall.
The Summer Faculty/Student Research Program is made possible by the generous support of many foundations, alumni, parents, and friends. For the full list, click here.