Q&A with Janine Kritschgau '18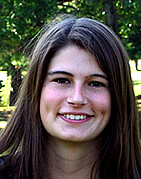 Hometown: Portland, Ore.
High school: Oregon Episcopal School
Major/minor: Probable government major and German minor
Activities: Varsity equestrian team, Honors Forum, Skidmore News student life co-editor
Why did you apply Early Decision to Skidmore?
I was incredibly impressed by the number of majors offered at Skidmore, as I wanted to explore many different fields and liked that double majors were encouraged, even a self-determined major. Also, Saratoga Springs is the best college town, and the relationship between the community and the college is tremendous. The riding team really drew me in as well. Ultimately, I decided that if I got into every school on my list that Skidmore would come out on top. It just made sense to apply Early Decision and hopefully, save myself unnecessary stress from the college process.
I'm glad that I applied ED because it made my senior year a lot less stressful. I wasn't waiting around for months to hear back from colleges, and although I began writing essays for other colleges in the event that Skidmore didn't work out, I was able to direct my energy toward the classes I was taking at the time and my riding season. I traveled to a lot of shows in the spring because I didn't have to worry about applications.
Advice on applying ED?
Think honestly about whether or not ED is right for you. If you know deep down that you have a favorite, why not apply early? However, if you have any reservations, I don't recommend rushing it. Choosing a college is a huge decision, and personally, I only felt comfortable choosing after investing a lot of time researching options. If you are able to invest that time early on visiting campuses, researching online, talking to your college counselor, etc., then Early Decision might suit you well.
Best parts of your college experience?
I've had the chance to get to know some truly amazing professors who are incredibly approachable. In addition, the riding team has been an important part of my experience here—one I know I would not have had anywhere else.
Most surprising moments?
Even though Skidmore is a small school, I assumed that I would have to make some compromises in terms of my course choices. So far, I haven't had to make any major tradeoffs.
Something most people don't know about you?
I've recently discovered a fascination with modern art. Whenever I'm in a new city I try to make it to at least one museum. Some of my favorites are the Crocker Museum in Sacramento and the Walker in Minneapolis. And of course, I love having the Tang on campus!
Post-Skidmore plans or dreams?
I'm interested in journalism, more specifically political analysis. I could see myself working on a campaign or conducting research regarding monetary policy. However, there is a part of me that wants to work in the horse industry. Regardless, getting a degree is something that's very important to me because not only am I learning subject matter, I'm learning about how I learn best, how to be organized, how to advocate for myself, how to write eloquently, how to speak dynamically, etc.